Federation of Cuban Women's Congress Put into Context
Osmel Ramirez Alvarez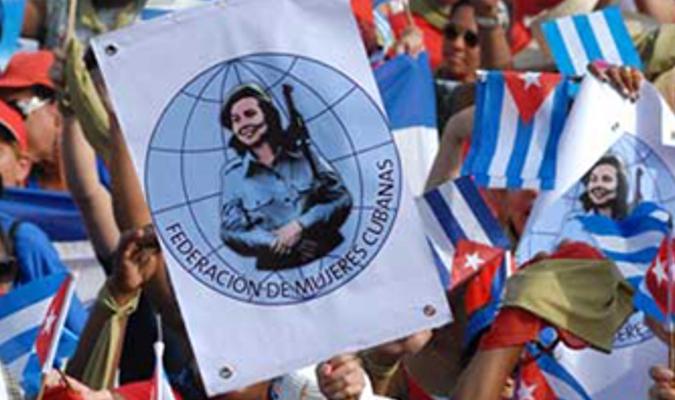 HAVANA TIMES – With it recently being International Women's Day (March 8th) and the Federation of Cuban Women (FMC) holding their 10th Congress, it's worth asking ourselves what this body actually does.
It's just that I live here in Cuba and I haven't picked up on the FMC's activism in decades. It's a virtual, crumbling and ineffective organization, the same or more even than the neighborhood defense committees (CDRs). We don't see them doing anything.
It is the only women's organization in Cuba, and a government body that sets out for three things:
Organizing women and putting them at the service of the ruling political system;
Giving the impression that there is a feminist movement here, which social projects related to women are channeled through, receiving credit for them;
And, blocking spontaneous and independent feminist movements.
Both the Cuban Revolution in 1959 and the appearance of the FMC coincided with the final stage of the first "Wave" of feminism in our Western hemisphere, which Cuba was always at the head of, and a lot of battles had already been won in favor of women's rights.
This was mostly thanks to the struggle of preceding feminist organizations, which were especially focused on recognizing women's legal rights and social equality, which included the women's right to vote. The Revolution capitalized on and finished this era with positive changes, we have to give them that.
With these achievements already under its belt, the FMC (whose main goal was to help define government policy and ideology), became a filter to implement any "convenient" advance in the global feminist struggle, which had already entered its second "Wave" for gender equality, including the progressive legalization of abortion and putting the mother's health and life first in pregnancy.
However, up until the 1980s, a male member of the Communist Party was pressured to leave his wife or lose his membership if he put up with her adultery. And, if they went on a war mission to Angola, or any other front for revolutionary expansion, other members would keep an eye on his wife's sexual behavior. It isn't known whether the FMC spoke out against this aberrant policy.
On the other hand, the State has never been able to satisfy the need for day-care centers, or school snacks, or lunch, or care for children in semi-boarding schools, which is essential if women are to be fully incorporated into society. However, it didn't let the private sector make up for this deficit either, not until recently at least, with Raul's reforms in 2008 which now gives licenses for day-care centers.
In today's context though, working mothers don't earn enough to pay for this service, which only successful private business owners or people who receive remittances from abroad can afford, for the most part. In the same vein, Cuban incomes make it almost impossible for real emancipation in our machista society, where men still only have real opportunities, in a predominantly "criminal" environment to get ahead. This forces a high percentage of women to put up with dysfunctional marriages, domestic violence and humiliating situations.
We don't really see the FMC's work, although they do have many legal aid programs at their offices, and care services for mothers and children. But, these aren't publicized and the work at their base (where they have a nominal organization at every CDR) is almost non-existent, it doesn't work, and they just use it to receive funding and deal with bureaucracy up to a national level.
They don't even have meetings, nor do their members join of their own accord. Women are automatically signed up when they reach 14 years of age, and if you don't want to belong to them then you have to go to the organization and ask them to take your name off. And, it should be the complete opposite, but the aim is to make women afraid of taking this step and so they remain enlisted.
There isn't a coordinated effort between the Ministry of Labor and Social Security's Social Work office and the FMC to tackle domestic violence, gender-related violence and child abuse. And if it does exist, we don't see it. There aren't female police officers with specialist training on how to deal with gender-related or domestic violence at police stations, who would really be able to help women who come to file reports.
Machismo is rife amongt the police, as they pressure women to not file a complaint against their perpetrators and subject them to interrogations, questioning them and, in most cases, blaming them or saying they deserve it. Nobody calls the FMC when there is an accusation that involves a victim of domestic abuse, they don't even know about it. They aren't connected in this way.
Lastly, global feminism is now in its third "Wave" of claiming women's rights, which have more to do with sexual rights and gender. There is a revolution against how some men abuse their power, as part of this machista and sexist culture we live, and the consequent sexual violence against women.
For those of you who don't know the essence of this organization, it's striking to note that the FMC hasn't joined these activist movements. As Cuba is an extremely machista country and knowing that it is a big problem in our society. I'm sure they aren't allowed to encourage women to denounce the sexist behavior of thousands of political leaders and companies, who are members of the Communist Party because first, the Revolution's reputation needs to remain spotless, justice comes second.
And I will only graze the subject of prostitution, which is being debated today by feminist movements, which doesn't only have one point of view, like the Cuban government and FMC continue to assume. It is different in every social context and forms a part of the feminist struggle and takes a rights-based approach.
What we can expect from a FMC Congress then?
Commitment to the system's continuity.
Backing for the Constitution.
Praise for the achievements made since 1990, which have declined, but with well-rounded statistics to feign that people are much better off.
A report that proves (virtually) that Cuban women are better off and are protagonists in society.
A declaration of support for Maduro's regime in Venezuela and Ortega's in Nicaragua, ignoring the fact that the latter is a step-father who sexually abused his step-daughter for many years, when she was a child and teenager.
Thus, it will be a hypocritical congress and completely out of sync with the reality of our women. Their real problems today won't be set out, if not superficially. It won't contribute towards anything or resolve anything either. Not even Cuban women, in their diversity, will feel represented or encouraged by that meeting. It's just another event, far from what Cuba really needs.