The Different Faces of Cuba's Crisis
Osmel Ramirez Alvarez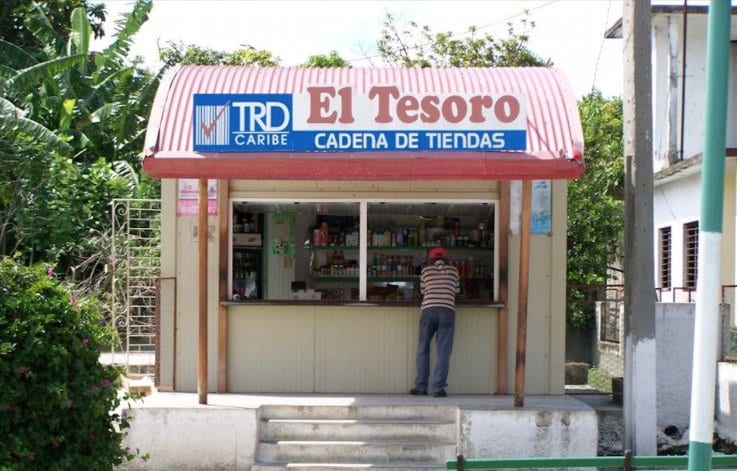 HAVANA TIMES – Yesterday, we ran out of toothpaste at home. What was the solution? To go to the nearest TRD-Caribe kiosk (belonging to military corporation GAESA), where they sell tubes of toothpaste imported from Brazil, for 1.40 CUC. I must admit that I prefer the national "Perla" brand of toothpaste, maybe because of its affordability or because I'm used to it. It must be missing a few ingredients and I'm sure there are lots of people who hate it, but it's fine for me.
Well, the thing is they haven't been selling Perla toothpaste in Mayari for at least six months now. It costs 8 pesos (0.33 CUC) and it is still very expensive given Cuban wages, even wages that will soon double or triple for officials or a teacher, respectively However, even though it is expensive, it is still the cheapest option available.
I had two tubes stocked up at home, but they ran out in May and this is the third tube I've had to buy in CUC. I still haven't got used to it! 1.40 CUC is the equivalent of 35 Cuban pesos, approximately 4.4 times the price of Perla. Very few Cubans earn 35 pesos per day and having to spend it all on just a tube of toothpaste is outrageous.
On the other hand, the "La Isla" store, which also belongs to the TRD-Caribe chain, has empty shelves day after day. Before, you would see several sales assistants serving a large crowd, now there are just two or three idle sales assistants, who watch potential customers walk around the place and rarely ever finding what they came looking for. The doors are left open as it's forbidden to switch the air-conditioning on with the new imposed savings program. They call it saving, but it's really limiting.
This July, we have suffered many blackouts throughout the country which were resolved (by luck or management) on Saturday 20th as the government promised. The state-controlled electricity monopoly, the Union Electrica company, hasn't provided any information about the scope of blackouts. In my municipality, there were power cuts for five days, lasting six and a half hours at a time, or divided into two cuts.
A spreadsheet compiled by journalistic research project Inventario (quoted by Diario de Cuba), takes information from posts on social media, collecting 462 reports in 90 neighborhoods in 69 municipalities in the 15 provinces around the country. I'm pretty sure the scope was a lot greater.
People suspected a lack of fuel because there really are problems with the country's fuel supply, but that wasn't the case. It turns out that electricity in Cuba is mostly generated with national heavy crude oil and shortages have hit the oil refining process more. Breakages were the real cause, surely the result of negligence, but we will never know who was responsible or what measures were taken against them. This is the normal secretiveness of the Communist Party, which doesn't feel they need to tell the population what is going on.
You can feel the crisis in the air. In reality, it is a renewed "Special Period" crisis, which can still get a lot more intense. Market fridge-freezers and shelves are empty. Even though fish, chicken, pork and cooking oil have been sold two or three times this month, which is a lot compared to previous months, there still isn't a regular supply like more than one pro-government journalist seems to claim.
Ah, a packet of hot dog sausages has also been handed out per family, the kind that were always plentiful and most people didn't buy them too often because they cost 24 pesos, or 1 CUC, a lot more than what many Cubans earn in an 8-hour working day. But for now, it's a bargain with the crisis.
There are still no signs that things will go back to the way they were because there are still many shortages. What we can see though, is the government's efforts to try and improve supplies, even when they can't, so as to make people feel like things are improving and to prevent pay-rises in the public sector from being lost with higher prices, which would void their incentivizing strategy.
The climate of the national economy is hostile, tourism is waning, foreign investment is scarce and, as a result, our ability to import products has also declined. Worse still, measures taken against the private sector, including farmers, discourage national food production and accentuate the crisis.
So, we will have to carry on spending 35 pesos on a tube of toothpaste and be happy that we are getting a packet of sausages per family with our rations booklet. And, as it's hard to guess when cooking oil will be put on the market for sale, we always buy it from resellers, who charge an extra 10 pesos on top for their job of keeping an eye on sales or having a contact inside the store.
Perks of the Special Period. Another period of severe crisis within the continuous widespread crisis created by the Cuban Communist Party's authoritarian government, that has been in power for six decades already. If only we could put an end to all of this sooner rather than later, establish a democracy and liberalize the economy, so that our people could wake up and put their potential to use, getting ahead for once.