Cuba's Magic Realism or Dirty Realism
By Pedro Pablo Morejon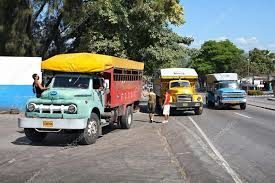 HAVANA TIMES – Things happen in our everyday lives here that could well inspire Gabriel Garcia Marquez, the most well-known example of magical realism, this literary style that presents the unreal as if it were real.
Or give the late Charles Bukowsky ideas, although we are lucky to have a Pedro Juan Gutierrez for the future, whose prose reflects how sordid our society is in a display of the best dirty realism, Cuban-style.
To tell you the truth, Cuba is magical realism or dirty realism, depending on the lens you want to see it through. Let's take this example:
It's a "normal" day this week. I wake up at 6 AM, have the same breakfast I always do, a bit of rationed bread, our everyday bread, and a cup of coffee with milk. I manage to buy powdered milk on the black market, which is expensive for what I earn.
I'm not like the majority who have got used to not having breakfast in these times of shortages, many of whom have an expresso and rush off to see what Life throws their way. I clean up, get dressed and go out "to catch a ride", asking for someone to do us a favor and take us with them.
Public transport services are scarce where I live, just like they are in all of the country's small towns and rural areas. Highways are filled with people trying to do the same thing. We don't pick up on it because it's routine, but I guess that a foreigner watching us and seeing us for the first time, will have the feeling that they have visited a country in war with thousands of displaced people.
Half an hour later, a truck stops and we clamber in happily in the dirty back, thanks to the driver, the good Samaritan of the hour, who decided to pick us up out of sheer charity.
"Transport's good today," somebody exclaims.
You can't blame Masochism, it's a different perspective here. It's normal for us to get about in these kinds of vehicles, or not-at-all-comfortable private trucks, paying an extortionate amount. The reality is that we aren't used to a half-decent form of transport, much less regular departures so we don't have to sit around waiting at bus stops.
However, I start fuming because the truck takes a detour and I drops us off 3 km outside of the city. Here, buses don't run very frequently, and they are full when they come, so I choose to get onto a horse-drawn cart. Yep, animal traction continues to be an alternative in the 21st century for your regular Cubans. The journey takes 20 minutes and people tend to talk about anything and everything.
An elderly man tells the story of a lobster seller's arrest. Some people buy it "on the sly" at the La Coloma fishing port, so they can resell them on the black market. It turns out the man fooled law authorities into thinking he was a doctor, until he was discovered by a patrol car.
"The guy thought he was a real smarty-pants!" he claims smiling, with a triumphant look.
I try really hard to keep my mouth shut, but I can't,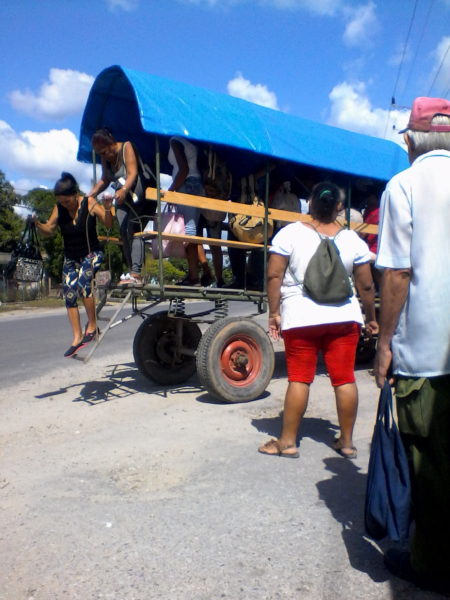 "How sad!" I exclaim looking the storyteller deep in his eyes, who looks at me without saying anything. "Being able to buy lobster, prawns, tuna, whatever, with the wage you earn is the most normal thing in the world, even more so in a country surrounded by sea like us, people wouldn't have to try and pass off as a doctor, but because the State exports it all and doesn't sell it to you…"
I left it there. The man remains quiet without a comeback and people look at me, agreeing with a discreet nod.
I get to work and it's the same old story, piles and piles of paper that don't contribute anything really to our collective wellbeing. There was a time when I questioned the usefulness of having studied. Spending my time on trivial things weighs heavily on me.
In the afternoon, I head to the station. I receive the news that is so normal that it is no longer surprising: Train canceled.
Three blocks away, I get on a bus. I reach the highway under a constant drizzle. A friend shares her umbrella with me as we wait for a good Samaritan. An hour later, with night already having fallen, I reach my front door, shivering with cold, so wet that I look like I've just come out of the swimming pool. Catching a cold isn't my greatest worry, I'm worried about my shoes. They are new and I hope they don't rot or become unstitched; they have to last because they cost me my monthly wages…