Yamila and a Dream that Never Dies
By Pedro P. Morejon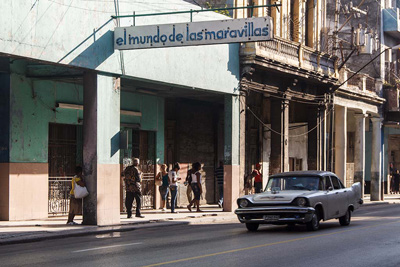 HAVANA TIMES – Yamila is a jinetera, as we say here in Cuba for a woman who prostitutes herself to foreigners. She is 27 years old and absolutely stunning. What we Cubans call "a knockout".
She was born in '92, right bang in the Special Period. She never knew her father, the only thing she knew was that he was from Havana and that he won the "Bombo" visa lottery to leave for the US in the early 1990s. He never took responsibility for her and doesn't know where she is.
She tells me that when she was 14, she began to note how men looked at her with desire and boys treated her like a goddess, but she thought about men with money, guys who would buy her clothes, guys who would take her outside of Cuba, which is what she has always wanted, "Yumas" as we say.
"Life is really hard and I don't want the same thing that happened to my mother to happen to me, a fool who fell in love and ended up pregnant and abandoned. She has a job just for fun because it doesn't even give her enough to buy a decent pair of shoes. She gets by thanks to me."
Yamila is super intelligent. She studied at university, graduated in Agricultural Engineering in 2014, but she did it to make her mother happy more than for herself, because her life-long dream has always been to leave Cuba. She chose the shortest route there, the thing she thinks she knows the best: hooking up with a Canadian, a Spanish guy… any foreigner she can seduce and who promises her they will take her with them, or at least makes her life easier while she fights to leave.
It all began in 2015. While she was in a faraway municipality, doing the compulsory social service new graduates do. She met Pavel, a pimp from Havana who was passing through. She didn't know what it was he did in the beginning. She was blown away by this attractive man who was elegantly dressed and had a lot of cash in his pocket when it came to spending money. He was only there a weekend and it seems they made an immediate connection.
Yamila tells me that she almost fell in love with him but when he told her what he did for a living, she knew right then that this would be absolute madness, but she also immediately thought that this might be Fate opening up a door for her to make her dream come true. She wasn't sure in the beginning until he decided to accept her in his world.
"You'll enter the business like any other, without any favoritism," he told her.
And she got stuck in this work, not caring about her degree. She went to Havana. Pavel got her the contacts she needed and sorted her accommodation out. She had to sleep with anyone he brought to her, and there were many over all these years, especially older men, but they were all foreigners who paid dear for her body.
She tells me about the pimp's generosity because he gave her half of the earnings, plus, he managed all the logistics of the business. She only had to open up her legs and deal with the foreigner of the hour, making sure he was satisfied. She didn't have to go out on the street and deal with the police or other prostitutes. Pavel managed everything and she enjoyed sleeping with him.
That was how she got by while she waited for her dream of finding a foreigner who would take her with him, to come true. To Miami, Europe, or anywhere, as long as it was far away from Cuba, where she says there is no life or future.
But, as nothing lasts forever, the business ultimately fell through. Pavel is now locked up in prison, and she still doesn't know how the authorities didn't find out about her. Some colleagues have been booked by the police, others are under pre-criminal security measures, that is to say, they are being punished because they are a "danger" to society.
She had to go back home just over a year ago. With some clothes and a bit of money so she could stay for a while, with the hope that had been crushed by failure.
She has never been worried about the reputation of being a jinetera. Her morale is shaped according to her interests, she just lives her life and is shielded from other people's prejudice.
She now works as a self-employed legal employee and is seeing an older man.
"He has two cars and more dough than Donald Trump," she tells me smiling as she opens up Whatsapp on her phone.
She's been texting a French man. They met on Facebook two months ago, and he wants to come to meet her. He has even sent her some money. Yamila doesn't believe in promises, but she goes with the flow because you never know, and her dream of living somewhere else hasn't completely died.
*Names have been changed so as to protect the protagonists' identity.