A Film that Evokes the Memory of Many Cubans
By Regina Cano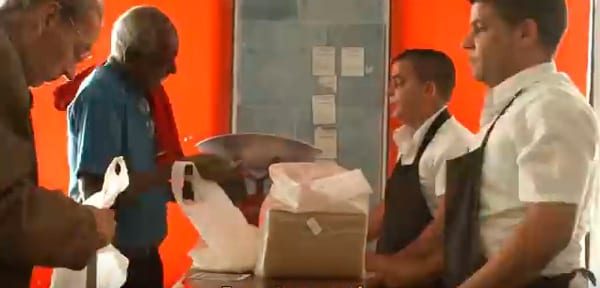 HAVANA TIMES — In Havana, a very alluring movie is being passed from USB to USB, especially among natives of Cuba, which is called "La Singular Historia de Juan sin Nada" (The unique story of Juan with nothing) .
Directed and written by Ricardo Figueredo Oliva and with copyrights belonging to the "Cooperativa Producciones" and dedicated to the singer-songwriter Santiago Feliu, this kind of documentary – which was made as a result of crowdfunding and other donations – has the character Juan at its center, an ordinary Cuban citizen who lives on the island and only lives off of his income.
The plot unfolds via personal accounts, mainly from people in the capital, a voice-over narration (by popular Cuban actor Luis Alberto Garcia) and historic archive images, which span the period since the Revolution triumphed (1959) until the days when this movie was made (2016).
It is characterized by its cutting from scene to scene in its explanations, for how well the narrative thread is developed which clears up the daily expenditure of someone who only lives off of 250 pesos a month (10 USD), that is to say, someone who works magic to get by every day with this amount of money to get to the end of the month, in a system where two currencies are officially accepted.
Juan doesn't receive remittances from abroad, he doesn't have a second job and he doesn't take part in the so-called "struggle"*, in other words, Juan has no other way to increase his wages, in an honest or dishonest way.
Juan doesn't rob the State, he doesn't cheat or manipulate other people in his eagerness to make a little extra on the side.
And as you must have already realized, Juan represents an important percentage of the Cuban population who live on the island. This in spite of the idea that has become widespread that the vast majority take part in this "struggle" looking for a way to survive, which crosses all social spaces available to ordinary citizens, as there are many different ways, from businesses that are set up with people's own efforts or that are sustained with the work of others.
This can include growing something in a small backyard or rearing pigs for family consumption thereby avoiding paying a high price, like buying in quantity what can then be sold for a lot more. But, this also includes taking advantage of your job or resources within your control at state institutions. In a nutshell, the subject of the "struggle" needs an essay for itself.
An interviewee said: "I have never been a criminal, and I don't think about being one now, but hell, at this point in time, I'm 43 years old and I still can't say: I earned this for the work I did. Sir, until when!… Until when!" well like he mentions at another point in time: "… people watch this theft and keep quiet."
Among those giving accounts in the documentary are a primary school teacher, a builder, 2 retired people (man and woman), an Emprestur employee (tourism company), 2 self-employed women, a student, an economist (Juan Triana), another economist, analyst and social researcher (Esteban Morales) and as a result these are statements and reflections from people who spill out their analyses and philosophies, based on real life facts, according to each case and giving their opinions about how hard it is to survive with a state employee's income, since a long time ago, as well as other issues.
As the movie progresses, efforts are made to take apart or follow where a wage-earning person's money ends up: foods regulated by the rations booklet (bread, rice, beans, sugar and others), agro-market produce (onions, garlics, bananas, manioc, fruit, pork and mutton which are also sold at agro-markets), basic purchases in shopping centers (soap, detergent, deoderants and others)  and other expenses such as water, gas, electricity, cigarettes and that of the MTT (Territorial Troops Militia), which is mentioned as an unavoidable expense, etc.
An interviewee complained at another moment in the movie: "A piece of meat can cost you 120, 150 and even 200 pesos."
Here, the disappointment with the Energy Revolution, which is best remembered for the near obligatory fridge swaps in 2008, is made clear, which left people with debts they still haven't paid off.
Bureacracy and the abyss that corruption, which has increased exponentially, creates, which is already "… a system" – are constantly mentioned throughout the movie.
The Cuban people's creativity, the conflict between generations and the emigration of the youngest, remittances sent from those who live abroad, the difference in communication between generations. Reggaeton culture, the state of public transport, and the sacrifices some self-employed people make with their work are shown.
There is also an allusion to the visits to Cuba by Pope Francis and Obama.
In conclusion, it moves the memories of anyone who has lived in Cuba or has got to know the laws that really govern everyday Cuban life, whether these are laws in legislation or just unspoken agreements which move the fabric of social interrelations based on unravelling exchange rates, which Juan does on a daily basis only with his income.
And even though the movie is only explanatory, I have beared witness to how Cubans, residents on the island, joke about their own misfortune when they watch it, which reminds me of the film's ending:
"… Juan also believes that important economic changes will come. And he also believes that this could be a step forward for his critical financial situation."
"… With this special quality that natives of this island have, Juan will sit and wait for better times to come along."
—–