An Islander without an Island
Regina Cano
HAVANA TIMES — With a painting series entitled "Islands", painter Israel Delmonte returns back to Havana's art scene.
Opened to the public on Friday 17 June at the "Servando Cabrera" Gallery, "Islands" is an exhibition of easel paintings that reveal building façades, doors, arches and columns characteristic to Havana, from a perspective that ignores other urban elements.
These are the remnants of a familiar city which remain imprinted on our memory. Reality follows us in our subconscious when we don't see these things everyday; a corner, an arch or a column. When we see these paintings we remember these spaces that belong in pastel-colored dreams which become black and white and blurry, like second backgrounds in an illusion which communicates how we feel in the face of nostalgia.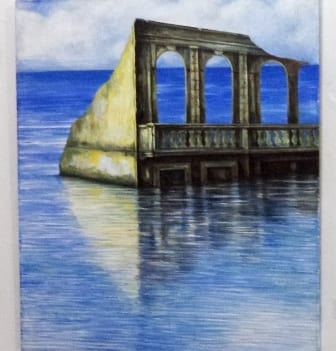 A brighter color pops up here and there like a turn that steers us towards another position or the dim shining light in an old city or the accumulation of experiences of a life never lived. A fragment which doesn't support our view, and seems strange.
Absence cries out exile, watching from another island -Jamaica-, from the distance of an artist who observes his city and rejects the absent perspective, not giving up hope and wanting to make it a daily crossing, a normal crossing.
"Islands" also brings out the background of our home city – the sea, the sky-, from another capital which isn't so foreign anymore, but especially the inner-city, which represents and identifies us as individuals with other similar individuals, but as "one", indivisible. A spoke in the wheel, but a witness to one life which is present, rationing and supplies.
Israel offers us the chance to observe his city, our space, from the distance, which we reinterpret from our own perspective, an opportunity for us to see it through our own filter which we use to understand our own subconscience.
The paintings that make up the "Islands" exhibition will be up on show at the "Servando Cabrera" Gallery, located on 1st and 22nd Streets, in Playa until the July 16th, from 10am to 5pm. Further visiting information can be requested by calling: 7203-7171.
A note on the Artist:  Israel Delmonte, who develops teaching methods within art in tandem with painting, in Cuba as well as where he lives now, graduated from Havana's Higher Art Institute (ISA) in 1987. He has put on 30 exhibitions with his work, in Cuba, Jamaica, the USA, Spain and Holland.
Click on the thumbnails below to view all the photos in this gallery. On your PC or laptop, you can use the directional arrows on the keyboard to move within the gallery. On cell phones use the keys on the screen.