Celebrating a Child's Birthday in Cuba
Regina Cano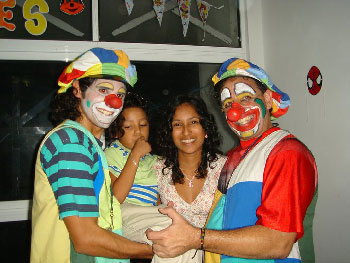 HAVANA TIMES — Over the years, preparing a child's birthday party in Cuba has become as elaborate and involved a process as those which people living in industrialized and "developed" nations often undertake to fulfill certain fantasies.
Some of the things needed for these occasions can already be purchased in the country; others still need to be brought from abroad.
A child's birthday is a joyous moment for most Cuban fathers and mothers, as I assume celebrating this day is for most fathers and mothers in general.
For Cubans, however, celebrating a child's birthday has become a near-fetish, one whose current costs many are increasingly unable to afford.
In the case of small children, a Cuban family's common wish scenario is a party with the standard birthday cake, a piñata stuffed with candy and gifts, soft drinks, funny hats and other paraphernalia, a clown, magicians, big rubber figures, photographers and inflatable games.
One will see parents scrambling to secure all of these things in a growing and costly market, a process which also involves the design of the birthday venue – dressing up tables and chairs, setting up floral arrangements, twisting balloons into cars, baskets, towers, wells, and just about everything under the sun – finding the music (or DJ) and securing a cake, piñata or chocolate fountain, not to mention renting out a place, at one's expense, to entertain the guests.
Today, we see people come together to offer a full birthday package, whereas, before, parents hired separate individuals (photographers, magicians and clowns) to throw together a party.
At the request of the parents of the birthday boy or girl, these entertainers put together a show aimed at both adults and (hopefully) children. In some cases, they play a lot of reggaeton and tell obscene jokes. In others, there's a wider selection of children's music and better clowns.
The point, folks, is that what could well become a whole world of private entertainment companies is already taking shape in Cuba. The fact the work of these entertainers is more visible in the realm of children's parties today doesn't mean it hasn't already expanded to other areas of society.
And, as the clown comes on stage and draws the children's' attention, asking whether they're having a good time, accompanied, perhaps, by Dora and Diego or Mickey and Minnie Mouse, putting behind them the serious headache of having thrown a party for the child they brought into the world, the parents begin to pay the entertainers who have enlivened the festivity.
Some obviously find this payment – anywhere from 150 to 500 CUC – less suicidal than others, who, many a time, go into debt to pay for this merry occasion.