Gascon and the World of Naif Temptations
Regina Cano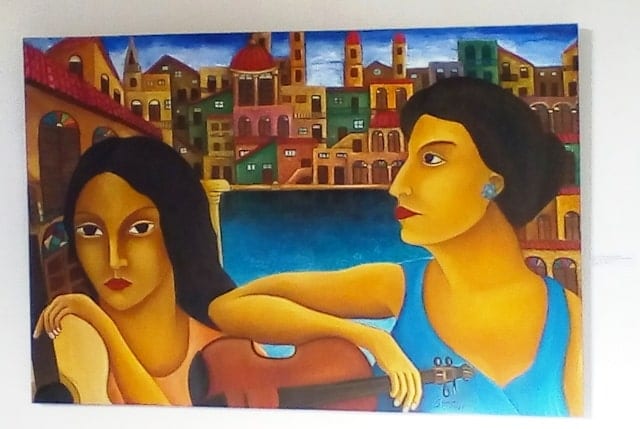 HAVANA TIMES – The Espacio Abierto Gallery is putting on a painting exhibition called "Las tentaciones del ingenio" (Naif temptations), located at the Revolucion y Cultura magazine headquarters, in Vedado, Havana.
An exhibition by painter and teacher Jose Clemente Gascon Martinez, who this time presents us with a new aesthetic which is removed from his usual form of expression, abstract painting, which will be on show throughout September 25th.
These works travel a world of appropriations from famous works in universal and Cuban art, to create new works, with a touch of naive art, where women and the feminine are the central figure.
"illusion as a visual strategy proposes the (…) bridge between imagery as an iconographic tradition which recontextualizes itself in (…) new areas of interpretation of similar problems in the past (which) dwell in the present such as gender-specific characteristics in island cultures," the author writes in the catalogue.
"This visual proposal aims to reclaim these iconic paradigms as an alternative to reconstructing visual text to remove the efficiency of reflective sign posts and revisiting the female image from ideal types, the inner states of subjectivity, inner attitudes, emotions, moods, feeling, behavior and the intimacy of spirituality, in the shapes of faces, body positions or gestures and body language; not only as something outside of the typical customs of "female" imagery in traditional culture," the catalogue continues.
Gascon presents us with 2D boxes in the middle of shiny and contrasting paintings, which are pale and carefully drawn out.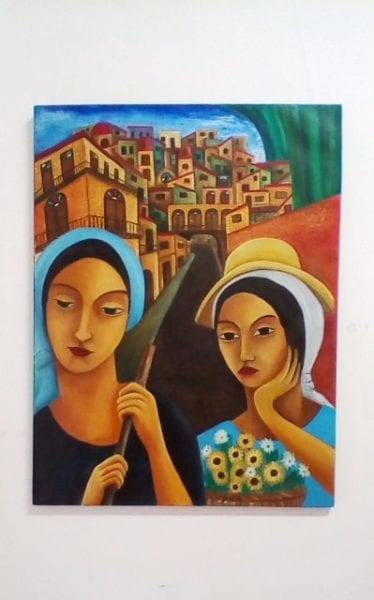 They contrast with spaces of red roofs, like in Cuba's colonial cities; with the blue water of rivers, lakes and seas; with the presence of very green vegetation and a general atmosphere of sunlight in the tropics.
In every painting or set of paintings, there is an overlap of identifiable or recognizable shapes for any art connoisseur. You can make out Goya's Maja, for example.
He identifies his works that result from this creative process as examples of Appropriationism.
According to Gascon, this creative process is the "…frame of mind you need to imagine…". And he adds "… that these works are the product of an environment or universe which mainly develops at night, while witnesses of his life sleep and stop doing things, when daytime sounds go silent, but not the activity of someone who is expanding their rhythm and harmony…"
At dawn, his wife (Georgina Garcia) tries to give some order to this alleged chaos, which is just the order of continuity really. There, the last color he uses and the last combination he made takes refuge.
Sometimes, he let's music accompany him during this process, which also helps move the paintbrush and supports the sinuosity of his brushstrokes, he told me.
The author of this exhibition is revered by a large group of disciples, art colleagues, art critics and teachers, just like him. And everyone who shares his life were present, putting on a large display of politeness and celebrating the author and his work.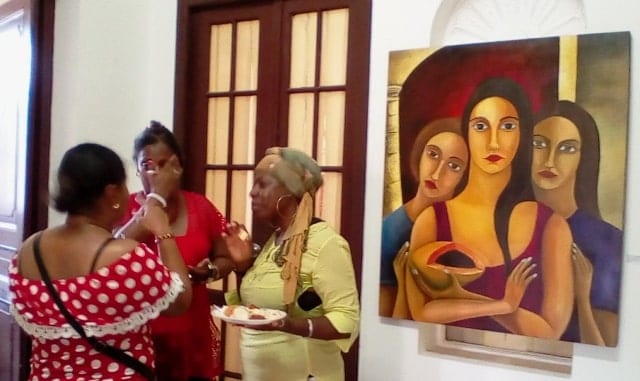 They put on group discussions and even sang and danced to the sounds of a piano and guitar played by a guest folk singer, Maria Isabel Moinelo and singer Siria, both of whom are members of band "Oshhupa".
Jose Clemente Gascon Martinez, a graduate from the San Alejandro Arts Academy and member of the Cuban Teachers' Association, among other distinctions, has been a teacher for other artists, without abandoning his own paintings.
"Gascon has great knowledge about Naive Art, Art Brut and Abstract Art," one of the exhibition curators said, Luis Lamothe Duribe, "and he is recognized as a great teacher, collaborator and altruist."
Note: "Espacio Abierto" Gallery 4th Street between Linea and 11th Street, Vedado, Havana. Telephone: +53 78303665 (Magazine and Gallery) [email protected]
Click on the thumbnails below to view all the photos in this gallery. On your PC or laptop, you can use the directional arrows on the keyboard to move within the gallery. On cell phones use the keys on the screen.