Russian Cartoons Return to Cuba (I)
Regina Cano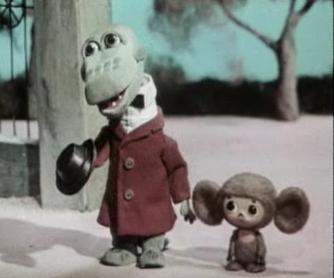 Incredibly, the old Russian cartoons have returned.
A lot of people are passing them around from USB flash drive to flash drive; everything from "Cheburaska," "Let Me Catch You," "Uncle Estiopa," "Lolek-Bolek," "Thrifty Piggy," "The Stone Engraver," "The Shepherdess and the Soot Cleaner," "Rikitikitaki" (A story originally from India), "The Humpback Hobbyhorse," "The Children of the Sun," "Kastanka," "Button Nose," "The Seven-Colored Flower," "Tusacutusa," "The Blizzard," "The Golden Feather," "Renzo," "Peter the Policeman," "The Doll Polina," "Curdled Milk," "The Musicians from Bremen"…
Actually, not all of them were Russian; there were also cartoons from Czechoslovakia, Poland, East Germany and Hungary, but for us they were always and continue to be "Russian cartoons."
Others here in Havana Times have already talked about their good and bad experiences with the Russians; I think that all cultures — including ours — have their pros and cons.
I believe that due to the Cuban government's political and economic interests, we were given a special peephole for appreciating these experiences.  Therefore in the 1970s we were able to hear and see Angela Davis, just as we sang in unison with the Russians to songs by the Chilean Victor Jara and Argentina's Mercedes Soda.  Similarly, we read works by Latin writers such as Violeta Parra, Jorge Luis Borges, Cesar Vallejo and Gabriela Mistral.
We also heard songs by the Brazilians (Chico Buarque, Caetano Veloso, Milton Nacimento, Gilberto Gil…) thanks to the festivals of the Nueva Trova at the Varadero beach resort here and the relationships fomented with Latin America by Havana's Casa de las Americas.  We were able to enjoy all of this in what was then a "comfortable economy."
Maybe in 20 years there will be those who will miss Chinese cooking or the documentary series "This is China" – with its Chinese landscapes, Chinese acrobats and Chinese history that they now show on TV.  Those people will probably feel nostalgia for the new cartoons that are shown, the ones that occasional drop a Chinese word or two with Spanish subtitles.
The Russian avalanche was formidable.  Its movies on TV that would invariably generate protests of "Oh no, not another Russian movie!" since we were bombarded by reruns of "War and Peace," "Moscow Doesn't Believe in Tears" and "Liberation."   Many of those films had to do with World War II, others not, in addition to lots of documentaries.
Television series like "17 Instants of One Spring," "Four Tank Soldiers and a Dog" (Polish), "Black Angels" and "The Electronic Technician" accompanied us for years with reruns, reruns and more reruns…
(to be continued…)