Regina Cano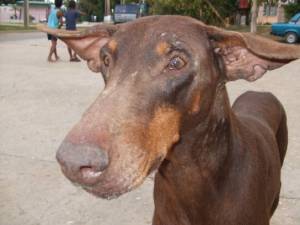 To leave my area of apartment building in search of the guagua (what buses are called here in Cuba), you have to perform a veritable balancing act walking along the sidewalk.  This is because the so-called street dogs — so accustomed to humans — end up sleeping in the middle of the walkway after their wild nighttime sprees, which means residents have to step over them one at a time.  Everyone in my neighborhood shares in having to deal with this daily.
There are not wild dogs per se, just ones that were born in homes only to later to be tossed out into the street as puppies by their human owners.  Or, in other cases, they're the leftovers of recently completed housing construction jobs carried out by "micro-brigades," which brought the animals there and fed them to guard the premises against stealthy thieves.
In my neighborhood, the survivors of those various acts of abandonment form a pack of 20 or 30 dogs that wander around during the night and lay around near my neighborhood by day.
These dogs, which out of hunger have to rummage through the trash in dumpsters and individual garbage cans, are plagued by diverse illnesses (usually mange) and they act as a source of infection for the pets in the homes of many people.
The great majority of these street animals receive food from compassionate residents who at least believe that they're performing an act of kindness as they try to help out somewhat in the face of this tragic situation.
However many other people are of the opinion that these animals should be reported to an institution called the Zoonosis, whose job it is to pick up and put to sleep these animals, thus ending the sad story.  However the reality is that the cycle constantly repeats itself.
The great majority of people prefer dogs as pets, and they consider themselves animal lovers.
It seems there's an element in local behavior that doesn't follow a rational course; or perhaps the daily fabric of life — full of crises and emergencies — doesn't allow people to draw logical conclusions related to these street dogs.