Street Vendors in Havana's Alamar Neighborhood
Regina Cano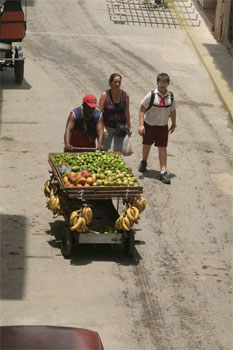 HAVANA TIMES — The guy felt insulted. He told me that his brother had been given a 750 peso fine — "despite how hard that is to come by" — and that the authorities had taken away his vendor's license.
What happened is that the brother had parked his push cart in fruits and vegetables while he went to have lunch at a nearby food stand. According to the inspectors, though, street vendors aren't allowed to park.
It is yet to be determined whether the inspector or the vendor was right, though generally there's nothing the vendor can do about it.  However this time two more push cart sellers were fined and had their licenses taken away for the same reason.
The truth is that the one who's authorized and vested with power (the inspector in this case) is the one who has the upper hand.
Two days later, I meet the brothers in the hallway of a mini-mall. Beside them was a plastic bag with plastic bottles of tomato puree. Exasperated, one of them explained, "I know the police are going to pick me up again, but I don't have a choice. I have to pay the fine and I have to eat."
The fact is that this guy is considered a "reoffender" for the same violation, because once before he had been fined for "parking," though he claims that he was actually "selling" goods to some customers when the inspector appeared.
What happens — people! — is that usually these people don't complain about the first fine, even if it is unwarranted. They're unaware of their rights, and they don't think about seeking help from a lawyer, someone who's familiar with the regulations and has the tools to defend them.
The truth is that if more people did challenge these abuses, it would save other people from going through all of this since the inspectors would be more cautious.
The problem is that hiring a lawyer is seen as something complex, plus people are afraid of how much it would cost to hire one.
According to other vendors, inspectors will sometimes come up and ask them to allow these officials to fine them 50 pesos so as to justify their employment. The same thing happens with those vendors who have stands. If the person doesn't have the money, they settle for payment in goods, which gives the act yet another interpretation.
What's also inferred by all of this is that each inspector's work is being evaluated based on the number and amount of fines they turn in to the Regulations Office.
It's amazing that inspectors in Cuba are only seen as people who hand out fines. What does this say about their educative and preventive role if their work is truly measured by the amount of fines paid?
It shouldn't be like that.  Fewer fines, fewer violations of the rules and less crime should be the goal and seen as positive.
There must be another way of doing things, ways that don't create adverse reactions or fear about the legality of people's actions, where everyone feels that the inspectors aren't there to protect them.
Please readers, explain to me how a street vendor can sell if they don't park to sell their products? The thought seems like utter madness!