Summer Activities in Havana's East-Laying Neighborhoods (Part II)
Regina Cano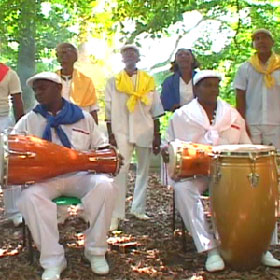 HAVANA TIMES — On August 25, the residents of Havana's Antonio Guiteras neighborhood of the capital were delighted by a performance staged at the La Cascada recreational society by the Yoruba Andabo Afro-Cuban folkloric music ensemble that is well-known both in Cuba and abroad.
The ensemble emerged from a series of music gatherings organized in Havana's port area in 1961 by a number of workers from the area. The band became a company in 1994 and began working closely with renowned Cuban singer Mercedita Valdez ("La Pequeña Ache").
On this occasion, the premises of La Cascada became the stage of a professional performance by the band, drawing a dance-loving public which enjoyed the music immensely.
Days before, bathers at the beach town of Guanabo, to the east of Havana, were treated to a day of song and dance offered by the Cuban reggae band Remanente. With 15 years of experience, the band gathers musicians from across the spectrum of musical genres.
Those in attendance enjoyed and danced to original numbers by the band, which combine the reggae genre with rock and Kizomba rhythms, and classic pieces by reggae legend Bob Marley.
For many, it was a real treat to be able to attend this concert, as reggae is one of many genres Cubans enjoy but can seldom experience as a live performance.
This is what a young man explained to me while knocking back drinks and dancing with his girlfriend or future girlfriend: "This is the best thing that's happened today," he said. Later, a Rastafarian from Cuba's province of Las Tunas said to me smilingly, standing by his wife and son: "This is a surprise for all of us. We didn't know the band. The last thing I had expected was to get to hear a reggae band play at the beach."
Though Remanente had intended to perform around 20 of its numbers, it was ultimately able to play around 10, as the concert was interrupted by the organizers. Apparently, they feared that the crowds from a nearby concert by a well-known Cuban reggaeton singer which had just ended would spill into the area and cause trouble. The public, somewhat disappointed by this, enjoyed the concert immensely nonetheless.
As we say around here, this summer brought plenty of "fun and games" for those who, getting away from their studies or work, want to go out and have a good time, be it by themselves, with friends or, in the best of cases, with their families.
Like I said in my previous post, these activities have had an impact on the public around Havana as we hadn't seen in years, to the point that we can ask ourselves whether the trend will continue and in what direction it is moving. Some people are speaking of change. I don't exactly know.