Regina Cano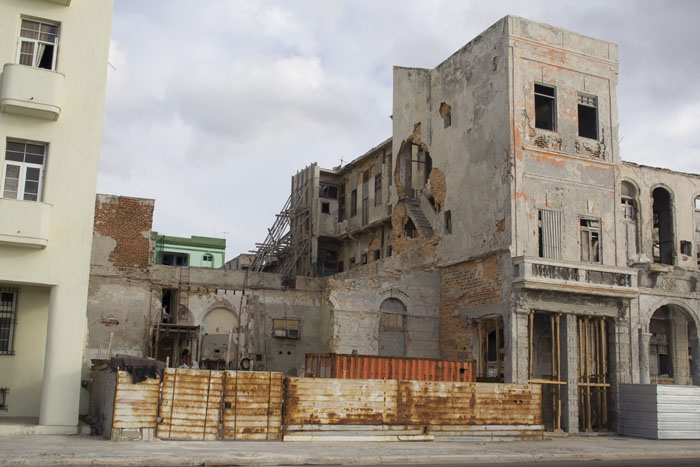 Little by little, Havana has been turning into a transparent city.
There are places where its bones show; the skeletons of buildings that hint at the future, the past or to the sides.
Among the surprising marvel of balance, one can appreciate the implacable passing of the calendar as time increasingly wins out, revealing rusty beams from the beginning of the 20th century, with alloys respectful of the permanency of those times.
This is accompanied by hard concrete, despite the accustomed attack of ocean sea salt and this tropical climate, which demonstrates to us that getting old on strong pillars extends a structure's life.
These are unalterable colossuses in the slow process of dying, yet the actions of many people accelerate this, because in the neighborhoods where these large and strong buildings or houses exist, there always appear cannibals that extract the materials that can be used for the maintenance of houses and business – their own and those of others.
Piecemeal, bit by bit, pieces disappear.  The doors, windows, bathtubs, baseboards, stained-glass windows, bathroom toilets and sinks, floor tiles, stairway banisters, columns and metal beams – even the bricks.
On occasion, despite warnings of possible collapse, in those buildings from which some have come out injured, nocturnal assailants continue this dangerous work of theft.  Some people place the blame (not always real) on the people who migrate from the east of the country to the capital.
This theft has been one of the sources for the repair and construction of new homes, with people obtaining materials through purchases or extraction by themselves.  In Cuba, many people consider themselves capable of demolishing or building a wall, though they don't exactly know if the house will stand up in the future.
In those new structures, you can discover, among a diverse heap of other materials, remnants of ironwork or Venetian windows that no one produces these days.  There are swinging doors or screens that remind you of the Old Havana houses that no longer exist, or bidets and bathtubs now dedicated to other uses, like gardening or installed outside as an option for bathing.
Visiting neighborhoods on the city's periphery (mislabeled as "marginal"), or even neighborhoods with better physical conditions, one can see the new use of wrought-iron gates and half pointed stained-glass windows with extravagant flowers made of lead.
Bit by bit, they continue destroying buildings that are then declared irreparable and are demolished or collapse on their own. Left in their place are parks or new commercial developments that are in no way comparable nor adapted to the architecture of the surrounding environment.
Everything that continues destroying a patrimony that had been at some moment salvageable through maintenance, but that in the end turns into an irretrievable loss, has contributed to this city becoming more and more transparent with each passing day.