Rosa Martinez
HAVANA TIMES, Feb. 1— For the last three months I've had several experiences related to footwear.  I went to stores almost every day for about a month but didn't find anything appropriate for my youngest daughter.  I finally gave up and decided to take the advice of a friend and just wait, assuming I didn't spend the money before then.
Yet, the inevitable occurred.  The only pair that she had for daycare fell apart.  As one of my uncles said, "The car broke down for a lack of wheels."  Her poor tennis shoes couldn't take any more so she had to use her dress shoes.  But these — though they were new and had hardly been ever worn — only lasted her eight hours.  The same day I had put them on her, all their leather fell off.  Little black strips were lying all over the nursery.
"What could she wear tomorrow?" I wondered.  I didn't have a dime to buy her anything at the store; plus, what would I have been able to find if there's hardly any footwear for girls, at least in Guantanamo.  The following day the good news came.
My only alternative was to go to a friend who also has a girl, but a year older.  I was hoping she had some used pair that she could sell me to get me out of this situation.
"God might push us under, but he doesn't let us drown," I said when she pulled out a couple pink sandals that she gave to Claudia and that fit her perfectly.  She also had some white tennis shoes in good condition, but these I had to buy, though she sold them to me at a good price.  In any case I was very grateful.  My little girl could go to daycare and I could go to work the next day.  All I needed to do was continue saving money to be able to buy her some new ones.  What more could I ask for?
For several weeks she wore the nice white tennis shoes.  But there was no way to get her to put the sandals on.
"Mom, these are ugly" she told me.
"No mimi.  They're not ugly; they're used but they're not ugly," I told her.
"Look how cute they look with your polka-dot dress," her father told her, trying to convince her.
"Oh, dad, I don't like them; they're ugly," she said again, this time crying.
I didn't insist.  When I looked at them more closely, I could see they were pretty beat up (maybe that's why my friend hadn't charged me anything for them).  I decided that my daughter could continue wearing the white tennis shoes.  The only bad thing was that she couldn't wear them with her dresses.  It didn't matter, it was starting to get cool outside, so wearing pants would be better — I thought, to cheer myself up — though I really felt like screaming.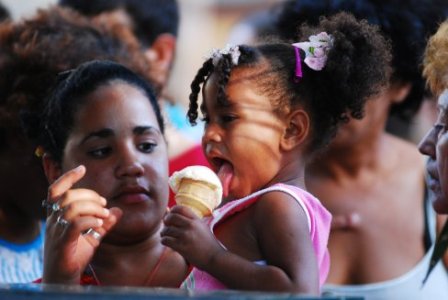 At the beginning of December came some unexpected humanitarian assistance from an old classmate from the university.  She gave me 100 CUCs (about $120 USD), which didn't even have a chance to warm my hands: I immediately went to another province and bought three pairs of sandals for my daughter (one pair of dress shoes, and two practical and strong pairs for daily use).  I also took advantage of the opportunity and bought her some brown boots that she could wear with shorts or pants.
You can imagine the happiness I felt when I had them in my hands.  I couldn't believe that this anguish had ended, at least for the time being.
That day I slept like I hadn't in weeks, and I imagine that even after I fell asleep the smile stayed on my face.
Although I was exploding with happiness, it wasn't until the following day that we showed the shoes to our daughter.  We know her well and we know that when she has something new she wants to put it on immediately, whatever it is.
"Claudia, look at the shoes we bought you," I said.
"These are getting dressed up, and these two are for the daycare center, and this pair is also for the daycare but for when you wear shorts or pants.   Let's see.  Which ones do you want to wear today?" her dad asked.
"Mommy, I want to take all of them to daycare with me," she exclaimed.
I was astonished.  This was too much.  She wants to wear all of them at the same time?  It's true that these kids aren't easy, I said to myself.
"Why do you want to take all of them?" I asked her, trying to be calm.  "Do you want to give a pair to a friend?" I smiled.
"No mom.  It's so Jennifer can see them.  She says I don't have any shoes."
I just stood there…speechless.  I couldn't believe it.  My daughter is only three years old.
With much effort we were finally able to convince her that she shouldn't take all the shoes, but who was there to convince me not to cry?