A Millionaire in Guantanamo, Cuba
Rosa Martinez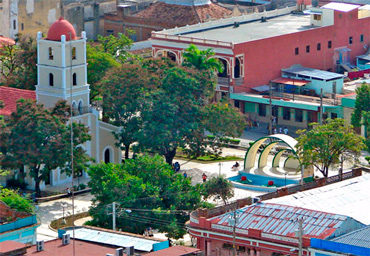 HAVANA TIMES — The city of Guantanamo has changed in recent times. People from other provinces say the whole of Cuba is changing. I hope that's true.
A short time ago I met a millionaire who was neither Italian, Spanish nor American. He was born and raised in Guantanamo. In Cuba, anyone with a bank account of at least one million Cuban pesos (40 thousand US dollars) is considered a millionaire. This is the case with J (who doesn't want people to know his real name, let alone see his face). In addition to this sum, he owns two large houses and a ranch that could fit at least 20 families. He also has a van, a truck and a car.
My acquaintance inherited a considerable part of his possessions from his father, who in turn inherited these from his own father. They have always owned those vehicles and been linked to Anchar, the private car rental agency that existed in Cuba before the Special Period, when getting around was the easiest and cheapest thing in the world. Even then, they were earning a lot of money.
He obtained in a diploma in dentistry and worked as a dental technician until his father became ill and he had to take over the family business. He tells us his story below.
J: The first thing I did was change the truck driver and assistant, because I didn't trust them. My dad complained about them every day but never replaced them. With the new and old employees, I began to improve the family economy little by little.
I didn't do anything my dad hadn't done before, save buy a spare engine for each vehicle, such that, when a car broke down, we would replace the entire system. The car could then continue to be used while we fixed the problem.
I am demanding of my employees, but I pay well, more than the majority. That's why my people work longer hours, which means more profits, of course.
Lastly, we take all of the trips to Havana that people want to hire us for. Other car owners prefer not to drive their cars to distant provinces, because their vehicles aren't in good technical condition. That's not our case. We profit from those long trips. The pay is good and we send two drivers and two assistants, like State buses do, to avoid accidents caused by tiredness.
HT: Have you ever been questioned about the money you have in the bank? My question comes out of recalling several "well-to-do" people whose assets have been confiscated by the Cuban State.
J: The fact is that my family has always kept its savings in the bank. Perhaps it's because we've always owned a ranch and cars, and because we have family abroad that have helped us a lot financially.
HT: With so much money, have you never thought about going to another country, starting life anew somewhere else?
J: I almost did that in the mid-90s. I was very young and the Special Period was at its worst.
Our relatives abroad helped us financially, so we were never in as tight a situation as other Cubans, but the Special Period made us change and see things differently nonetheless. I wasn't able to secure a legal means of leaving the country, and my parents made me swear I would never attempt to do it any other way.
As of the year 2000, life in Cuba began to change. We started to improve our lot little by little. Then, recently, the changes we'd been waiting for decades for finally arrived. You can now sell or buy your house or car, anyone who wants to travel and has the money for it can do so, you can go to hotels…there are other economic measures that offer the private sector, which my family has always belonged to, even back when it was disreputable, many opportunities.
Believe it or not and whether we get a bigger or smaller slice of the pie, Cuba is changing. I hope that these improvements will continue and that our children, nephews and grandchildren don't have to dream of leaving Cuba to lead a better life, that they are able to make their dreams come true here, as I try to do so right now.