Giselle: Off to School Alone
Rosa Martinez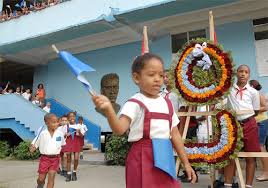 HAVANA TIMES – What joy the arrival of children brings to the family! The moment an embroyo settles into the mother's womb, the couple's life changes completely; from the moment of conception, everything in the household begins to revolve around the upcoming new arrival.
The father pampers the mother-to-be and tries to satisfy her wishes so that she'll have a happy pregnancy and the baby will have an ideal environment to grow in, with a healthy heart and mind. The mothers eat healthy food, even when they don't want it, so that the baby can receive the necessary nutrients.
The matrimonial bed is repaired so that the new mother can sleep peacefully, the room is painted so that the newborn will percieve a pleasant atmosphere from the moment of birth, the home is organized so that the crib can fit in the main bedroom. At times, the grandparents sacrifice their privacy and well-being in order to allow the couple more space to attend to the newborn during the early morning hours of the extremely exhausting first six weeks of life.
But, it's all in order to enjoy our children: their first smile, their first words, their first steps; even though we also suffer during each illness, small accident or lapse in good behavior.
I won't be addressing the topic of sicknesses and accidents, nor that of bad behaviors – some of them funny, some not – of which I have enough material for a book. Today I will only share one of the moments we should be prepared for, but that, even so, never fails to inspire deep emotions.
The youngest of my girls is seven and in the first grade at a day school in the area of San Justo. The center is relatively close to our house, but she had never gone to school alone. But on this day her father was away from our province, her older sister who's in seventh grade leaves earlier than she does, the neighbor she adores and who had accompanied her so many times wasn't home, and due to an important commitment I couldn't take her either. She would have to make the trip by herself.
I was left with no other alternative than to talk to her and explain the reasons that she would have to go alone.
She understood – at least that's what she said – and she seemed to take it in stride. I asked her to let some friends from the neighborhood go with her, but she refused.
After hearing one more time how she shouldn't talk to strangers nor accept presents from anyone, not even from people we know, she left with her backpack full of notebooks, water, a school snack and something extra for lunch. Happily, she only has to walk seven blocks along a straight road where there is hardly any traffic.
I left to fulfill my obligation, which I did half-heartedly. Although my body was there, my heart was elsewhere and my mind continued to flash images of Giselle's face looking down sadly down at the ground while she headed off – alone – to her beloved school.