Some Things About Cuban Mothers
Rosa Martinez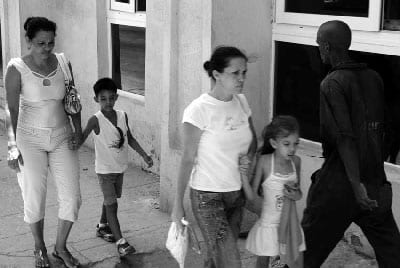 HAVANA TIMES – In Cuba, women are normally courageous. And, it's not a matter of them being more courageous than other women in the world or anything like that; but the thing is, here they have no other choice but to be brave, because if they aren't, they won't be able to give their children a decent life.
This is the story of a young woman from Guantanamo (which could be the story of many women in Cuba), who doesn't ever throw the towel in, who isn't scared off by anything, who dries her tears, holds her head up high and says: carry on.
She is called Isabel, but she might as well be called Maria, Katia, Nicole or any other Russian, English or French-derived name, depending on her family and their preference.
Well, Isabel is your regular professional, who as well as punching in eight hours every day for a miserly monthly wage of 560 pesos, also sells "things" at her company, in the neighborhood, even at other places where she has friends, so she can make it to the end of the month. With the current state of things here in Cuba, we all know full well that 22 USD per month isn't enough for anyone to get by, it seems that even 100 USD isn't enough.
She has a husband, who is very hard-working too. But unlike her, he doesn't manage to "invent" much to boost the household income. Carlos is a teacher and he doesn't know how to do anything but teach classes; whenever his job as a teacher allows him to, he works as a builder's assistant with a friend, but it's only a couple of times a month and doesn't really bring in a lot.
While Carlos says that they have to adapt, Isabel finds a way to get a little extra so they don't have to give up the basics. And when I say basics, I'm talking about the absolute basics, not clothes and shoes (which are also basic), I'm talking about meals, personal hygiene items, school snacks, the essentials you need to live.
When he says that the shoes the neighbor is selling are too expensive for their older son, that poor people can't buy these things, that there are more pressing needs, she doubles down and organizes cooperatives amongst her work colleagues or people in the neighborhood, in order to make her older son's dream come true, who will soon go to university and he can't be any less than anyone else. The young lad has studied so hard to be at the top of his preuniversity class, for his mum not to be able to buy him the right pair of shoes, she says, and she manages to get them.
Nothing is impossible for mothers, or almost nothing, which isn't the same, but it sounds the same.
That's why, today, when it's twice as hard to find things: protein, ham, hot dogs, with so many food shortages, she reinvents recipes with some vegetables to make a soup with rice more appealing or a yellow rice. She works magic with okra, beans, kale, tomatoes (which are also expensive, for the record).
When the baby of the household's birthday comes around, and the family budget shouts out that a party won't be possible, while practical-headed friends advise her to buy the child what it really needs: a pair of pants, or some sandals because summer is around the corner, the mother doesn't hear the cries of the family's or national economy, much less anyone's advice. She does what she has to do and first scrape some money together and then gets friends from the neighborhood together to sing happy birthday, to share cake and play with her son at her prince's dream birthday party.
While the father doesn't have time to line up in the long line for bread, in the middle of a crisis that has even hit Cuban bakeries, mom finds a way to have time to work both on the street and at home, to take care of the children, line up in the long line and buy bread, chicken, mincemeat, and even to run her fingers through her young child's curls, so that they don't forget that as well as work and sacrifice, she is love.
That's why today, when an imminent and seemingly inevitable crisis looms over every Cuban's life, I can't help but think about my daughters and all the other Cuban children and young people who will have to pay for the poor administration of the national economy and the Trump administration's dreadful actions, which is trying to stifle us once and for all.
But in addition to these children, I also think about the mothers who, like Isabel, like myself, boldly stand in the face of each and every challenge our Cuba throws our way today, challenges that are really quite frightening in reality, which get everybody's spirits down, which take away your desire to live at times, because we don't believe another Special Period is fair for anybody, much less ourselves.
These mothers will continue to suffer every day in order to put some food on the table for each of their loved ones, they will find a way to give their small ones the best summer ever, to buy a backpack, shoes, socks… for the new school year. And they will suffer, they will suffer a lot in every battle, but they will never ever give up. Isabel won't, and neither will I…