The Drought and an Unexpected Reply
Rosa Martínez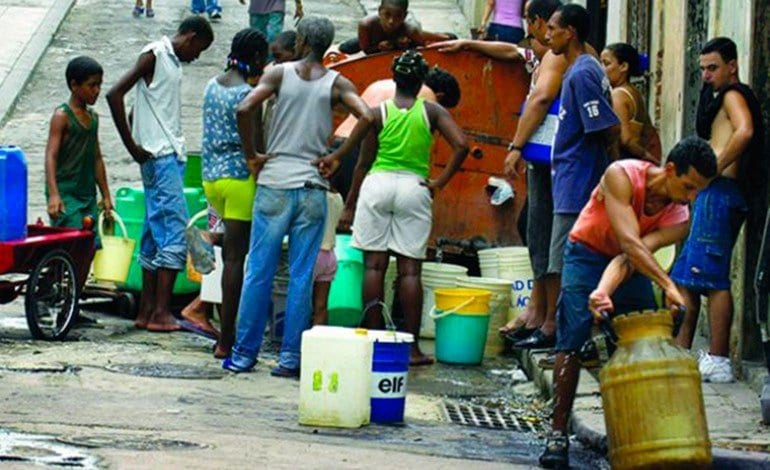 HAVANA TIMES — The water was running across the sidewalk unchecked. Several people worriedly looked at the fatal spill, wondering, perhaps, where in our draught-stricken city it could be coming from. The sight was just one more worry we Cubans deal with every day.
I was going to continue on my way to do my daily routines, like nothing was happening, but something (I'd like to think it was my conscience) got hold of me and made me stop. I couldn't stop thinking about the 15 days we spent at home without a drop of water and the number of large buckets of water we had to carry back from the trucks that occasionally showed up, or about the quarrels we had in the neighborhood over this situation.
I followed the stream of water and got to the source of the precious liquid, essential to all living creatures and increasingly scarce these days (owing to climate change brought on by our actions, or so scientific studies reveal).
Instead of one leak, I came across two: one from the home of Fina, a neighbor we all like very much, and the other from the garage of Rafael, a young man which everyone in the neighborhood says has a chip on his shoulder.
I went over to Fina's without giving it a second thought. I felt that our friendship would make my complaint easier to get across.
"Don't think I'm sticking my nose in your business," I said to her, "but, how can you let so much water go to waste with the shortages we have around the country, not to mention Guantanamo, one of the provinces worst-hit by this. Don't you know the situation could get worse when the dry season starts? We're going through the worst draught of the last 115 years. C'mon, Yeya!"
"Are you the water police?" she replied, only half-jokingly. "Don't get worked up, girl. When it runs out, we'll simply carry it back home. What else can we do? We Cubans are used to difficult times, so, leave me alone and don't talk to me about saving or anything like that, I've spent my whole life saving on everything."
My neighbor and friend's reply didn't discourage me. She's like that, she says the first thing that comes into her head (and, at any rate, she closed off the pipe). Having achieved my objective, I headed (with some fear) to the home of irate Rafael.
"Sorry to bother you," I said, barely opening my mouth. "I wanted to let you know you're spilling water out onto the street…" He didn't even let me finish and, to my surprise, said: "My god, there's so little water and I'm flushing it away right here. I'll get on it right away!"
So is life: we sometimes get the best responses from those we least expect.
The draught in Guantanamo continues. Water distribution cycles are being stretched out over time even more. Locals have to carry the water back home from wherever it shows up. Tanker-trucks are nowhere to be found, and, when they come around, they head straight to the homes of people with money who can pay to have their tanks filled, or to those of State officials who use their contacts to solve their problems. All the while, we common folk try to manage as best we can.