Veronica Vega
HAVANA TIMES – I arrived back in Havana on March 20th, after a trip to three countries: Mexico, Argentina and Chile.
I wanted to write a meticulous diary of my visits, but the pile of events became displaced notes, as so much was going on and the group schedule was packed with running around.
I was traveling with some members of the San Isidro Movement, artists who reacted against Decree-Law 349 and we launched a turbulent independent media campaign which was received by the repressive measures we know all too well.
The night before we left, a State Security agent, who calls himself Santos, turned up at my apartment. After congratulating me for having won an award in the #349 Cuba competition, he interrogated me about who had organized the trip and when I refused to tell him, he threatened to "send out a notice" so I wouldn't be able to leave the island.
Once in the airport I was very nervous that the arbitrary sentence would be in effect. Only after passing the immigration check in front of the camera and the invisible revision of the data base, could I see that my visa and plane ticket were valid.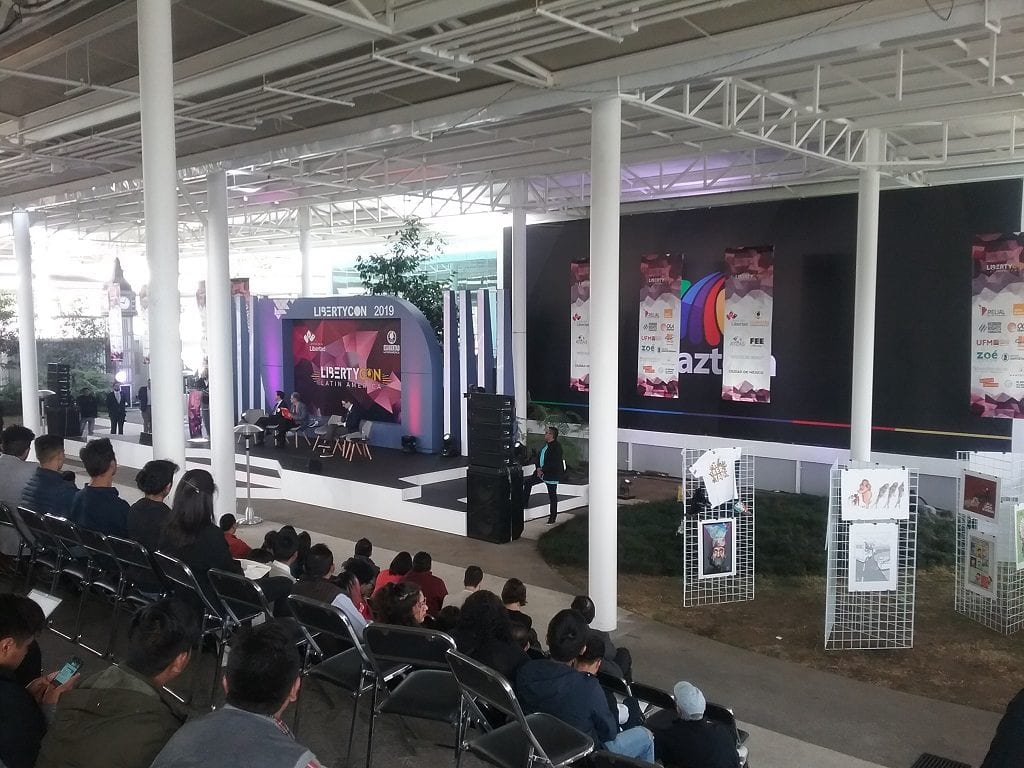 This second trip away from Cuba wasn't as innocent as the trip I made to Paris back in 2011. But, when I arrived in Mexico, everything was just as incredible because this land exudes an indescribable magic, in spite of the pollution and not being able to breathe, to the vertigo you get from how high it is above sea level.
Three details caught my eye: the abundance of skyscrapers, the dizzying nightlife, and the friendliness of the Mexican people.
Like later in Buenos Aires, the city landscape seemed completely different to the image I had created in my mind about both countries watching many movies during the annual Havana Film Festival. These movies always showed what was lagging behind, the bleakest, especially in Mexico. I had no clue about the country's material or technological advances, or this kind of (real or fake) promise that accompanies the pace of large cities, where you feel like fate isn't a dead-end street (like it is in Cuba), but full of alternatives instead.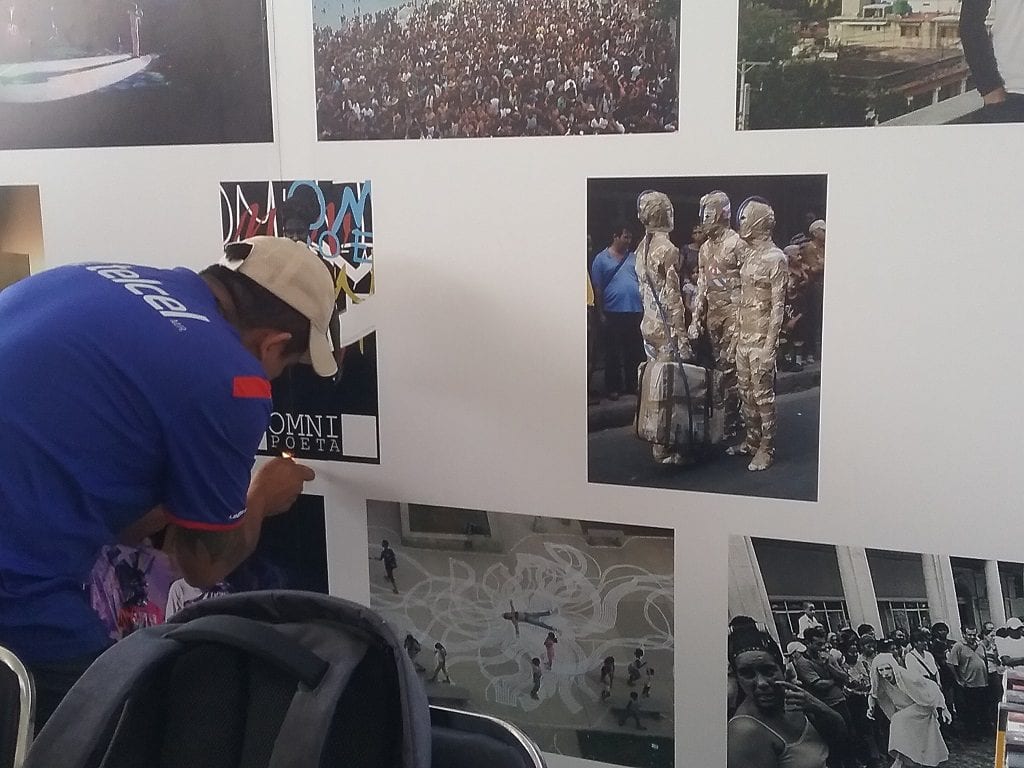 The difference in space too, with me used to routes between Havana's outskirts and the city center. The ride in an Uber from the hotel to Television Azteca, gave me an indication of just how big this city, this country is… Once again, I was overwhelmed by just how much traffic there was, how many stores there are, the presence of vegetation in central areas and the beauty of old buildings. Furthermore, there was a flood of posters announcing all kinds of services, and the huge tags of graffiti artists on any wall or other people's gates.
At the Television Azteca offices, we could set up a stand to promote our work. And put on a show with poetry, movie screenings, hip-hop, theater… The audience was quite young: mostly university students who were quite shy at first and then applauded quite energetically and even ended up dancing with the Cuban artists. A young woman approached me to congratulate me on the article I had read and invited us to do an interview with them: LibertyCon.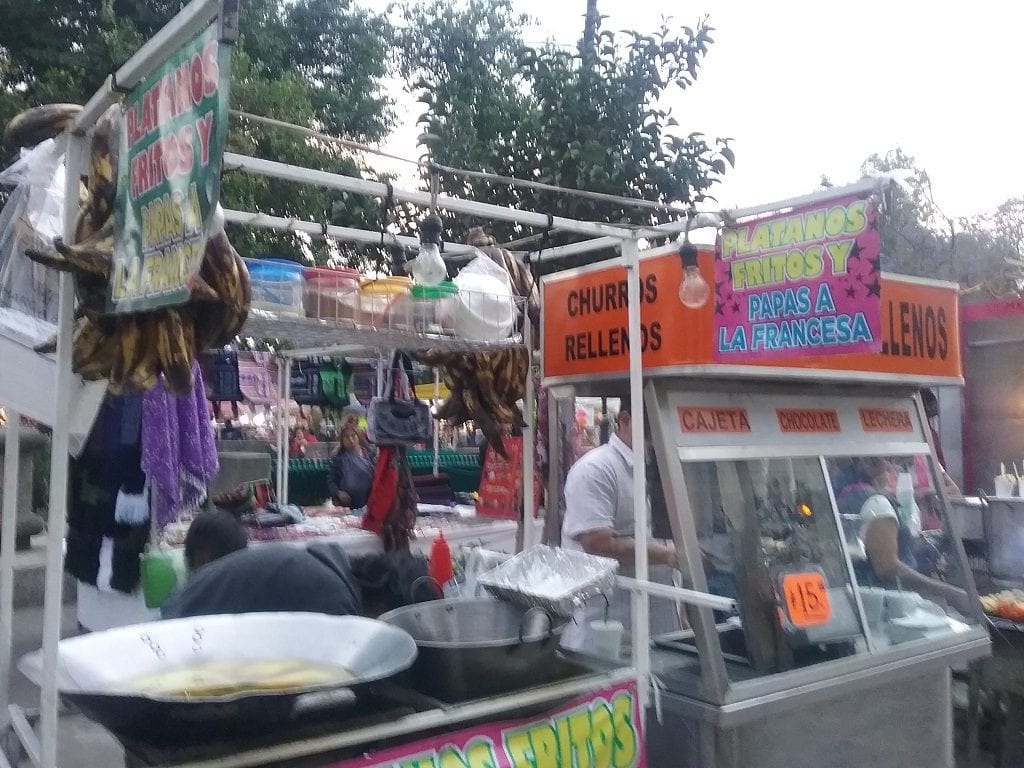 The vast variety of food isn't the only special thing here in Mexico, the presence of streetsellers lined up on the pavement, cooking in customers' full sight. This makes the experience of choosing what to eat and eating next to the waiters, unusually familiar.
The second remarkable thing to happen was to take part as an audience member at the Oslo Freedom Forum, at the Anthropology Museum, where you can feel the grandeur of Mexico's past, and the enigmas of civilizations that came before us.
The forum had speakers of all ages and from all different countries. All of them, including Sandor, Estudiante sin Semilla, who represented Havana's San Isidro Movement and rapped two catchy reggae-style songs, could perform in front of an audience who was silent and respectful.
Until Rosa Maria Paya came on stage, who was interrupted a minute into her speech by voices that shouted "liar and mercenary".
An eventuality? The spontaneous reaction of Mexican friends of Cuba, or rather, the myth of social justice that they only know from afar? Before the forum began, several young Mexicans were walking about in front of the museum's entrance, carrying pathetic red flags as a Communist emblem and handing out flyers with Rosa Maria's photo and insulting names.
In their conversations with us, they revealed their ignorance about Cuban reality, and they had no argument whatsoever or intention to have a dialogue.
I was angry then and in the forum; ashamed that my country's government would react in such an uncivilized way when faced with a display of democracy. I immediately jumped up, out of instinct, and asked for people to respect Rosa's speech, just as they had with the rest of the guests. My companions on the trip also shouted, compelled by nationality or their shared pain, which goes beyond any political suspicion.
The rest of my stay in Mexico City was filled with meeting Cuban friends, the many flavors of vegan food, trips out with a friend who has been living there for years and who helped me with the headache of shopping and to eat a delicious chocolate ice cream.
On the last night, the daughter and son of a great Mexican friend of mine, who I met in Havana in the middle of the Special Period, showed me the city at night, the colonial part, and the intangible spirituality that you breathe everywhere in a country which I bid farewell to with a heavy heart.
On the plane heading to Buenos Aires, I thought about this first encounter with a Latin American country, its vibrant and affectionate peoples, like any Cuban, who we believed to be so special all these decades, in spite of living a gagged existence, amidst a crumbling landscape.
Click on the thumbnails below to view all the photos in this gallery. On your PC or laptop, you can use the directional arrows on the keyboard to move within the gallery. On cell phones use the keys on the screen.