Cuba: The Poetry that Saves Us
Verónica Vega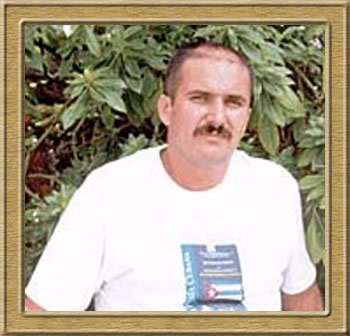 HAVANA TIMES — It is said that Jose Marti once declared that "poetry is more important than industry, for it can prop up or take down souls."
Being exposed to Cuban poet Francis Sanchez' exhibition Cicatrices ("Scars") at the alternative gallery El Circulo ("The Circle") made me understand two things:
How tenacious the spirit can become in a socially disemboweled country and how much the generations that have ceased to believe in Cuba are in need of this kind of poetry, of an art where the distances brought about by egotism, lack of communication and lies are acknowledged and where the dreams that have been betrayed, the eagerness to change things and mobilize individuals, make them more than mere witnesses to destruction, is expressed.
The impact the author has on us by fusing words and images can only be conveyed through a visual poem itself, where the wounds all Cubans have – those who left, those who refuse to stay or those who remain, those who demand the right to enter and leave the island without being forced to renounce anything and without coercion – are exposed.
Rather than wounds, these are sores that never truly healed, seams that conceal a throbbing fear, our isolation, our apathy (the eternal disguise of our dissatisfaction).
At the request of Lia Villares, the host, Francis also presented the public with three video-poems, a project which involved more resources, in which the visual is intertwined with the voice of the artist, that of his wife Ileana Alvarez and the established poet Roberto Manzano (in celebration of his 60th birthday).
Thanks to initiatives such as those of El Circulo, which are not confined by the endless arbitrariness of official criteria, the exhibition is open to the public at 316 10th Street (between 13th and 15th streets), Vedado, some blocks away from the Chaplin cinema.
Thanks to the freedom afforded by the authentic spiritual search through poetry and in life, the manipulation of frames, intertextuality, protest and lyricism, the poet from Ciego de Avila betray the throbbing life beneath the scab, the metabolism that inevitably takes place prior to any regeneration.
One day, Cuba's scars may indeed dry up and become sterile. In the meantime, I welcome all those who still dare to confess they hurt.