Cuban Artist Stages Strip Show at Havana Wi-Fi Hot Spot
Yanelys Nuñez Leyva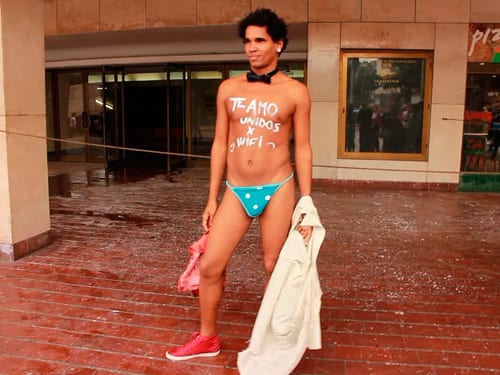 HAVANA TIMES — On November 28, 2015, on an invitation from Cuban visual artist Luis Manuel Otero Alcantara, a group of friends and colleagues offered the artist's wife a unique anniversary gift.
At the intersection of L and 23 streets, Havana, Otero Alcantara staged a strip-show to the music afforded by two Mexican-song performers he had hired for the occasion, offering his wife in the US a live show transmitted through the video calls software IMO.
This story beats any work of artistic fiction. Luis Manuel celebrated his "Paper Wedding" that day and his only means of connecting to the Internet is the Wi-Fi hot zone at La Rampa, one of the few spots in the city where people can access the service. This way, he attempts to establish a visual and spiritual nexus and seeks to shorten a distance that is sometimes abysmal.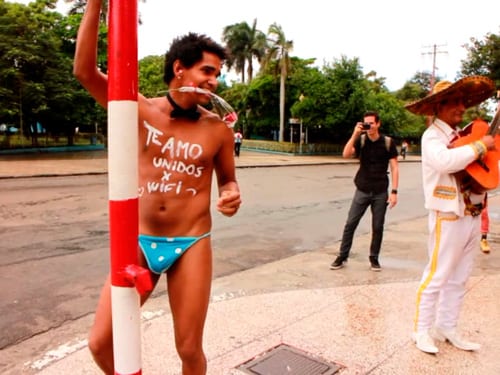 This is the dimension in which Luis Manuel likes to work. In this case, he takes hold of his own, personal experiences and transgresses one of the most important links within marriage, that of intimacy. This way, he merely takes the issue of lost intimacy to the extreme, as the people who make use of these Wi-Fi hot spots on a daily basis also suffer the terrible situation of being deprived of privacy when speaking with friends and relatives.
To expose, with this daring and illegal gesture, a practice that has become a daily experience for Wi-Fi users and which people do not appear to fully understand, is perhaps the best transgressive gesture carried out in this connection in recent times.
To occupy a public space as something other than a physical place and invoke it "solely at a time of antagonism, solely through its connection to a conflict" can lead to powerful performances of this nature. These performatic interventions based on credibility; in an area where urban citizens impose a moral order (many times exclusivist) could be the catalyzer for the development of a live public space.
It is through this real contact between the artist and spectator that makes a public statement toxic and, without a doubt, political.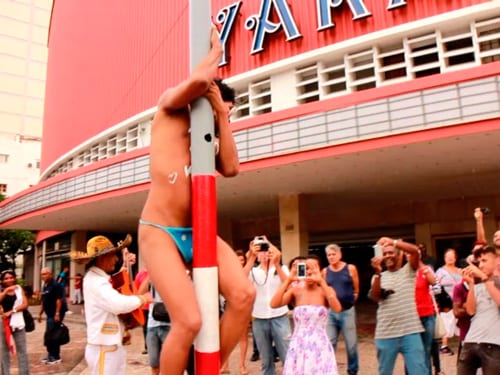 Now, beyond the "shock of perception" in situ that permeates this work, the promotional strategy pursued by its curators – Catherine Sicot and myself – opens up a discursive path that seeks to go beyond the ephemeral (in temporal terms) nature of all performances. The media, under public control, complete the trajectory of this action, which plays on our relationship to the spectacle. The online visualization of vague, spontaneous documentation, of what could have been a Wi-Fi strip-show, will appeal to other senses and prompt new questions.