Homage to Cuban Architect Mario Coyula
Yanelys Nuñez Leyva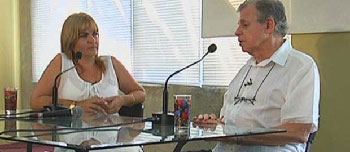 HAVANA TIMES —The cultural venue Encuentro con ("Encounters"), which has been holding activities in Havana's Pabellon Cuba every Thursday since the start of the holiday season, recently paid tribute to renowned critic, architect and urban planner Mario Coyula.
The homage, hosted by journalist Magda Resik, sought to delve into Coyula's personal and professional experiences, particularly those which steered him towards and guided him in his vocation.
The gathering was also intended to encourage an exchange between Coyula and the public, and ultimately prompted a debate about the problems faced by architecture and urban design in today's Cuba.
Those in attendance, for the most part versed in these issues, availed themselves of the opportunity to converse with the renowned architect and authority about the mechanisms which ought to be used today, when the self-employed sector is expanding and a disquieting horizon for urban architecture is coming into view.
For me, who attended the gathering not only for the pleasure of being exposed to new knowledge but also to coordinate the sale of Revolucion y Culture ("Revolution and Culture") magazines, the exchange was very enjoyable, a space where many joined a lively debate in search of the answers we urgently need to address a situation that affects us all.
The marked lack of material resources needed to train new generations of architects, the less than rigorous enforcement of construction work regulations, the declining authority of architects and the inefficiency of the Cuban press in terms of detecting and reporting on illegal activities in the construction industry in a timely fashion were some of the issues addressed by Coyula, who obtained Cuba's National Architecture Award in 2001.
When asked whether Havana's problems could be overcome, Coyula, an optimist, replied in the affirmative. He even caused many to smile when he affirmed that there was hope even for Alamar (a peripheral residential area consisting of Soviet-styled apartment buildings).
Coyula was less optimistic with respect to the issue of the decline in social values witnessed today, stating that this moral deterioration was a greater cause for concern than the architectural one.