Performance Art in the Streets of San Agustin, Havana
Yanelys Nuñez Leyva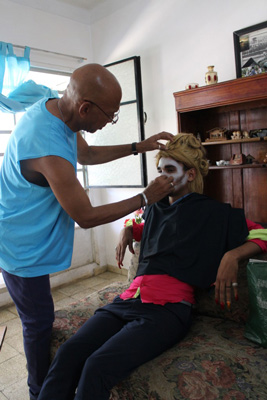 HAVANA TIMES — A whole caravan of bicycle taxis was advancing down San Agustin, Havana's 250th Street and a few others, carrying costumed and made-up people who threw grains of rice at passersby.
No one knew the reason behind this performance, but people welcomed the initiative with smiles nonetheless.
On February 28, a group of young and not-so-young Cubans led by Colombian Alexandre Morales concluded the Instituto de Invierno ("Winter Institute") initiative with a series of artistic performances that sought to establish a dialogue with residents of this peripheral neighborhood.
The project, undertaken weeks before in the neighborhood and organized by the Laboratorio Artistico de San Agustin ("San Agustin Arts Laboratory", or LASA) [1] and the Elegoa Project[2], sought to be a kind of rehearsal for MAC/SAN15: La primavera del amor ("MAC / SAN15: The Spring of Love"), a multidisciplinary artistic event to be held during 12th Havana Biennale (from May 22 to June 22 this year).
The Instituto de Invierno initiative "focused on the issues of identity/gender and sexuality"[3] and used conferences, workshops and interviews that provided the public with information and encouraged debate to further research into these.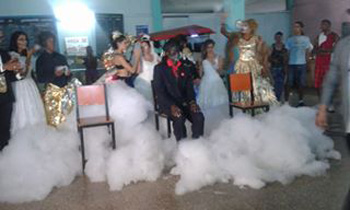 The interventions carried out in San Agustin that afternoon were staged at different locations, both domestic (the private residences of some people involved in the initiative) and public (the market and cultural center located on 250th street, as well as a privately-operated gym). The initiatives involved a highly attractive plurality of participants, mixing performances, the screening of materials, music, dance and a brief exchange (on the sexuality of orchids).
That day, the public was able to interact with strange characters[4], such as people dressed in wedding apparel.
Fully or partially cross-dressed, some characters exuded a kind of androgyny that prompted different reactions.
These types of spontaneous activities are welcome initiatives in these localities, where options in terms of entertainment and the arts are extremely limited owing to infrastructure issues.
—–
[1] LASA is a Cuban organization created by Candelario and directly involved in the latter's artistic production. Co-run by European curator Aurelie Sampeur, LASA aims to place contemporary artistic practices in touch with public spaces, offering a space for artistic experimentation and cultural confrontation in a peripheral neighborhood of Havana." Taken from lasa-cuba.blogspot.com
[2] Created by Catherine Sicot in 2012, Elegoa Cultural Productions is a social business aimed at artistic production (the visual arts, mixed media, audiovisual materials and artistic performances) that seeks intercultural dialogue that contributes to community innovation in Canada, Cuba and France." Taken from the Instituto de Invierno Project website.
[3] Information provided by the Instituto de Invierno Project introductory text.
[4] We must stress that only very few of those who participated in this initiative were professional artists.