"Sex Shopping": An Innovative Art Exhibition in Havana
Yanelys Nuñez Leyva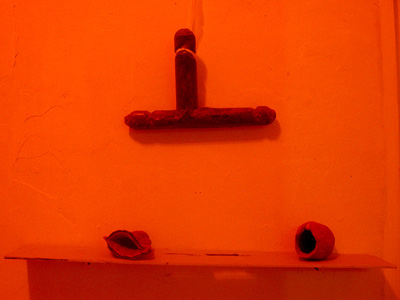 HAVANA TIMES — When young Cuban artist Luis Manuel Otero Alcantara spoke to me of an exhibition he organized last year (titled Shopping de sexo, "Sex Shopping"), I regretted not having attended.
The exhibition was organized in the Cristo Salvador ("Christ Savior") gallery, an alternative space located in a private residence in Vedado, Havana.
The works on display, comprising a broad range of items related to the sexual and erotic practices of Cubans, reflected on issues such as sexual fantasies, the freedom to experiment sexually and the notable absence of commercial spaces linked to these inherent human issues in Cuba.
The exhibition, organized in the manner of sex shop, offered very affordable inflatable and penetrable dolls and animals, vibrators of different kinds (in terms of size, color, shape and texture) and other craft-like objects evocative of Cuba's popular imaginary (in the absence of sophisticated products designed for such practices, the average Cuban has developed strategies for a broad range of sex games and to make their deepest desires a reality).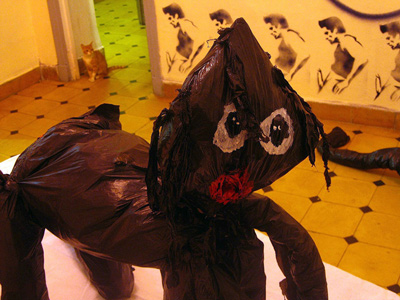 During the days of the exhibition, the gallery, also showed a voluptuous design consisting of soft light, stark contrasts and the graffiti art of Onto and Alexander Robaina, which showed women and men in sensual and masturbatory tableaus.
This sensual environment was complemented by waiters who handed out cookies in provocative underwear.
The artist made use of a commercial language to converse with the public, not only about their sexual preferences, but also regarding taboos and human needs. His art afforded him a space where the forbidden could be approached.
This may have displeased some spectators, but the veil of art afforded a less prejudiced look at the different elements explored, in a space where ethics, morality, decency and puritanism were questioned.
Click on the thumbnails below to view all the photos in this gallery. On your PC or laptop, you can use the directional arrows on the keyboard to move within the gallery. On cell phones use the keys on the screen.