'Order and Luxury': Slogans of the New Cuban University
Yenisel Rodriguez Perez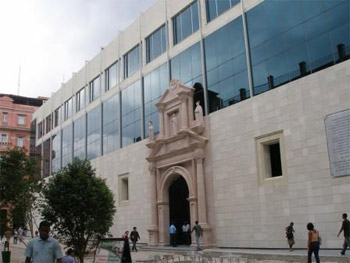 We need to avoid oversimplifications.  For example, discipline is not always born from order and starkness; disorder and crowds also generate discipline.  Everything is a question of context and need.
However, still persisting is that stereotype that identifies rationality in architectural design with environments favorable to learning.  This is a viewpoint that equates the aesthetics of anything cloistered with the appropriate motivation for academic dedication.  Rumination and reclusion are seen as indispensable ingredients for the physical configuration of educational institutions of self-congratulatory pedagogical excellence.
The Colegio Universitario San Gerónimo is a living portrait of this stereotyped manner of conceiving educational environments and infrastructures.  Its constructional magnificence and its luxurious isolation bring old and new forms of educational thinking up to date, forging a combination of feudal-aesthetics and neoliberal homogenization.
Located in the historic center of the capital, this institution is a symbolic reconstruction of what was the first Cuban university, built on the same site in the 18th century.
I remember the first time I entered this building I was astonished by the magnificent desolation that inhabited its classrooms and corridors.  A friend who I accompanied on that occasion admitted to me that this panorama reminded him of the London School of Economics. His comment made my expectations of attending a First World university diminish a little.
I attended this institution to take a course about poverty.  The first day of the course I didn't notice, at the very beginning, the sophisticated atmosphere of the architecture.  I got to class late, so my rushing around didn't allow me to stop and observe the details.  Nevertheless when I went to the bathroom, taking advantage of a break, the spirit of the structure was revealed in an unexpected way.
It was a spectacle of walls, lights and hygiene.  I couldn't say that I disliked all of that in itself, my objection was directed toward that morbid combination established between luxury and the chronic desolation that its classrooms suffered.  The school had means at its disposition for all possible educational needs, but nowhere did one sense the presence of students.  The place lacked that youthful atmosphere that characterizes most educational institutions.
Nevertheless, many people consider San Jeronimo to represent one of the most favorable educational settings for making good use of the learning and teaching day, perhaps because they confuse enclosures and confinement with peace and tranquility.
Perhaps the intention of the promoters of the school in constructing privilege and euro-centric luxury transformed the erudite and epoch-making spirit of the Colegio San Jeronimo, producing a graveyard effect where it should have upheld birth and seedlings, as occurred with that effervescent university which in the middle of the colonial age promoted independence from the classrooms of that same university, which no longer exists.
When I went into the bathrooms at San Jeronimo, what came to mind was one of the scenes from the film Alien (part I), the one where the members of the space rescue mission arrive at the troubled galactic space station only to find themselves utterly dismayed by the depth of desolation there.
When the course on poverty concluded, I didn't have anyone with whom we could bid each other farewell.  I hadn't gotten to know any pretty co-ed nor had I even clashed with some paternalistic professor.  There was only me and half a dozen other students, those taking my same course, those who were my company in the Colegio Universitario San Jeronimo.
During this school year the enrollment at the Colegio Universitario San Jeronimo is 94 students! – and only 19 are new students!   Eusebio Leal, the official city historian and the main promoter of the college, in his own words sends us a pedagogical and educational concept that serves to confirm my ideas:
"A setting for decency in dress, politeness and good customs, courteous and friendly manners for guiding our own, a neatness that generates a state of order and the illusion that educational utopia is possible in a society." 
What educational utopia is Eusebio referring to?  Is it one where dressing in gowns, caps and medals express convergence and a synthetic knowledge constructed with the assistance of high finance and privileged access?
Could it be that the art of rhetoric produces nostalgia for courtiers and nobility who are only appeased by the light of architectural fetishes and prestigious dress?