Yenisel Rodriguez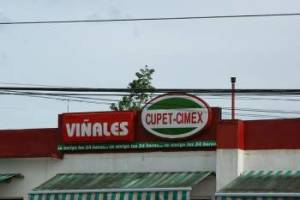 At the gas stations of CUPET (the Cuba Petroleum Company) they have stopped putting air in people's tires after 4:30 p.m.  This is because the workers in charge of that service take the hoses home or lock them up as a precaution against their being stolen. The situation is somewhat paradoxical, to say the least.
The services for washing cars and putting air in tires are provided by workers who are not CUPET employees, but by those who work for City Hall, "Popular Power." This creates a break in the coordination between the two work crews and it fragments the service that the overall business offers; at a garage it is indispensable to have integration between supply, maintenance and repair services.
The workers employed by Popular Power have an eight-hour work schedule, while the rest of the shifts work 24 hours a day. This means the gas-stations/garages only offers full services for eight of twenty-four hours that they are open.
The workers for Popular Power (mainly armed forces retirees) also have working conditions that are different from those of CUPET employees.  These former ones cannot benefit significantly from the formal business conducted in hard currency; therefore, they have had to come up with their own ways of increasing their formal incomes.
This has pushed the real price of car washes and air services well above the value established by the government.  If you want a wash you'll have to pay more than twice the official price.
In this also figures the way Popular Power organizes work.  The problem is that to lend their services, car washers and air pumpers have to come out of their own pockets to buy all the necessary supplies: oil, detergent, hoses, air valves, etc. – which increases the price of their services.
CUPET garages are therefore a representation in miniature of the fractured society in which we live: on the one hand is the search for profitable services in hard currency and the "stability" of formal work; while on the other is the culture of hustling, manipulation and shortages.
And the consumer is stuck between the two.
The consumer appears abandoned and unsatisfied, unable to blame anyone in particular, because in a certain way they would be blaming themself.  Who has not seen themselves wrapped between the links of this terrific chain of inefficiency and has had to act as if they were the sole culprit?
If you drive around Havana any time after 4:00 p.m. and your tires need filling, prepare to go several miles before finding a CUPET station that can offer the service.  And in it expect to find understanding attendants who will respond sarcastically to your request for air saying: "We don't have air hoses; they took them an hour ago."