Trades, the Family and School in Cuba
Yenisel Rodriguez Perez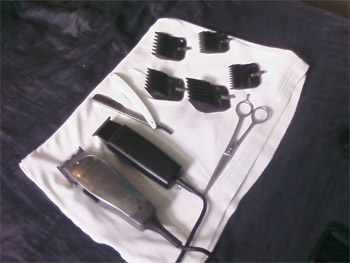 HAVANA TIMES, 9 feb — My father is a barber. A few days ago he sent me his equipment so that I could follow in his footsteps.
Though he knows I'm not very good with the symmetry, he asked me to try nonetheless.
"And remember, a barber always has some money in his pocket," ended the letter that came with the electric razor and its attachments.
My late paternal grandfather was also a barber, and I suppose his father must have been one too.
In a not-so-unusual manner, the men on my father's side of the family built a professional tradition.
Each one of them handed down their trade of barbering when they were trying to recover the parent-child relationship.
I don't think that this form of family socialization is less legitimate than others. In fact, in this way the tradition acquires a special sentimental value.
It's as if one were surrendering their most valuable fruit from the patriarchal garden: a weapon of economic autonomy.
My father and my paternal grandfather met up with each other in the middle of the street. My dad was a teenager when my grandfather made up for his years of absence by giving his son his barbering tools. He then taught my father how to cut hair.
Several years later my father and grandfather rented a barbershop in Miami so they could work together.
My grandfather died and now my father is proposing — subtly — that I take up my place in the role as the apprenticing son. In this way he wants to make up for some of the absences and omissions made with respect to me.
That's why when I accepted the challenge I discovered a new way of loving my father had arisen in me. I had never thought that family traditions, professional occupations and vocations could relate to each other and express themselves this way.
I would never have undertaken the task of being a barber if it were not for my affection for my family. No trade school would have awakened in me love for a profession that was ruled out of my immediate plans.
This is another argument that can explain the failure of trade schools in Cuba: the lack of family work traditions.
The vocation for trades is inseparable from family affection, not the social re-education or notions of duty to produce, as the Ministry of Education has erroneously attempted to instill in Cuban young people for more than 50 years.