Favors We Must Appreciate
By Caridad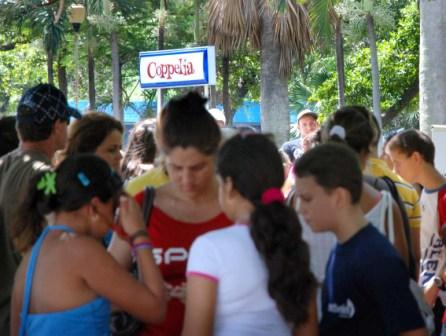 There was a city in which the houses had their own thoughts.  People had to ask for their permission to live in them; they had to demonstrate their good intentions the entire time, and thank them for the immense favor of allowing them to inhabit them to hide from the sun and rain, to raise children and to receive friends.
For all those privileges people had to give thanks, day and night, despite the fact that these had been built by their own hands, theirs or their parents, it was just the same – they had to show their indebtedness.  The show of gratefulness included not doing those things that would bother the houses, or doing things the way they wanted.
There is a city where any story similar to this is a fairytale in comparison to the favors that we must ask for daily.
Last night I was walking down 23rd street, not in any particular hurry to get home, so I stopped in front of the Coppelia ice-cream parlor.  It usually closes its doors at 9:00 p.m., but this month they decided to extend their hours until midnight, keeping in mind the great number of people who, on vacation, can seldom find places to buy ice cream in domestic currency.
This is how the first favor goes.
Those people who enjoy ice cream should at least be grateful that there exists the Coppelia ice-cream parlor, the only place where – with complete assurance – one can find the delicious treat almost every day of the week.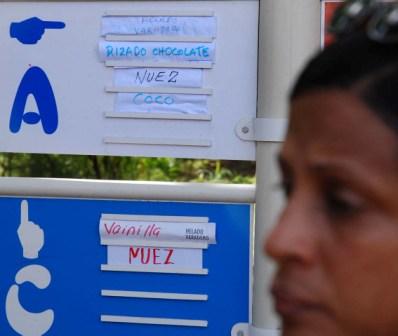 One of the many attendants allowed me to enter a section that was open; but midway there, no one had yet indicated a table to me.  A voice screamed to the gate attendant not to allow anyone else to come in; saying the ice cream had run out.
It was 10:00 p.m. (two hours short of closing).
Puzzled, I asked one of the food service workers where I could sit.  He repeated the same phrase: "It's all out."  Another of them, sitting down, asked me:
"Let's see, what do you want? Sit over there."
Next favor
I should thank this guy, who didn't turn his back on me like all the others, who without getting up from his seat pointed out a dirty table – one that was dripping wet – where I could wait for them to bring me my ice cream.
I didn't find anyone who I could ask to clean the table.  The guy had disappeared, and the other clerks were either dragging themselves along like zombies or screaming at each other.
Somebody placed a bowl of something half-melted on my table; it sort of reminded me of the ice cream that I used to savor in bottom of the line cafeterias.
In the bowl was the same ice cream that they've sold here for a long time, though it had nothing to do with "Coppelia" ice cream that is sold in CUCs (hard currency) in a special section of the parlor.  There, a timid scoop goes for a laughable price equivalent to several days of work.
What a great favor.
They're still selling us a little ice cream, though it isn't Coppelia ice cream and doesn't even look like it.
What a great favor. They keep the doors open until midnight…though they're all out of ice cream by 10:30.
The waiter didn't bring me a glass of water…nor did he clean the table.
Notwithstanding, I should leave brimming with gratitude because I was able to have my frosty dessert.  They did me the favor of serving me some of "their" product.
Coppelia is only one of the extraordinary numbers of thinking houses that we find here all the time, those that we must thank for their indifference in selling us poor-quality products at humiliating prices.
And we continue expressing our appreciation…