Living Under the Table in Cuba
Caridad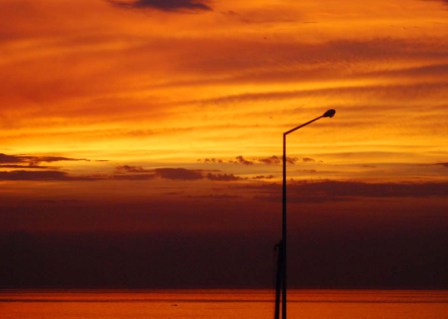 While I had one or another more or less erotic relationships with Cuban women, it took more work than an eastern farmer to make it to Havana with five pesos.
Not having one's own home or money to rent one usually complicates relationships even between heterosexuals, but when this is the case with two women, it becomes all too comical.
If neither can bring the other to their family home, they can either ask for a favor from friends, rent a cabin at a public campground, or hide in the shadows of the Malecon seawall (while avoiding the cops).
Perhaps I didn't have enough of those types of experience, but it turned out too comical trying to spend the night on the beach with a police officer hounding us.
In that same vein, I died of laughter when every time I tried to kiss my lover's breast, one of the useless streetlights along the Malecon would suddenly flicker back to life.
And I was hallucinating with happiness when, at the point of an orgasm, the friend who had lent us the front room of his apartment asked to cut through to get a drink of water.
But over time those things stop being so animating. Someone like me, on the verge of turning 40, starts to need stronger, more serious emotions. Then, without suspecting the trap that my bored mind was setting, I went and fell in love with a woman who doesn't live in Cuba.
"Problem solved!" is what anyone would say who still believes in the myth of a non-Cuban being able to solve all the problems of a Cuban resident.
In my case, plenty of amusement was guaranteed. When there's love, everything is much more exciting.
Phone calls to and from Cuba are prohibitively expensive, and e-mail is not accessible to everyone who wants it. Fortunately there are cell phones, but a single text message abroad costs me 1 CUC – more than a day's take-home pay here. Sometimes it seems like I have no other alternative than somehow sending messages by Morse code.
Don't even ask me how we do it but we're able to stay in touch, and it turns out amusing when she doesn't understand my words in the form of rings.
My girlfriend wants to come to live with me. These days my family is trying to deal with that thing called homophobia. As for her, she's willing to take on the great adventure of trying to live on 400 pesos a month (about $16 USD). (Of course it never even occurred to me that I'd fall in love with someone with their pockets even half full.)
But that would make my existence very boring, if living beside the person I need was lacking amusement. So I'm very thankful that in my nation, a society made up of those who are called "the most cultured people," they don't want to legalize marriage between people of the same sex (and she could only reside here through marriage).
My family — with whom my girlfriend and I would share the same roof — is tolerant of the relationship. Nevertheless, they don't want to ruffle the feathers of a people who are afraid of a different type of love.
That excuse only makes me marvel over seeing how long such an amusing relationship like ours will last. I pray for there to appear — say 20 years from now — a comical new excuse for preventing what should be our right.