Traveling like Boxes or Animals in Venezuela
Caridad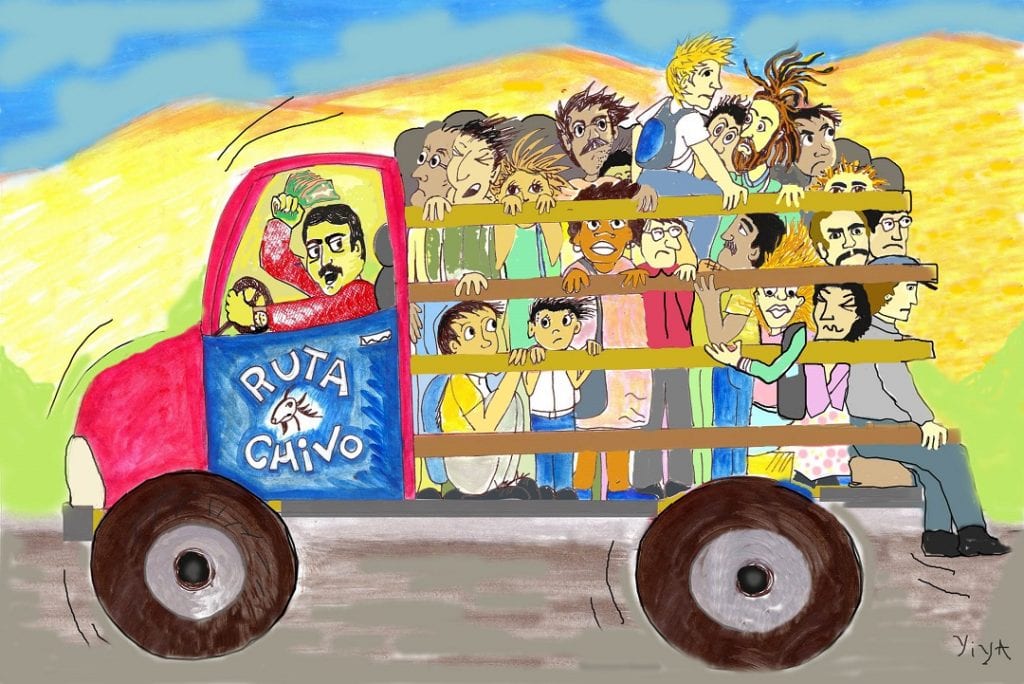 HAVANA TIMES – It's Friday morning and although it's not a working day, it's hard to get transportation. The sun begins to tug at our skin, threatening to make us suffer in less than half an hour.
A truck appears of those that serve to load anything: agricultural products, boxes of preserves, animals or people desperate to reach their destination.
We climb in as we can, some hand offered from above, where some twenty sweaty bodies are piled up. "At 300 to Barquisimeto", the collector vociferates before notifying the driver, with a whistle, who can restart the trip.
The wind begins to hit the ears, but the conversations of those who travel with us also come to us clearly. Some jokes about recent blackouts include complaints over burned-out appliances or spoiled food. But immediately a lady with many wrinkles on the skin of her arms, starts a conversation with me. You never know how these street conversations start, and sometimes it even happens that in less than half an hour someone has told you their life story.
Miriam is over 50 years old; she likes animals and her daughter is a lawyer. Like a good part of the youth of Venezuela, Miriam's daughter no longer lives in Venezuela. I don't remember well if she told me that she went to Peru or Ecuador, what I do remember is that despite having several years since her graduation, she is not practicing her profession. She is dedicated to taking and bringing messages for a legal office.
With that, she helps the mother and her puppies a lot, it is difficult to keep them fed in the middle of a situation where there are people who go to bed without eating many times, she knows it; and confirms this knowledge with a gesture of her head and squeezing the lips.
Before Miriam finishes telling me that her daughter has made some progress in her new job, a baby wakes up her mother who had fallen asleep. The three of them were sitting in a small corner, with some lumps between the legs of the man who, I suppose, is the father of the baby. The woman touches the girl's forehead, says something to the man, they look worried.
A girl, who is holding Miriam's shoulder, brings her voice to us: I think that girl is very undernourished. She refers to the crying baby and adds that her sister is a nurse and that she sees very hard things in the hospital. She herself, recently, was very bad because she is diabetic and could not get insulin. The sister did get it with a patient who has family in Colombia, the patient owed him a favor; she tells us talking even more quietly.
The terrible thing is that one day the sister calls her asking if she still had that insulin, because she had admitted a very sick girl, and the insulin did not appear in the whole hospital. She didn't hesitate a moment and ran to the hospital, imagine, she exclaimed half laughing, mounted on a truck identical to this one.
When she arrived, the girl was in the morgue. I still haven't recovered from that day, she said. The girl turns her face so that we do not see the shadows of her tears.
I feel like someone pulls on my backpack. I'm startled, but it's not an assault. A thin old man, with his face marked by the ravages of a bad razor blade, cannot find where to hold on and now grabs my shoulder.
"What scares me is falling down and breaking my hip." That's what the old man shouts, maybe he's used to talking and no one pays attention to him. If we were in Caracas or in Cuba, people would burst out laughing, accustomed to dying of laughter even in the face of death. But we're in Barquisimeto, I think they have a little less sense of humor here.
My friend Irina would break her heart with this old man, about to fly off in the wind. He tells me that he is going to shop in the city, because in his parish, for days now, the sales points that accept cards have not worked [many people have no access to cash].
The man lives alone with his granddaughter, who is now at school; the mother left him to take care of her to be able to work in Chile, but in less than a year she plans to send for the girl. He doesn't mind taking care of her, but he is afraid to break his hip. "Then who is going to take care of everything," he said.
There are more stories on one of these animal/cargo trucks than in a Brazilian soap opera. Venezuela is full of stories.