Venezuela's Father Korta, Brother Ajishäma
Caridad
HAVANA TIMES — A few months following the murder of Chieftain Sabino Romero – an incident no one has said or done anything to clarify -, Father Jose Maria Korta died in a car accident. I never got to meet him in person.
I had read about the accident somewhere. The messages some friends of mine in Tauca sent me later confirmed it: he was on his way to or returning from Maripa, one of those small towns in Venezuela's State of Bolivar located near the First Indigenous University of Tauca, an institution he had founded.
When I first came to Venezuela in 2010, I heard of a Jesuit who had gone on a hunger strike to demand the release of Chieftain Romero and Alexander Fernandez, both members of the Yukpa tribe who were later murdered. At the time, the two men were serving prison terms on false charges (as one might expect).
At the time, Korta was already around 80. I was amazed someone his age could willingly go without eating for more than a week. It was also the first time I saw a protest by indigenous people downtown Caracas.
Two years later, thanks to life's unpredictable twists and turns, I discovered Indigenous University. What was most fascinating for me, who knew of the hard work Father Korta had done to found it, was that the university had not been designed to offer classes about western culture or the religion of the Jesuits.
Father Korta hadn't been a typical missionary, a zealous champion of religious dogma. For him, "the identity of every, individual community is built on a foundation of faith alone. A missionary must never crush the cultural particularities of an indigenous people."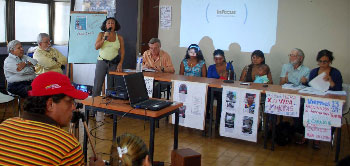 Since his arrival in Venezuela in the 1960s, Korta established close ties with the indigenous community, adopting their culture, promoting a system of self-management for these communities which broke with prevailing policies of unhindered development and many educational projects (in the 70s, he published a math textbook in the Yekwana language).
His "adventures" among indigenous peoples were many, as I learned on visiting the university in Tauca.
His work in the Amazon region, of course, bothered all those in power at the time (including the Church), and he was expelled from the territory. The stubborn Basque would expectedly return years later, at the request of his indigenous brothers and sisters, to continue with his projects in the region.
I did not have the fortune of meeting him in person, even though we were at the same place – a gathering in support of the yukpas – one afternoon.
I lost the opportunity of conversing with him, of participating in one of his projects.