A People's Faith in their Patron Saint
By Jancel Moreno and Victor Manuel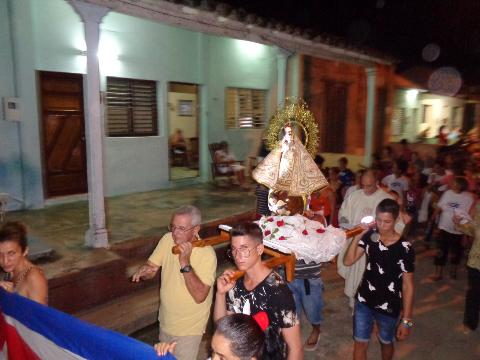 HAVANA TIMES — It was 8:30 PM on Thursday September 7th and official evening mass in honor of Cuba's Patron Saint, Our Lady of Charity, began when bells rang at the Nuestra Senora de los Dolores church, in Santo Domingo, Villa Clara.
Not only in this Villa Clara town, but millions of Cubans who live on our island under her grace and who place their faith in her, ask and thank her for granting favors, lit a candle and maybe placed some sunflowers for the Virgin. Many others did the same but they asked of the African goddess Oshun instead.
On that night with hurricane Irma beginning to attack the Island, there were many Cubans who were praying for their brothers and sisters who had been and would be ravaged by the storm in the coming hours or days. The Virgen of Charity procession through the town of Santo Domingo, Villa Clara, took place while the province was already on Hurricane Alert.
The main streets filled with devotees who prayed and sang to Cuba's Patron Saint with candles held in their hands. They collectively asked for the health and well-being of their fellow Cubans in the East and more than one did the same especially for Cuba's future.
After an emotion-filled religious ceremony at the "Nuestra Senora de los Dolores" Catholic Church led by the priest, at approximately 9 PM, the procession began along some of this city's main streets, taking a similar route to processions in previous years. It stopped on every block so that people could raise up their prayers to the Virgin's statue. As the statue passed by, many families came out of their homes to worship her and pray for her protection.
On one of its stops the procession reached the Maternal Home, where pregnant women (Catholic or not) had come to receive her blessing and to listen to the Priest's words.
Then, it went along the main street (Independencia) where the vigil finally finished in Central Park, at the foot of the Church's doors. Everybody took a minute of silence to pray privately and to ask for her protection in the face of Hurricane Irma's imminent arrival. The truth is that this September 8th was very different, as people who (even though they don't believe) would raise up their hands and pray for our Virgen of Charity's help.
Click on the thumbnails below to view all the photos in this gallery. On your PC or laptop, you can use the directional arrows on the keyboard to move within the gallery. On cell phones use the keys on the screen.