A Pink Tank in a Havana Garden
Hugo L. Sanchez  (Café Fuerte)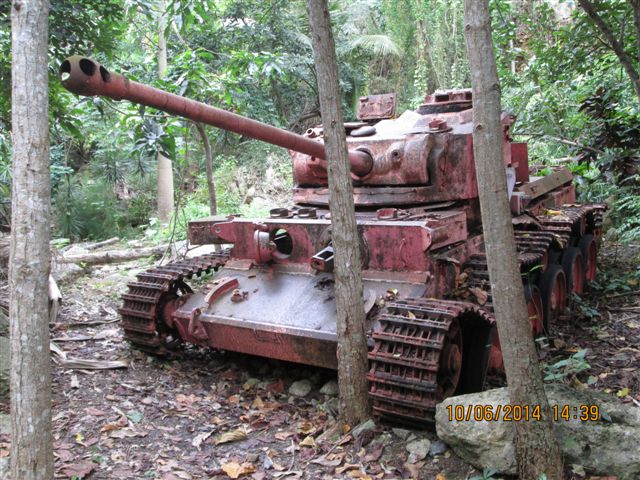 HAVANA TIMES — With his own, personal infantry tank, Jesus Leiva is most probably the only Cuban civilian who owns a war machine in Cuba.
If we add that he keeps it parked outside his house, letting troops of children climb its belts, hang from its 75-mm cannon and enter and exit the vehicle through the hatch – as well as the fact the machine is painted pink and isn't owned by Al Qaida – it would probably not be too rash to conclude he is most likely the only individual on the planet with such an artifact.
For Leyva, it is nothing out of the ordinary – the fact this World War II Sherman tank should be part of El Progreso, a botanical garden with over 25 types of fruit trees (including sugar-apples, cherimoya and mango trees) and precious-wood trees (including carob, cedar and ocuje trees) is a kind of added bonus to this lush, green paradise in Havana's Bahia neighborhood, just across the Havana Bay Tunnel in the direction of the capital's east-laying beaches.
Without offering any kind of factual evidence, the legend and Leiva stubbornly insist that it is the last of the seven M4 medium tanks (as they are officially called) that Fulgencio Batista stationed at the Residencial Via Tunel (as the area, nicknamed the "Key to Havana", was known at the time) in the 1950s, during his first 5-year-term in office. There, his son had plans to build a series of gaming establishments in conjunction with friends from the Italian-American Cosa Nostra.
There is nothing to suggest this story is true.
Fulgencio Batista hoped that these Sherman tanks would drive other powerful families (and opposing clans) away from the place, and that they would ensure no one and nothing stood in the way of his very noble and commendable aim of stuffing his pockets with the takings from these casinos.
The truth appears to be rather less exciting. To begin with, there is no evidence to suggest the president's son had any ties to the mafia. There is also no record (not even the slightest indication) suggesting Batista's involvement or that such connections existed on the island, which to some resembles a tongue (saying everything) and to others an ear (listening in on everything).
Locals do maintain that the Sherman was used at a facility where military exercises were conducted, a facility that operated there in the days of Cuba's Territorial Militias (or MTTs), a Cuban version of Vietnam's all-out people's war. Fidel Castro founded them in 1980 when he had plans of turning every inch of land into the worst nightmare of any troops dispatched by Ronald Reagan.
Whether it was the mafia or the MTTs, Leyva stresses that the only way he's giving away his Sherman – the nickname the British gave the tank, after US Civil War General William Tecumseh Sherman – is in exchange for the vehicle's weight in iron rods, which he needs to repair his large house. We're talking about a vehicle that weighs 3.3 tons.
What isn't clear is why he painted the tank pink.
"Well, if there's a yellow submarine, why can't there be a pink tank?" he asks.