A Unique Chapter From Cuba's History
by Shirley Langer *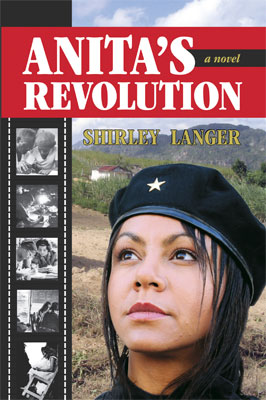 HAVANA TIMES — 2011 marked the 50th anniversary of Cuba's successful national literacy campaign which almost eradicated wide-spread illiteracy in less than a year.
When Fidel Castro came to power in 1959, Cuba's population was six million people. Of those, 25% were totally illiterate, one million of whom were adults.
The new government planned to undertake sweeping changes to reform society, but how could the government inform and involve people in these changes if 25% could not read a billboard, an information pamphlet, fill out the most simple form or even sign their name?
When reporters asked Fidel Castro what the most important things facing the new revolutionary government were, he is reputed to have said: The first most important thing is education. The second most important thing is education, and the third is also education.
Speaking before the General Assembly of the United Nations in September 1960, Castro made an audacious announcement. By the end of 1961, he said, Cuba would be "un territorio libre de analfabetismo", a territory free from illiteracy.
Upon his return to Cuba, he told Minister of Education, Armando Hart, to make it happen. With few resources, the campaign got underway in May of 1961, delayed by the Bay of Pigs invasion. When the campaign ended seven months later, marked by an event held in Havana's gigantic civic square attended by a million people, illiteracy among adults had been reduced from 25% to 3.9%. On December 22, 1961, a flag was raised proclaiming Cuba to be Un Territorio Libre de Analfabetismo. 
A UNESCO team sent to Cuba in 1964 to study and evaluate the methodology and results of theliteracy campaign concluded that it was the most successful literacy campaign ever undertaken.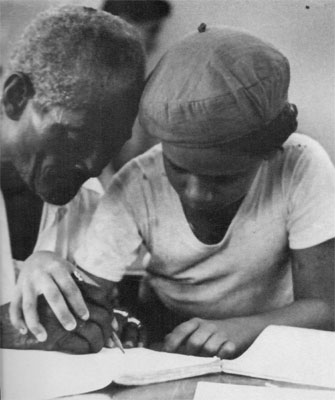 Perhaps the most amazing aspect of the campaign is that the majority of the teaching was accomplished by 100,000 (mostly) teenagers who responded to the national call for youth volunteers. Called "brigadistas" – members of the brigade – those young people left the comfort of their homes to go and live with illiterate learners wherever and however they lived.
In many cases, "wherever" was in rural bohíos, thatch-roofed huts with hardened-earth floors. For seven months, those whose assignments located them in the countryside would live without running water, electricity or toilets – in general, in primitive conditions.
Each brigadista was given two sets of army-type uniforms, a beret, a pair of army-style boots, two pairs of socks, a warm blanket, a sack-cloth hammock and a lantern imported from China so they could teach where light wasn't available.
Most received a two-week or less crash teaching course at Varadero Beach resort, which for that time was turned into a massive teaching and dormitory facility. The teaching resources the brigadistas carried to their assignments were flimsy: a teacher's manual and guide and work books for the learners.
What the brigadistas lacked in resources, they made up for with youthful health and vigour, nationalistic zeal to do something important for their country, and the determination to make Fidel Castro's words reality, that is, to stamp out illiteracy.
Toward the end of that summer of 1961, campaign organizers saw that they would have to get more human resources into the campaign if it was to succeed by year's end. Workers of all kinds were released from their jobs to spread throughout the country to teach. Urban dwellers were asked to volunteer to teach in their neighbourhoods.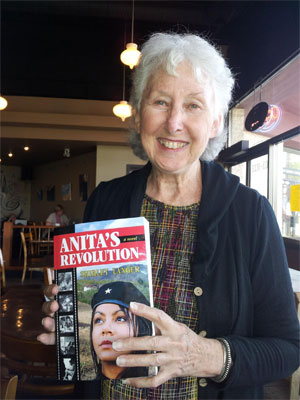 Regular schools would not re-open in September, enabling professional teachers to tutor where needed. The motto became: For each one who needs to learn, someone to teach. The country became one gigantic school.
At the end of a scant seven months of campaign effort which involved the whole nation, on December 22, 1961 Cuba celebrated its goal ending nearly five hundred years of ignorance and marginalization. The oldest newly-literate learner, a woman 106 years old, was born a slave.
What started in 1961 continued then and continues today to guarantee universal education. Graduates may attend any of Cuba's colleges at no cost, and according to UNESCO, one of every fifteen Cubans holds a university degree.
UNESCO has stated that the Cuban struggle to eradicate illiteracy and to bring all students and adults to an effective functional level has proven itself not just a one-time tour de force, but rather a success story that has no end.
The success of the Cuban campaign changed the course of Cuba's history and made it a sought-after program. Today Cuba helps other countries via a modernized audio-visual literacy teaching program called Yo sí puedo! Yes I can!
Yo sí puedo! has been conducted extensively in Venezuela, Nicaragua, Timor Leste (formerly East Timor) and Tanzania. Recently, the Squamish First Nation in British Columbia Canada has begun the program.
—–
(*) Shirley Langer lived and worked in Cuba for almost five years in the mid 1960s. She is the author of the recently published book, "Anita's Revolution", a historical fiction novel chronicling the Cuban literacy campaign of 1961. The novel is available as an e-book from online bookstores Kindle, Lulu and Smashwords. The book in print form may be purchased online from CreateSpace, or by contacting Shirley directly by e-mail: [email protected]
To learn more about Shirley Langer and Anita's Revolution, visit the website: anitasrevolution.com