Abortion Rights in Cuba Face New Challenges
In 2016, 85,445 abortions were carried out among women aged 12-49 years old, which represents 41.9 interrupted pregnancies per 100 pregnant women.
By Ivet Gonzalez  (IPS Cuba)*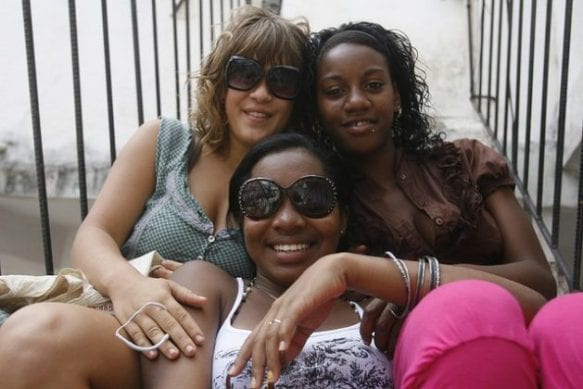 HAVANA TIMES — When it seemed like an issue resolved in Cuban society, feminist activists and experts are apprehensive about the latest public outbreaks of anti-abortion discourse, which condemn this practice in a country where abortion has been safe and free for over half a century.
"Pro-Life (anti-abortion) discourse, just like all of the other arguments that have been drawn up to argue in favor of reinstating repressive measures against abortion, ignore, like always, one of the most important factors of this issue: women," notes sociologist Reina Fleitas told IPS, who is very well-known for her gender and local development investigations.
Fleitas went on further to say that she lamented that "the silence or devaluation of women's situation is a constant," when we talk about current problems such as low exclusive maternal breastfeeding, a small number of children per woman and the accelerated aging process of the Cuban population.
Cuba is one of three countries in Latin America who have decriminalized the voluntary termination of a pregnancy up until the 8th week gestation limit, in a region where abortion is still penalized no matter what the circumstances in four countries and is only allowed in many other countries in extreme situations such as rape or the mother's life at risk.
Along with Uruguay and Puerto Rico, this Caribbean island has allowed D&C (dilation and curettage) procedures at women's request at health institutions, which are all public and free because the socialist government considers health as a human right which it ensures for its 11.2 million inhabitants.
In Mexico City, a woman's right to terminate her pregnancy voluntarily has been recognized since 2007, but on the other hand, several states within this country also include the protection of fetal rights from conception, just like El Salvador, Honduras, Nicaragua and the Dominican Republic.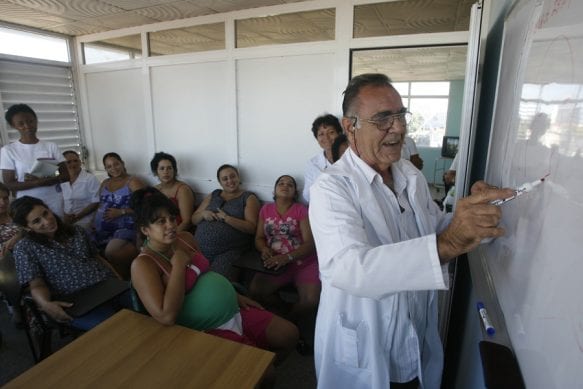 In Cuba, it was the only form of contraception used by Cuban women for many years, until modern contraceptives appeared and became more widespread.
"The assessment of over 50 years of voluntary and free abortions has been positive because women have gained a right in Cuba which has had great benefits. The most important has been the drop in maternal mortality," Fleitas evaluated, which she also labels as "an example of gender focus in health."
In 2014, none of the 26 maternal deaths that took place were a result of this procedure, while in 2015, two out of the 29 deaths in Cuba and 5 out of the 32 female deaths, in 2016, due to maternity complications were a result of abortions, according to the 2016 Annual Health Statistical Report.
Also a proffesor, Fleitas expressed her concern for the discourses which don't recognize gender equality or the disadvantaged situation or the female population, "as they always end in easiest and less expensive solutions: a prohibitive and repressive law for women."
Although activists and experts doubt whether legislation about abortion rights will be reversed, they are afraid that the advance of anti-abortion stances might pressure women to consider terminating an unwanted pregnancy like an option within their reach.
"Women's rights to decide over their bodies are inalienable and need to still be defended in Cuba for many different reasons," stated doctor Alberto Roque, who is an activist for the respect of free sexual orientation and gender identity, as well as a bioethics researcher.
His voice was among the first to criticize the anti-abortion lyrics of Cuban singer Danay Suarez, on February 25th, during her performance at this year's edition of the Vina del Mar song contest, in Chile, at a time when people in this South American country were fighting for a therapeutic abortion law which was finally approved on August 21st.
Then, the prize this young promising Cuban singer won was overshadowed by her position, which Cuban anti-abortion activists publicized as an example of the strength these ideas have taken on in this Caribbean nation, a breeding ground for religion on the rise and the growing presence of churches who are emphatic about their opposition to this right, especially Evangelical ones.
[Editor's Note: Although the Catholic Church has the same position, at this time it is not publicaly insisting on it in Cuba, as it does in other Latin American countries.]
Roque notices obstacles in Cuba such as "the existence of Pro-Life stances, patriarchy's strength as an ideology, increasing social inequality and growing poverty, and the State's economic approaches with relation to low birth rates and the indiscriminate use of abortion as a contraceptive method."
The latter is a problem which has been recognized and is being tackled by the health sector which, according to the doctor, "reflects poor sex education during adolescence and the poor implementation of this health policy." In fact, this abuse is one of the arguments highlighted by detractors of voluntary abortion.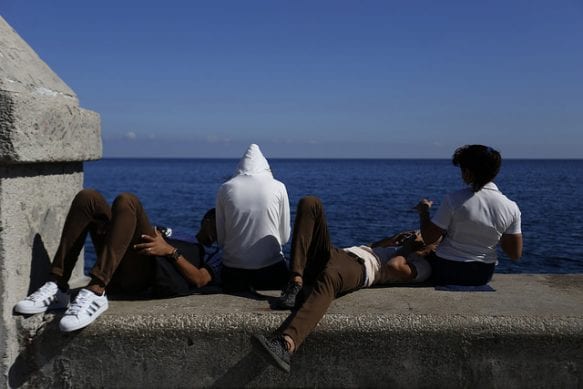 In 2016, 85,445 abortions were carried out among women aged 12-49 years old, which represents 41.9 terminated pregnancies per 100 pregnant women. This landscape contrasts with the wide accessibility and coverage of contraceptives, which were calculated to be used by 77.1% of child-bearing age women in a stable relationship.
Although voluntary abortions today represent half of those which took place 12 years ago, authorities hardly offer figures on menstrual extractions, which is one kind of curettage but with vacuum aspiration during the first weeks after a missing period and has been available since 1987, even at some polyclinics (walk-in centers).
As these aren't included in government statistics, there is "an underestimation about the level of abortions in recent years, given the fact that 70% of these menstrual extractions terminate unwanted pregnancies," pointed out doctor Maria Elena Benitez, in a study published in 2014.
In "The path to safe abortion in Cuba: prevention is better than abortion", the fact that it is Cuban women who make the decision to abort or to continue with the pregnancy is highlighted, firstly because of the empowerment that this means and, secondly, for the limited responsibility men have in reproduction and "the consequences of unprotected sexual relations."
The expert listed reasons to not go ahead with a pregnancy: unsuitable age to be pregnant, a pregnancy very close after giving birth, difficult economic situations; lack of knowledge, poor use of contraceptives and the failures and poor availability of these, obstacles to personal projects, prejudice and poor material and family living conditions.
"We need to accept that terminating a pregnancy is a traumatic experience for a potential mother," the editor and feminist Pilar Sa told IPS. "Whoever has gone through this tough time will know just how difficult it is to make this decision," she shared, while she also urged for "sex education, ethics and morals to be promoted among men."
Writer Jose Miguel Sanchez, known as Yoss, called the anti-abortion movement's discourse out-of-date "at these times of population explosion and a shortage of resources."
The science fiction author, who is very active is social debates, also lamented the fact that this is being "encouraged more and more, by a State (Cuba's) that is afraid of running out of its workforce in the near future if less and less children are born."
Liane Ramos, who confessed that she had never had an abortion in her 46 years, pressed health and education centers to "promote people's knowledge of this right and to approach it in a responsible manner as it poses risks to women's physical, psychological and sexual health."
More about abortion in Cuba
The first abortion law dates back to 1936, when abortion began to be allowed on three grounds: saving the mother's life or preventing great harm to her health, rape or the possibility of passing on a serious hereditary disease to the fetus.
Nevertheless, under social and government tolerance, private clinics were offering voluntary abortions to Cuban women who could pay for them and even women from other countries, especially from the neighboring United States, before 1959.
Receiving a storm of international criticism and internal resistance from the religious sector, voluntary abortion was institutionalized in 1965 on four basic grounds: that it is the woman who decides, it needs to take place at a hospital, it needs to be carried out by expert staff and it needs to be totally free.
Official decriminalization took place in 1987, when the Penal Code, which is still in force, established that it was only a crime when it is done for profit, outside of health institutions, by non-medical staff or against a woman's will.
—–
*Translation by Havana Times