Alfredo Sosabravo Expo on His 80th
Text and Photos by Irina Echarry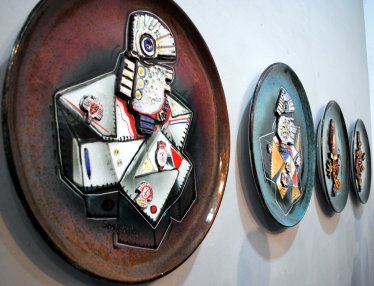 HAVANA TIMES, Nov. 3 — For an artist, there's no better way to celebrate their birthday than an exhibition of their most recent work and Alfredo Sosabravo is currently presenting such an exhibit of some fifty of his works.
These are ceramic plates made in a locality along the Italian Riviera of Ligure. That area is recognized as where prestigious workshops in that craft that have been organized since the 1930s. Participating in them have been numerous artists, including Cuban creators Wifredo Lam and of course Sosabravo himself, who has collaborated in several of these since 1993.
The public welcomed the exhibit's opening on October 30 in the Centro Hispanoamericano de Cultura, which is located in Old Havana at #17 Malecon between Prado and Carcel streets. People could once again appreciate the brilliant coloring and the great variety of textures that characterize Sosabravo's work.
Also in attendance were several personalities such as Zaida del Rio, Fabelo, writer Reinaldo Gonzalez; and Cuban minister of Culture, Abel Prieto, along with many youth interested in the visual arts.
The paintings and sculptures displayed in the hall are the most recent fruits of the creation of this prestigious ceramist, be they of a siren with a green tail or a gentleman with a tie and glasses questioning his assistants.
The brass sculptures —molded through the technique of lost-wax casting, and with some combined with Murano glass— were also brought here from Italy, where the artist works and has shown his work for close to 17 years.
The exhibit is an opportunity to appreciate the creative work of one of art's greats. Reds, greens, ochers, yellows and blues, together with ceramic female forms and decorated plates will be exhibited to the public through December.
Click on the tumbnails below to view all the photos in this gallery