Baracoa: 500 Years of Solitude (Part 1)
By Lazaro Gonzalez, photos: Marta Vecino
"She spoke of Macondo as if it was the most luminous and serene town in the world." – Gabriel Garcia Marquez*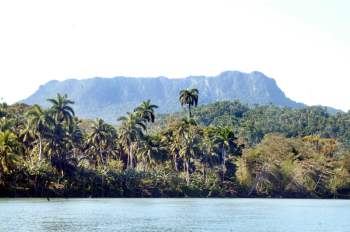 HAVANA TIMES, April 12 — Many years later, tied to the stake, the indigenous chief Hatuey would recall that remote afternoon in which he came upon El Yunque.  Baracoa was then a batey (indigenous village) that consisted of twenty cabins and caneyes (huts) made of wood and palm leaves.  It was built on the Miel River's sparkling waters, which rushed over a bed of white polished stones that were as big as prehistoric eggs.
The local indigenous people were far from suspecting that in this land the Spaniards would found their first village in Cuba a short time later (in 1511).  The world was so new that many things lacked names, so to refer to them it was necessary to point them out with one's finger.
Today the municipality with the largest physical area in Guantanamo Province, and situated roughly 680 miles east of Havana, Baracoa is one of those places that at times seem frozen in time.  The total population is just under 82,000, evenly balanced divided between rural and urban dwellers.  The population density is very low at 84 residents per square kilometer.
The stunning vistas that nature concentrated in this corner of the world have reached an international resonance, which this year is multiplying with the celebration of the 500th anniversary of the first Cuban town.
Dazzling landscapes, crystalline rivers, waterfalls, beaches, natural pools, marvelous flora and fauna, ancestral traditions, and its eclectic culture constitute enormous possibilities for tourism in Baracoa, which is still an insufficiently tapped resource of the Cuban leisure industry.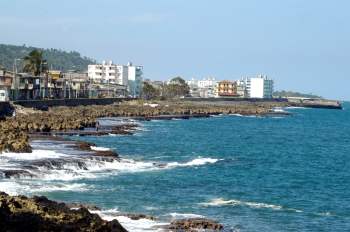 "This 500th anniversary is an opportunity to publicize Baracoa, since it is not well known as tourist destination; it needs to be promoted more.  We have great potential for eco-tourism, everything can't be beaches.  Baracoa has lots of charm.  Five days isn't enough to get to know all of its beauties," said Olga Cantillo, who for 10 years has been the head of promotion for Hotel Castillo, a renowned institution of the city, along with the Hotel La Rusa.
What's certain is that the more than 40,000 foreigners who visited the city last year will act as natural promoters in their home countries.  It's inevitable.  Many of them will return, and more than once.  It's difficult to resist the charms that this place etches in one's memory.
"Currently our principal clients are German and Dutch.  This is direct tourism that generates more than 25 percent of the hotel's revenue," Cantillo noted.
"We also have groups of elderly French tourists who insist on lodging here, despite the fact that we're high on a hill.  The local 'Baracoenses' are very hospital and that's what distinguishes our touristic services.  This is a very family-oriented hotel, where we try to maintain the traditions and defend our roots: our traditional dances, food and music."
Baracoa has five full-service hotels and nine more basic hotel facilities, a capacity that should grow this year when the construction of a new inn is completed.  In the longer-term, the construction of two additional hotels is foreseen in areas off the city's Malecon seawall.  Rober Maresma, the president of the local government, said that Baracoa also has a high volume of homestay/lodgers who stay at the more than 254 units that  are rented in the two currencies "which in itself is an indication of the existing potential, not to mention expansion efforts currently underway.  Still, the possibilities for tourism in the region are immense."
The incipient development of the leisure industry in Baracoa has generated a number of jobs, both formal and informal.  Many youths now hold positions in the hotel facilities while other young people have dedicated themselves to providing touristic goods and services that are not available from formal government providers and they provide these at rates cheaper than those charged by the state.  These are some of the alternatives most often pursued by members of the younger generation, who are not as interested in production jobs such as those in agriculture and construction.
Nevertheless, one can perceive in the faces of the Baracoan youth a strong sense of belonging in their native region, which presumably impacts directly on their relatively low rate of emigration to other provinces and countries.
Arturo Legra, a young culinary technician who works at the El Castillo Hotel, says that his restaurant specializes in food that is distinctive of Baracoa.  It is characterized by the notable inclusion of fish, shellfish and coconut milk, a cooking style that they have dubbed "Santa Barbara."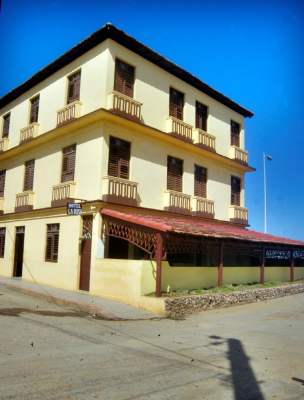 He notes, there's no shortage on our menu of delicious samples of our indigenous diet, which are greatly appreciated by tourists; these delicacies include calalu (a mixture of vegetable, tender shoots with fish or crab and coconut milk), ajiaco stew, bacan (banana tamales), banana buns, rice with coconut, and pollo guajiro (an exquisite chicken and corn dish), among others.
"Our cuisine identifies the hotel internationally.  We use a lot of coriander, spicy peppers and chili.  Baracoa can showcase its unique dishes that are a savory mix four culinary cultures: indigenous, Spanish, African and French.  Our seasoning has a secret ingredient that no one reveals, but it lasts," added the mysterious chef.
Such are the people of Baracoa: proud, enigmatic, hard-working, charismatic, exceedingly altruistic, kind and fraternal.  They are the owners of spiritual as well as panoramic wealth, which have served them greatly in successfully counteracting the blow of a geographical hindrance: their distance from the capital city.
They say that long before the foundation of the village of Nuestra Señora de la Asunción (known since that time by its indigenous name: Baracoa), ethnic Arawaks originally from South America settled in the area. They built dozens of traps and cages, and in a short time filled the whole batey with species such as "tocororos," "carpenteros," "azulejos" and "negritos."  The concert of so many different birds ended up being so deafening that some natives filled their ears with beeswaxes to not lose their sense of reality.
Subsequently, when Hatuey (the leader of a people from what is today the Dominican Republic), arrived for the first time carrying on his bare shoulders a colorful buren (a plate of mud for cooking cakes), everyone was surprised that he and his followers had been able to find the batey since it was hidden in the thick tropical forests of the mountains.  However the outsiders admitted that they had been guided by singing of the birds.
———
FIVE CURIOSITIES ON BARACOA

– The first capital of the country: Until 1515, when founder Diego Velazquez decided to move the capital to Santiago de Cuba, a more centrally located city.  Here also resided the first Bishopric, pronounced in 1518 by Pope Leon X (Juan de Medicis).
– Columbus's Cross, or La Santa Cruz de La Parra: Long guarded by the parochial church Nuestra Señora de la Asuncion de Baracoa, this is the only cross still conserved of the 29 that Christopher Columbus planted in his four trips to the Americas.  After several studies of its inner structure, as well as through carbon 14 testing, it was determined that the wood was from the Uvilla family, which is abundant on the coasts and mountains of the Antilles.  Its origin was established as being between 860 and 1530.
– El Yunque (The Anvil):  A small but majestic plateau 560 yards in altitude that, after being cut away by erosion for millions of years, looks like a blacksmith's anvil.  This was declared a national monument in 1979 owing to its historical-natural values.  It constitutes a geographical lighthouse for craft that cross through the Old Bahamas Channel and is a symbol of Baracoa.
– The Legend of the Rio Miel: the mythical fruit of the popular Baracoan imagination, this is often cited by villagers in the phrase: "If you swim in the Rio Miel (Honey River), either you'll stay or return."   This refers to the marvelous story of two teenagers, Daniella and Alejandro, who escaped the city to avoid their expulsion to France.  They hid along the bank of the Rio Miel, in whose voice one can still hear the lovers.
– The Nengon and the Kiriba: these are traditional rhythms of campesino celebrations in Baracoa, still popular in the region's rural areas.  It's said they constitute the beginnings of son music.  During fiestas Nengon is played, which is slower and danced in a circle.  In bidding people farewell, Kiriba is played, which is a livelier and freer dance form.  (Photo – Nengon and Kiriba)
* This four-part report pays tribute to the novel 100 Years of Solitude, whose setting, the town of Macondo, possessed the same magical essence as our dear Baracoa.