Baracoa (Part III): The Coconut & Cocoa Industries
Lazaro Gonzalez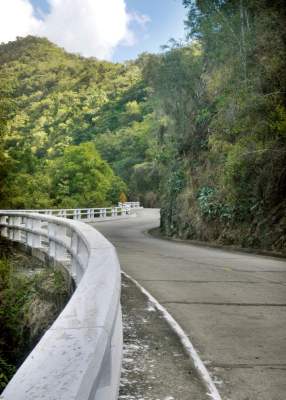 HAVANA TIMES, April 25 — "The most beautiful land that eyes ever beheld," wrote Christopher Columbus when arriving in Baracoa, on Cuba's most easterly coast, in November 1492.  Five centuries later the first village founded in the Greater Antilles by the Spaniards stands proud overlooking the Atlantic Ocean.  Its natural paradises are intact, surrounded by its army of majestic mountains and shrouded in that same magic halo that first fascinated the venturesome admiral.
Today, when the foreign novice begins their ascent of the monumental work of Cuban engineering in the form of the Farola viaduct, only for brief moments will they be able to close their dropping jaw.  As that highway winds along the sides of the hills, expressions of admiration are heard one after another before the parade of exuberant landscapes.  As such, even before arriving at the island's "First City," Baracoa, one has to ask themself: Why did I take so long to visit this paradise, this diverse reservoir of the bounties of nature?
Coconuts in the ovens
One of the symbols of this city is its making of coconut oil, which is produced in a German-equipped factory that has been in operation for more than 30 years.  Twenty-six workers commit struggle daily to keep the plant functioning within the acceptable parameters and in the face of multiple challenges posed by its obsolescence.
A veteran of a thousand campaigns, production specialist Ramon Bartelemi indicated that the most serious problem is with the boiler: "If it's not resolved, we won't be able to fulfill the production plan for this year.  We also have difficulties with the trucks for transporting raw materials.  Because of that, sometimes all the dehydrated coconut kernels aren't extracted at the points of purchase.  This fruit can stay fresh for a month, but if it's not stored correctly they crack and go bad.  It starts to rot, its yield declines and the acidity of its oil is altered."
The kernels, dehydrated earlier in Malaysian ovens, arrive at the factory with an approximate water content of six percent and between 70 and 80 percent fat.  In this municipality there are seven Malaysian ovens, each with the capacity to dehydrate a little more than 2,000 pounds of coconuts daily.
A ton of coconut kernels produces just over 1,000 pounds of oil and a similar amount of coconut flour, which has a 10 percent fat content and is used for animal feed.  The oil is used mainly for making soap, perfume, cosmetics and in serving the pharmaceutical industry.  In the home this oil is useful for combating common colds and parasites, and in many places it's even used in the kitchen as a substitute for cooking oil.
"In 2010, because we had a bad crop, we only produced 200 tons of oil, barely two thirds of what was projected.  But this year we're seeing an increase in productivity.  We hope to manufacture twice as much, though this is still very far below our historic record that dates back to 1990, when we produced 1,450 tons.  It's just that the condition of the existing technology no longer permits that," Bartelemi explained.
"Chocolate-addiction"
A merciless assault on the senses: that's what a tour of a chocolate factory is to a "chocolate-addict."  It's necessary to tap one's last reserves of common sense and professionalism to not fall face down with exhaustion before the viscous, radiant and seductive cocoa paste.  It's a complete challenge to one's self-control.
However, like the old saying: "Too much sweetness gets to be too much."  For the majority of the almost 200 workers at the Ruben David Suarez Cocoa Derivatives Company, they turn neither hot nor cold when it comes to chocolate.   Sure, not all of them; some of the more astute ones line their pockets with the theft of that valuable treat, in any of its variants.
When we met Oscar Quintero, the director for the past five years, he had just come back from municipal court where he had testified in a trial against some suspected wrongdoers who, with the complicity of the factory guards, were accused of stealing several sacks of powdered chocolate this past New Year's Eve.
Oscar, visibly tormented, recognizes that these incidents are frequently repeated.  He commented:
"What's lacking is a sense of ownership and care for resources.  Pilfering sometimes occurs, and year after year we sanction people, fire others or formally charge some of these workers.  My job is exceedingly difficult because our products are highly valued on the black market.  On more than one occasion I've received serious physical threats when reporting crimes.  One time the police even had to place me under protection."
Conceived and founded by Che Guevara on April 1, 1963, this factory — the only one in Cuba that processes cocoa — still works with 80 percent of its original equipment.  Despite that, it's capable of producing at the capacity of its initial design: 2,000 tons a year.  According to the manager, this is thanks to the "innovators movement," whereby workers recondition spare parts that can no longer be obtained on the international market.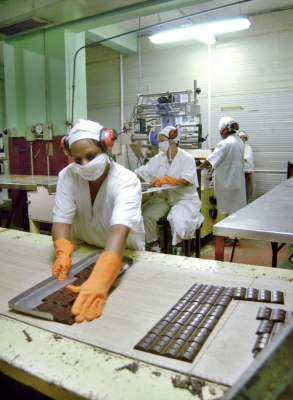 "But we never drew on that full initial capacity.  Last year we processed everything delivered to us, despite serious problems with the refrigeration and air conditioning systems, which affected production and conservation.  We exported very little cocoa butter because the prices were depressed on the international market.  But we successfully broke into the export of torta quebrantada ("crushed cake," or non-milled cocoa).  By this we saved the country 150,000 convertible pesos (about $160,000 USD) through import substitution."
This company supplies raw materials to the ten chocolate factories in the chocolate program.  Chocolate bars and confectioneries (machine fabricated and handmade), cocoa butter, cocoa paste, micro-pulverized cocoa, chocolate paste and breakfast chocolate constitute the principal products of this important industry, a source of local pride given the quality of its production, which has maintained a respectable place in the Cuban palate.
However, Baracoan residents of all generations complain that the impact of the factory in local development is imperceptible.  They point out that because the company is part of a national initiative, little of its products or profits remain for the local community.  Nieves Fabre, a retired worker who worked in the handmade confectionaries line, said "People here hardly ever see a candy bar or a bonbon."   He wonders, "How much more could be done if they just established an efficient system of surveillance and protection?  But who dares do that?