Baseball Fiesta in Barcelona
By Ramon Andujar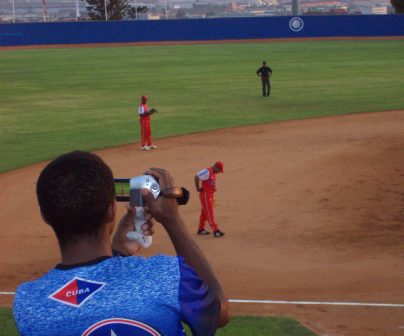 HAVANA TIMES, Sept. 12 – I must confess that I'm not much of a baseball fan but when you live far from Cuba, you cannot turn a blind eye to anything that has to do with the island.
That was why as soon as I learned that Cuba would play in Barcelona as part of group B of the World Baseball Cup, I didn't doubt for a second to tell my wife "honey, we have to get tickets for a ball game"
There is no baseball tradition in Spain, where soccer monopolizes the attention of sports fans almost the year round and so we couldn't expect to see the stadium filled with Spanish people.
Here the word stadium seems too big for this sport, which has begun to gain ground on this side of the globe.  Here the ball park referred to just as a field.  The Monjuic baseball field is situated a few meters away from the gigantic Olympic stadium that hosted the 1992 games.
Reaching the field was a bit hard for us, first because we had never been there before and second because traffic in Barcelona can be really complicated, especially in the afternoon.
But with good luck and my wife's ability to drive we managed to get to the place shortly after the game between Cuba and Puerto Rico had started.  We couldn't help being surprised at the large number of people- Cubans, Puerto Ricans, and even Catalans-   who had been left outside the park as the game was sold-out.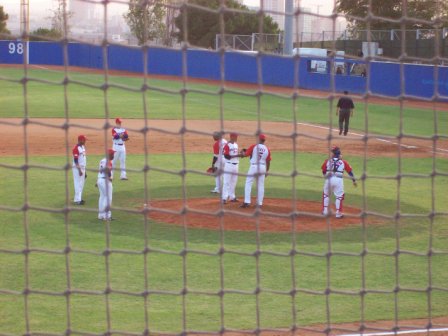 The bleacher (there is only one in this park) was full and the emotion of the conga drums to cheer up the players was already sounding.
The flags from both countries were floating over the audience.  And if anyone hasn't noticed it yet, let me tell you that both flags have the same designs and colors, but they are distributed in a different order.
For two hours and a half I forgot that I lived far from Cuba.  Two thirds of the public were Cubans who had come to cheer on their team or to show flags and posters so that the television cameras caught them so that their friends and relatives saw them in Cuba a few hours later.
"Laura, I love you," read a poster which made me think how romantic we Cubans are, even during a ball game. We never forget our beloved ones, even more so if they are far away.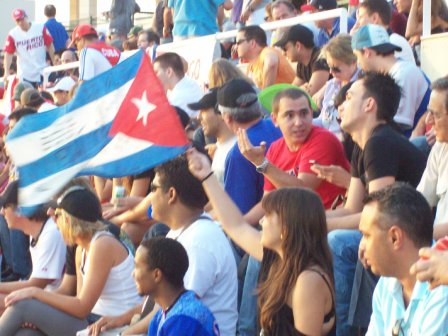 The game was not a heartbreaker as we saw our team win easily over Puerto Rico.  Vera was un-hittable on the mound, while the other team had to change pitchers several times.
Cuba 10, Puerto Rico 0 was the final score of the game which ended on the mercy rule in the seventh inning.
And when it was time to say good-bye, the public was craving to share with their players but they were complaining that none could get near the Cuban players, nor could they receive phone calls.
This is a preventive measure to avoid the siege by scouts who offer huge sums and promises to Cuban athletes so as to make them quit their amateur team and jump onto the bandwagon of professional sports.
Still fresh in everyone's mind was the desertion of left-handed pitcher Aroldis Chapman during the last World Port Tournament in Rotterdam or the four Cuban basketballers who recently left their team on the Canary Islands in August.
As we were driving back home, we passed by the Montjuic Olympic Stadium.  "Life is ironic," I said to myself and wondered, "how can a such a healthy sport like baseball be excluded from the Olympic games?"