Black Voices of Feminism Make Headway in Latin America
By Ivet Gonzalez (IPS)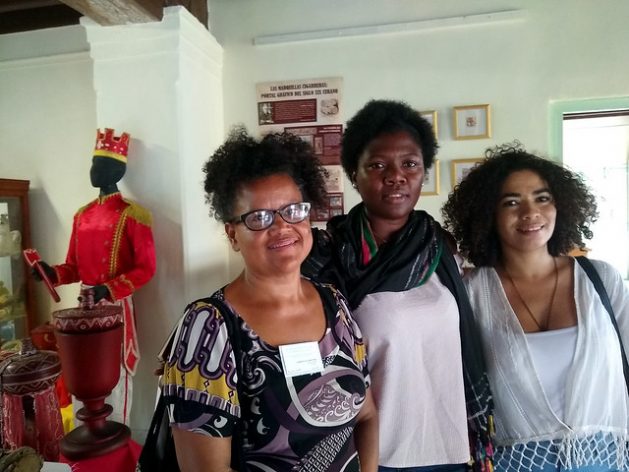 HAVANA TIMES – Within the green scarves' movement fighting for abortion rights and against femicide, Afro-descendant women in Latin America are raising their voices more and more every day, to underline the disadvantages and invisibility they suffer in society.
The growing capacity to get women's movements to fight for abortion rights and against gender-based violence, reaffirms the mark that feminism has had on the region. However, diversity within this struggle, such as the fight of black and mixed-race women in a region with 133 million Afro-descendants, still lags behind.
"In Brazil, we are fighting to give Afro-feminists visibility, to represent us in government and in universities," Brazilian demographer Jackeline A. Ferreira told IPS. She is also a member of an Afro-feminist network tied to the Afrodescendance and Counter-Hegemonic Proposals Working Group.
Created in 2017, and the only network of its kind within the Latin American Council of Social Sciences, this permanent working group, with researchers, activists and public policy-makers from over 20 countries, are prioritizing the incorporation, training and visibility of Afro-women within the region, from 33 countries.
The network focusses on working beyond what was stipulated at the International Decade for People of African Descent, declared by the United Nations from 2015 up until 2024. It held a workshop in Havana, from October 21st-25th, where IPS spoke to and contacted a few of its members.
"The black women's movement is for a better life and against violence, which we are more susceptible to becoming victim to," Ferreira outlined, who believes that recognizing this fact is still a pending matter in Brazil, in spite of it having the largest Afro-descendant population in the region, accounting for over half of its 210 million inhabitants.
"The impact of femicide is two-fold on black and mixed-raced women," the activist also lamented. The 2015 Violence Map, by the Latin American Faculty of Social Studies, revealed that these gender-related murders, between 2003-2013, against black Brazilian women went up 54%, while it dropped by 10% for white Brazilian women.
According to the Economic Commission for Latin America and the Caribbean (CEPAL), fourteen of the twenty-five most dangerous countries in the world for women are found in Latin America and the Caribbean, reporting 3,527 femicides in 2018, recorded in the 24 countries that offer some kind of data.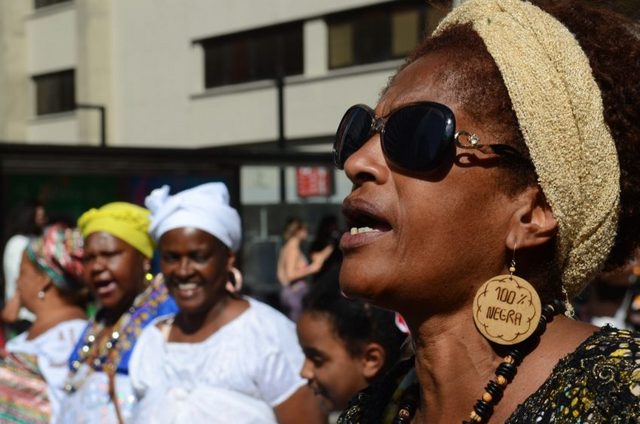 This is how the Ni una Menos (Not one more) movement and campaign kicked off in Argentina in 2015, which with this cry as well as Ni una Mas or Vivas nos queremos (We want us alive), as well as the distinct use of green scarves, spread across the region and reached other continents.
However, activists and researchers point out that within individual countries, Afro-women recognize themselves as victims less.
"For Garifuna women, our greatest fight is for land and territory," activist Keldy Odeth Bermudez said about the situation of this ethic group in Honduras, which is also found in Belize, Guatemala and Nicaragua.
"Garifuna leaders are persecuted a great deal and femicides against activists are a reality," which make up 10% of Honduras' 8.5 million inhabitants, she said sadly.
A member of the Black Honduras Association, Bermudez gave the example of Mirna Suazo, the president of the Board of Trustees of the Community of Masca in Omoa, who was shot to death on September 8th, bringing the total number of women who had been violently killed in the Garifuna coastal area within three days, to four.
With a mixed heritage of Caribbean and Arawaka indigenous peoples and African slaves brought over to the Honduran coast, the Garifuna people make up 10% of the Central American country's 8.5 million inhabitants, with 50-something communities.
Abortion rights, a common battle
"We are also delving into spaces of decision-making," Bermudez added. "We are working to pick up the fight for abortion rights so that we decide what happens to our bodies, talking about the day-after pill. A lot still needs to be done," she said, about a tough issue in a country where abortion is illegal in every instance.
Women's rights to a legal and safe abortion are the region's greatest debt to women, where there are even deeper gaps within the Afro-community. Abortion is completely banned in six countries, another nine only allow it if a woman's life is in danger and a few others offer exceptions in the case of rape and/or serious fetal abnormalities.
Up until now, Uruguay and Cuba are the only countries with free, safe and universal abortion nationwide.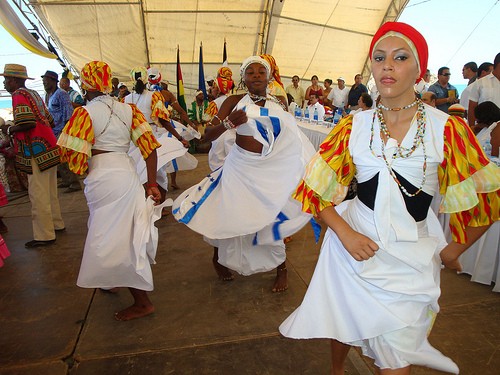 "We are very interested in placing abortion as a public health issue," Lorena Alvarez, from the Association of Afro-Colombian Women, said. Since 2006, Colombia has allowed abortion in the case of rape, fetal anomalies and if the mother's physical or mental health is in jeopardy.
"We continue to stretch the opening in legislation when it comes to a mother's mental health," the activist explained, about a field where she identifies "many unique elements for black and mixed-raced women too."
A 2017 study carried out by NGO, the Guttmacher Institute, from the US, revealed that only one out of every four abortions in Latin America and the Caribbean, between 2010-2014, was safe. It also indicated that women living in poverty and in rural areas were at more risk of having an unsafe abortion and severe complications.
"Black women live in poorer segments of society, generally-speaking, and there are many practices within their own communities linked to abortion," she said giving an example about the rifts in access to an abortion in Colombia. "It's a matter of recognizing these practices and finding a way to make them safe for women," she said.
Although, on the whole, Alvarez explained that, at least in the Colombian capital, "Black women have played a key role in placing demands which are very much invisible within the feminist movement, in general."
In Cuba, with a different outlook within the region when it comes to civil society due to restrictions in legally registering as an NGO, recognition and visibility of Afro-women is at the top of the agenda.
"Black lives as an ideology and movement in Cuba tends to lag behind when it comes to Latin America and the Caribbean," sociologist Rosa Campoalegre weighed in, who is one of the network's coordinators. "We have always had black feminisms, although with a random, vague and invisible course of action," she added.
"Cuban statistics have the challenge of specifying black data," she also said. "We don't know how to insert the racial pattern in the inequality grid," she underlined, talking about the consequences of lacking more specific data when it comes to the national population of 11.2 million inhabitants, 36% of whom are black and mixed-race women, according to the last census in 2012.
In its report "Afrodescendent women in Latin America and the Caribbean: Debts of equality" (2018), CEPAL pointed out "the persistent inequalities experienced by Afrodescendent women in different areas," the pending problem of data visibility, and insuffient public policies promoted by States.