Business Fair Shows Diversity of Cuban Entrepreneurism
Some 40 businesses exchanged their experiences and celebrated the 7th anniversary of a project that has sought to strengthen the island's private sector.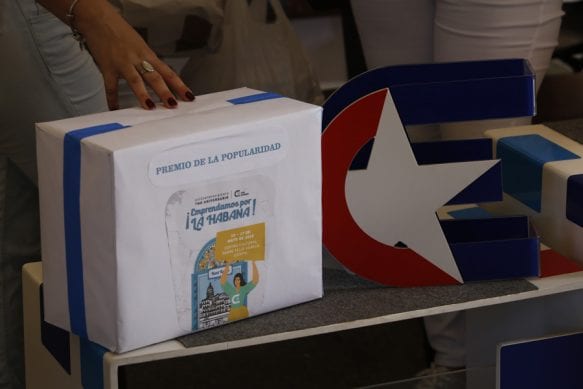 HAVANA TIMES – Ready-made crafts, body art studios, bars, marketing and design services, event planning and I.T. solutions etc., all revealed the diversity of this Caribbean country's private sector, at a fair held in the Cuban capital.
Some 40 businesses took part in the 7th edition of Expoemprendimiento, organized by CubaEmprende, a Catholic Church initiative, which was created in 2012 and has its main office at the Padre Felix Varela Cultural Center, located in Havana's historic center.
"The fair helps us to finetune what we have been developing and allows us to show this to a large group of people in a fast and effective manner," Anais Triana, the owner of processed products store La Libertija, told IPS Cuba's editorial team.
She also added that "it's a space to get to know about other initiatives, to connect and work together."
The stand where Triana is displaying her latest products was "the result of an alliance between entrepreneurs," she said.
"I managed to exhibit my goods here thanks to a collaboration with Ciclo Ecopapel (a handmade paper company) and Ativa (that produces different materials), businesses who share the same vision as us about how to run a business," she explained.
Anais and her associates have opted to "make products that aren't very common, which are processed and have social and environmental responsibility at their heart."
The artist and craftswoman, who encourages the rescue of manual techniques, highlighted how the alliance "allows them to make the most of each business."
In order for La Libertija (which is only 10 months old) to make it to the Expo, Ativa designed the stand, Ecopapel dealt with communications and the materials for setting up, and they made some of the products on exhibit together.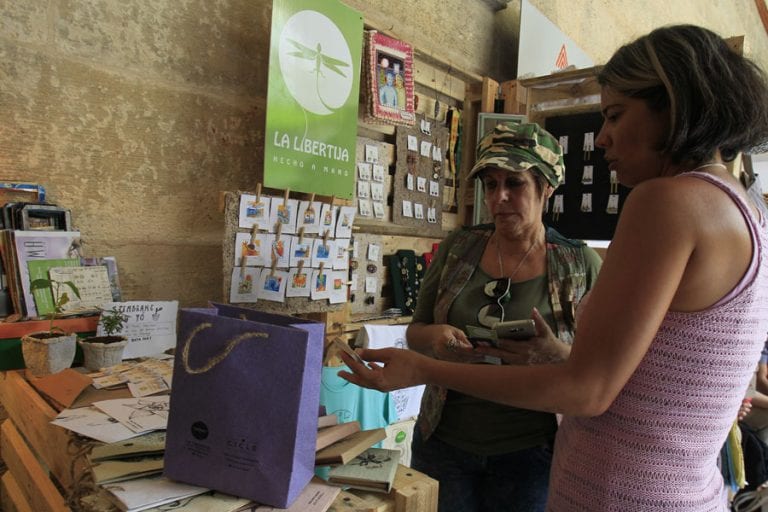 In the meantime, designer and painter Rene Pedroso, from Ativa, said that as well as connecting with other entrepreneurs, the event helped them to "show their creations to potential clients, who even put forward their own ideas on how to push the project forward."
He also mentioned some of the lessons he had taken away from CubaEmprende, a place where he was able to "reinforce concepts, organize the project better and improve his knowledge about issues such as marketing, accounting, management, sales and communication strategies, as well as receive advice and draw up a business plan."
Leyanis Pena, a craftswoman and the manager of Detalles Magicos, stressed that at the fair "there are new stands and innovative proposals every year, which lead to a lot of dialogue."
She believes the 7th edition of Expoemprendimiento lies in the fact that "it is a space where you can go after workshops, counselling sessions and an incubation process."
"People here come from general courses to the fair, where they make direct contact with clients, suppliers and many people with similar interests," she pointed out.
CubaEmprende
This dialogue between entrepreneurs, which has become a tradition in May, celebrated 7 years of the CubaEmprende Project, a Catholic church initiative which seeks to offer training and advice on business matters to people who run private businesses.
As well as the head office in the Cuban capital, there are two other offices located in the parish churches in the provinces of Cienfuegos and Camaguey.
The current edition of the event was dedicated to the 500th anniversary of the city, which was once called San Cristobal de La Habana (November 16, 1519).
The program included exhibitions, panels, conferences, business presentations, product launches and agreements being signed between businesses.
During the fair's opening ceremony, Jorge Mandilego, the CEO of CubaEmprende, said that in its seven years, they have "gone through ups and downs in tune with Cuban reality."
And, he assured those present that the initiative's main goal is to create more spaces for Cuban entrepreneurship, to follow them, learn from their experiences and share values.
"Facing tough times, the idea is to stand together, to grow together and to trust each other," he emphasized.