Celebrating Workers' Day in Pilon, Cuba (Video)
By Jenny Cressman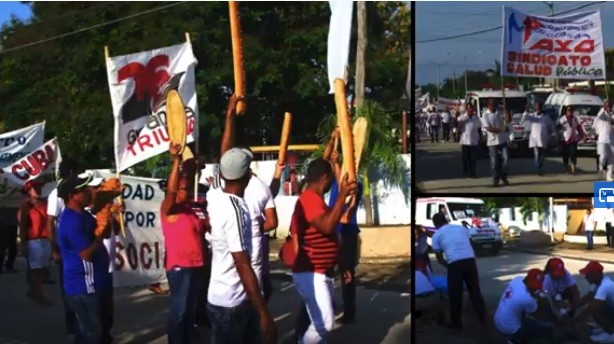 HAVANA TIMES – May 1st is known as International Workers' Day and is celebrated in as many as 165 countries around the world. In some places, it is also called Labor Day or May Day and, often, is a public holiday.
A few countries, however, recognize the importance of workers on different dates and see May Day as simply a time to welcome spring.
Although Workers' Day may have been celebrated in Cuba as early as 1890, it was not officially made a national holiday until May 1, 1959, after the triumph of the Revolution. This became an opportunity to not only acknowledge the importance of workers but also to remind everyone of the value of unity and commitment.
Big, colorful parades are held in most cities and towns throughout the country, often followed by public gatherings in plazas for a few speeches and musical performances, and then people move on to more informal parties!
A few years ago, I watched a Workers' Day parade from start to finish in Pilón, Granma. I was able to take a lot of photos, which I then distilled into a short video. I chose to use an original song by Lusito Rosell, who lives in Niquero, Granma. His composition, "Ensenada Vision," had been the winning entry in a contest to select a new theme song for a local television station. It seemed like an appropriate match for my photos!
Pilón's parade began early in the morning with many flags flying, banners waving and placards on display. Various sectors of workers were represented, from farmers to teachers and from medical personnel to resort staff. The latter contingent was fairly large for such a small town, since tourism is a significant part of the local economy.
For this reason, you will see numerous international flags among the photos, as well as a painting of Celia Sánchez, who lived in Pilón for many years. She is credited with selecting nearby Marea del Portillo as the location for the region's resort.
I was impressed by the cleverness of some floats in this parade, such as the truck with a pig roasting in the back! That pig was perfectly roasted and ready to be served in sandwiches, once the march and presentations in the plaza concluded. Then, fortified with food and cold drinks, the dancing could begin!
Since it was necessary to cancel Workers' Day parades in Cuba this year, due to COVID-19 concerns, I hope you will enjoy this little video instead. Perhaps you can raise a glass of rum in recognition of workers everywhere, particularly the Cuban doctors and nurses who are on the front lines to fight the coronavirus in many countries.
¡Salud!