Cheketé: A Session with Obiní Batá
Text and Photos by Irina Echarry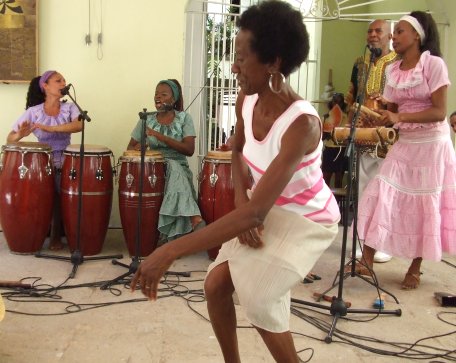 HAVANA TIMES, June 2 – "Cheketé" is a drink that slaves used to make; they drank it when celebrating some event or past occurrence.
According to those in the know, it's made with a little aguardiente in addition to corn wine, with this latter produced after soft corn and sugar are put into a jug and allowed to ferment for 21 days (though some modern recipes adding yeast).  In some regions of Africa they sweeten the drink with bee honey.
In Cuba, specifically in Old Havana, it's not a drink, but an encounter with music where the guest performers are Obiní Batá: a group of women who play batá drums, tumbadoras, chéqueres, and cajones, in addition to singing, dancing and reciting.
Every second Saturday of the month they meet at 2:00 in the afternoon at the Casa de Africa (located at #157 Obra Pía Street, between San Ignacio and Mercaderes streets in Old Havana) to offer their performances to a varied public.
The audience, made up of Cubans and foreigners alike, interacts with the artists in a pleasing way; the music unites those people present with different forms of rumba: columbia, solar and guaguancó.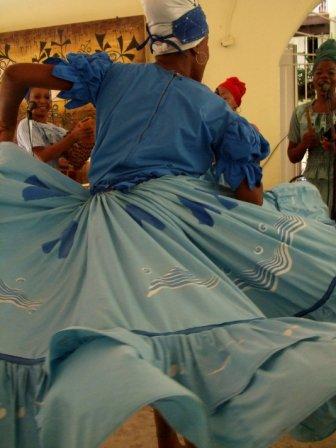 On Saturday, May 8, the group found it fitting to pay homage to all mothers.  They devoted their songs to the female figures of the Yoruba pantheon: Yemaya, Ochun and Oya.
The women muscians also recalled legendary singers Caridad Cuervo and Merceditas Valdés – as well as Andrea Baro, the first woman to dance columbia, a style of rumba that up until then was executed only by men. According to Eva, the director of Obiní Batá, "After Andrea Baro, the myth died."
The group is characterized by its recognition of the feminine stamp in all its facets.  One of the refrains they sing goes, "Women today are asserting themselves by challenging society."  They're also challenging traditions when delving into percussive work on batá drums (typically played only by males) in an aggressive and sensual manner.
These upcoming dates will be occasions to enjoy Obiní Batá and their energy.  Admission to the peña is free.
This coming June 12 there will also be inaugurated the photographic exhibit "Sedimentos Sagrados" (Sacred Sediments), by Ruddy Fernandez
To confirm the holding of any chequeté, call the following telephone number: 861-5798
Click on the tumbnails below to view all the photos in this gallery