Children's Baseball in Cuba: The Same Old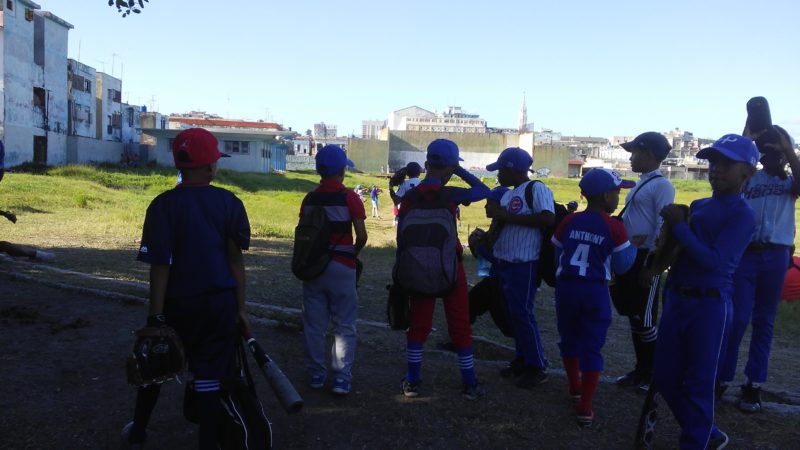 By Ronal Quinones
HAVANA TIMES – It isn't the first time that we are looking at child baseball in Cuba here on the site. The sport is marked by few official games and the little financial support it receives.
In spite of many calls in both government and independent media, nothing has changed in this regard, as we were able to verify during a trip to one of the centers where children aged 7-12 years old go to train.
Practice is Monday to Friday, from 4:30 PM until pretty much 7 PM, and two categories play on the field at the same time, because they have practice at the same time.
However, this is handled quite well as trainers work out the plans for their sessions together so that while one of them is on the field, to work on defense essentially, the other one is doing batting practice.
This common practice extends to other team sports because all children finish school at the same time and that's when they go to practice. Games are hard to arrange, but they have the whole day on the weekend and they figure it out.
This is how it works from a methodological point of view, and there's no way of changing it, at least at this age, because they have to go to school. When the most skilled enter the Sports Initiation School (EIDE), things change because as sport is the main objective of the school, they spend a whole session practicing and another in the classroom.
One thing that hasn't changed (which needed to be changed a while back) is the scarce funds that are available to develop talents at this young age.
Traditionally, and still today unfortunately, parents are the ones who take on most of the logistics work for baseball practice at this age, as the National Institute of Sports (INDER) offers the minimum in terms of resources, read here: old baseballs, some bats and fencing for making batting cages, which are improvised most of the time.
Parents even take on the responsibility of looking after the field, cutting the grass when needed, and keeping it as best they can so their children can play there.
.
Reinaldo Ramirez, the father of one of these boys who tries to become a future baseball star under the scorching sun, confirms the sacrifice involved in keeping his son's dream alive.
"I am a quite a well-to-do person, as we say here, because I have an income that is quite high if we compare it to the average Cuban salary, and I'm telling you it's really hard. Baseball cleats cost 50 CUC, as do mitts, and bats and baseballs are also expensive. We bought the latter between all of us parents, but it's a lot of money. (The CUC officially = USD)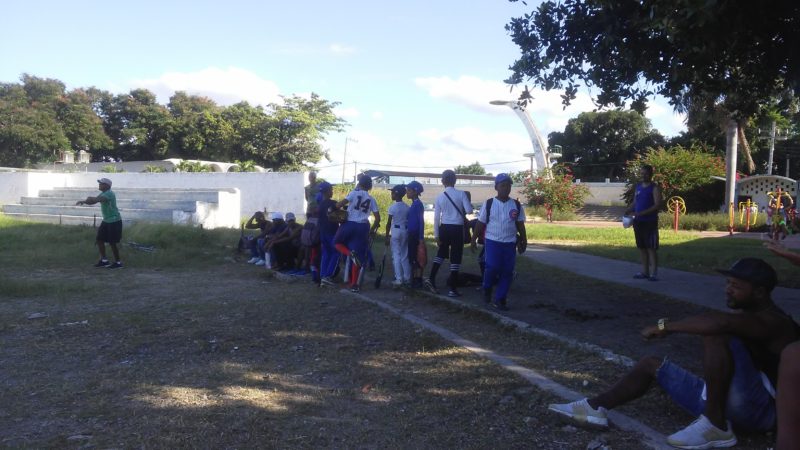 "I have unfortunately seen really talented kids stop practicing because they can't afford to. Even the teachers themselves go to great lengths and prioritize them because they know s/he has a real chance, but I have seen many leave the sport because it's too expensive for them and their parents can't keep up," he remarked.
Margarita Rodriguez, another child's mother, also weighed in: "People see them play and train and they have no idea about everything it entails. The fact that we are here every afternoon isn't a coincidence. We try to take part and be involved because we know that if we didn't, some things might be missing because there aren't enough resources.
You will never see a teacher ask for anything, but you realize what's needed yourself. Lots of the time, it's us parents who sort out transport for games. The other day, we brought root vegetables along to make a stew while they played. It's nice because it encourages relationships between everyone, but if you think about it, it's quite sad as well, because you get the idea of how neglected they are."
Marlon Hernandez, one of the boys we interviewed, doesn't know how his parents got him the uniform that has his surname on the back, and just tries to do his best on the field. "I want to be like German Mesa. The teacher told me that I have good hands and I field well, but I want to improve my bating technique so that I can make it to (Havana's) Industriales and the national baseball team."
Raiko Fernandez, from the 11-12 year old category, says that NY Yankees closer Aroldis Chapman is his idol: "I want to be a closer, the one who gets the final outs in a game and stays in everyone's memory. I have been told that we aren't taught this at this age, when we are all starters, but it's what I want to do in the future."
All of these children, with their natural innocence and dreams intact, have no idea about the sleepless nights their parents sometimes have so they can continue playing baseball. Alcides (who didn't want to disclose his surname) told us that he does illegal things at work so he can get an extra bit of cash and put it towards his son becoming a fine catcher in a few years, among other things.
It goes without saying that this is the most expensive position, not to mention the most difficult from a sports point of view. As well as a uniform and cleats, the catcher needs to also have a good helmet, chest guard, mask and leg guards, things that can cost a total of over 200 CUC in Cuba, a real challenge for any parent's financial means.
And we haven't even mentioned the food they need, and other expenses their normal and school lives entail.
They don't know it, but many children are really privileged to be in the sport, and that's why it doesn't surprise us that less and less talent is scouted, as well as the promotion of older categories, especially in the capital, where hundreds of thousands of players hope to form part of a 30-player team.
It's the same old story for those who want their children to become baseball stars: you need to make sacrifices.