China's Influence Grows in Caribbean
By BERT WILKINSON*
HAVANA TIMES, May 27 (IPS)  – Since the year began, China has given the clearest signals yet that Latin America and the Caribbean will be its new commercial and strategic focus, as it doles out billions in soft loans and grant aid, and ties up sweet trade agreements with countries ranging Brazil to finance-starved Cuba.
The march of the Chinese has so unsettled political watchers in the United States that earlier this month Secretary of State Hillary Clinton described it as "quite disturbing", contending that China is cultivating "very strong economic and political connections" in Latin America and the Caribbean for its own geopolitical reasons.
She warned that it would be dangerous and not in the interests of Washington "to turn our backs on countries in our own hemisphere," an unheeded point several regional leaders have been making for years.
Her remarks were designed to defend the policy of the Barack Obama administration in reaching out to states like Cuba and Venezuela. Just days later, Beijing and South American economic powerhouse Brazil offered confirmation of China's strategic march through the hemisphere, signing off on a slew of trade and economic agreements including a 10-billion-dollar loan to state energy company Petrobras that virtually ensures oil supplies for years to come.
In recent months, the Raul Castro-led government in Cuba has signed off on 800 million dollars in deals with China, mostly to help improve the operations of the island's key nickel industry and to set the stage for offshore drilling for oil and gas off Cuba's north coast, where geological studies show millions of barrels of oil and large deposits of gas lie untapped.
Analysts say that a few years ago, China was content with quietly sending low level officials to the region to explore business opportunities, constructing goodwill projects like sports stadiums, and trying to persuade governments to break diplomatic ties with Taiwan.
All this is in the past now as Beijing accelerates its diplomatic overtures, even as the new U.S. administration is increasingly consumed with major geopolitical problems including two wars and the nuclear ambitions of Iran and North Korea.
Beijing Hits Fast Forward in Latin America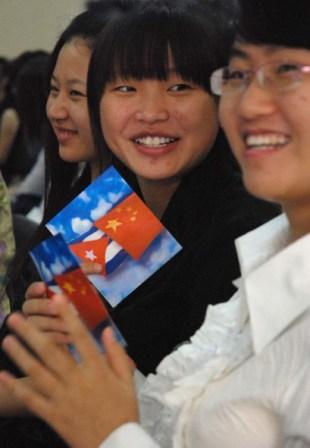 Since the start of this year, senior functionaries like Chinese Vice President Zeng Qinghong have touched down in Mexico, Peru, Venezuela, Trinidad and Jamaica, countries where observers say China is setting up regional commercial and political beachheads.
David Jessop, chair of the Caribbean Council for Europe and a veteran Latin American and Caribbean watcher, says that the Chinese have committed themselves to over 50 billion dollars in investments in the next few years in the hemisphere alone.
All this is happening as the U.S. is absorbing stinging criticism that it is neglecting the hemisphere while the Chinese are moving unchallenged into the U.S. backyard. Secretary Clinton says a watchful eye also has to be kept on Iran, which is setting up a foundation in Central America. For now, however, China is the obvious target in Washington's sights.
University of the West Indies Professor Mark Kirton says that there is little doubt Beijing is engaged in "a global repositioning of its strategic interests".
In recent years, China has been putting resources into the Barbados-based Caribbean Development Bank (CDB) for multilateral lending to Caribbean trade bloc states. It has also thrown in its lot with the Inter American Development Bank (IDB) to the tune of 350 million dollars, mainly for concessional loans to Latin American and Caribbean countries.
China's trade with the region, much of it imports from the larger Caribbean countries like Cuba, the Dominican Republic, Jamaica, Trinidad and Guyana, hit four billion dollars last year and is climbing. Figures for South and Central American countries are much higher.
Brazilian President Luiz Inacio Lula DaSilva was so elated by the recent agreements he penned in Beijing that he declared that a mere 35 years after establishing diplomatic relations, the two now have "more to celebrate than countries that have had relations for more than 100 years. My visit will improve further our relations and will strengthen our financial and trade cooperation."
Lula says that trade with China has grown to such an extent that it has overtaken that of the U.S. as the leading partner.
If the Obama administration feels it has to constantly look over its shoulder at what the Chinese are doing, it also has to live with the reality that China is only using a fraction of its two trillion dollars in foreign reserves to win friends and influence countries without the burden of having to deal with an independent congress where all politics are local.
Nigel Westmaas, an assistant professor at Hamilton College in New York, says the U.S. will have a tough time competing with China in the region as patience has traditionally always been a key virtue of Beijing.
"The Chinese think in terms of hundreds of years, not decades, and they are patient," he told IPS. "They have millions of citizens to use in their global strategy and are moving in on also in Africa, perhaps more so than anywhere else."
In the Caribbean, Jamaica, Guyana, and Trinidad and Tobago aced loans totaling 550 million dollars in the last six months alone and the new government in Grenada is preparing to talk with China about absorbing 25 million dollars in loans it owed Taiwan before the previous government switched sides in the last year and a half.
Jamaican diplomat Courtenay Rattray says that the budget support "couldn't have come more in time and on more preferred terms," as the island battles to ride out the global financial crisis which has decimated some of its key sectors, bauxite especially.
Wazir Mohamed, an assistant professor at the University of Indiana, says he hopes China's intentions are not as imperial and exploitative as superpowers before it, saying this would be an unfortunate development in a hemisphere that suffered under western colonialism.
"We need to end to the long history of imperial expropriation of the resources of the region," he said. "The Chinese are in a political and cultural position to reject that historical premise and point the world to a new day. If the Chinese are true stewards of their socialist creed, they should have no problem with investment that respects the rights of man."
*Bert Wilkinson writing from Georgetown, Guyana