Civic Protest in Nicaragua has Become Express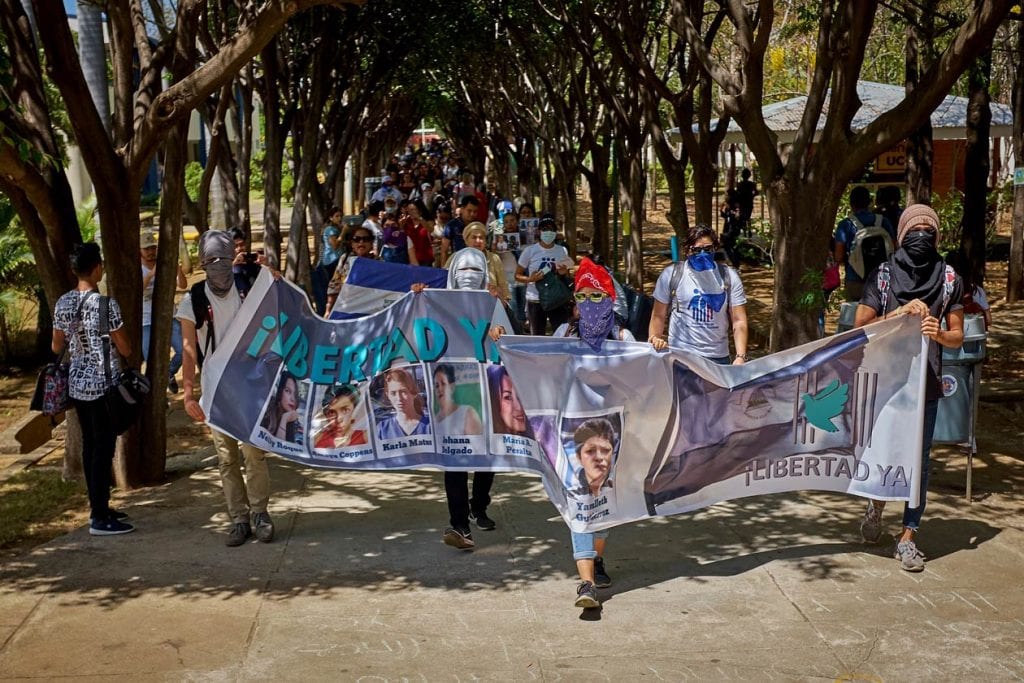 From putting stickers to sit-ins that last a few minutes. To protest has become a "crime," but university students have not stopped doing it.
Por Franklin Villavicencio (Confidencial)
HAVANA TIMES – Almost a year after the civic rebellion started and after the dictatorship's ban on protests, the demonstrations in Nicaragua are intensifying. The pulse could be measured in the corridors of the Central American University (UCA). It is one of the few places where forms of rebellion still live.
Sit-ins are led by students who, without warning, leave their classrooms, go to the restrooms, change their clothes, cover their faces, remove the flags from their backpacks and raise their fists to demand the end of the dictatorship. They do not last long. It does not take more than half an hour, but its impact is evident.
On social networks, each time the university students of the UCA protest they become news. However small it may be, any kind of dissent against the regime is a risk. They know and assume it. In four "sit-ins" that have occurred in the last month, the police have not stopped besieging the premises. If the protest goes to the street, repression is activated, as happened on March 16 in Managua.
This Monday, March 18, when the civic rebellion reached eleven months, a group of students carried out the fourth express protest of the month. With their faces covered, these anonymous young people demonstrated because they want "a change for the country."
Protest in Nicaragua was declared "illegal" by the National Police, and anyone who tries to circumvent this prohibition must expect repression and imprisonment. Saturday was an example of that: 164 people were arrested and later released by mediation.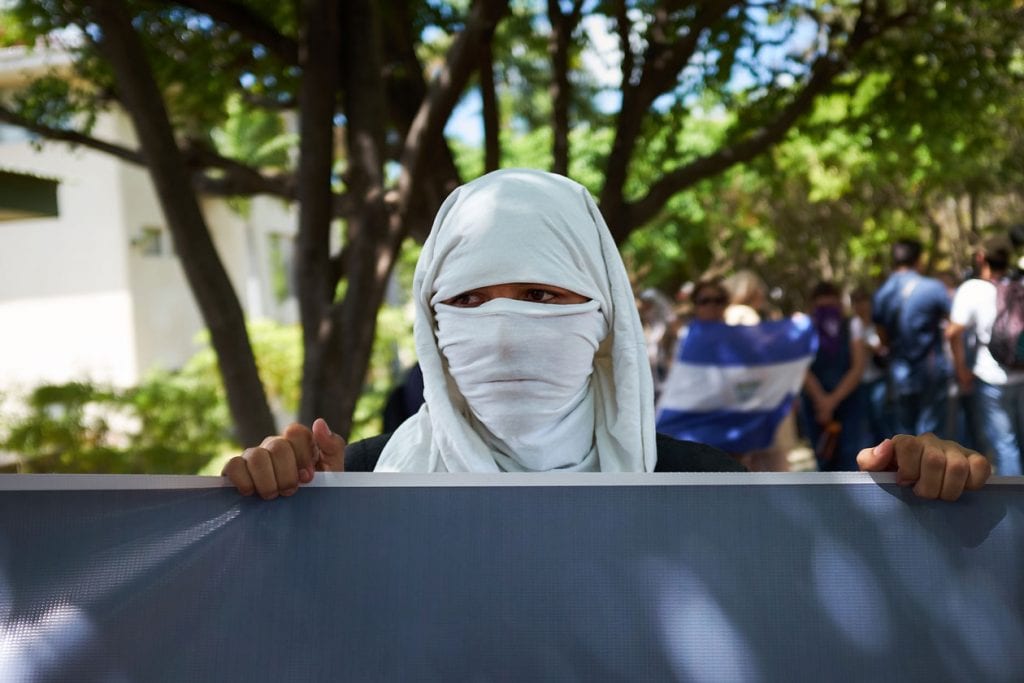 Without announcement
The announcement to these express sit-ins are not massive or public as before. These new student demonstrations are convened through closed groups and through encrypted applications like Signal and Telegram. Young people not only look after their physical security, but also digital security.
"Freedom for Political Prisoners," shouts one student while another dozen goes through the halls of the university. Another group joins them. Inside the classrooms, a professor interrupts his class when he sees that all of his students stopped paying attention to him and they look undaunted towards the window where the protest goes by. There are all kinds of reactions, but those that can be noticed are opposite each other: solidarity in some, indifference in others.
Outside the campus there is another reality. A dozen pick-up trucks of the National Police remain formed in a line, in expectation. The gates of the university are closed at that time and the security of the campus is raised. The tension in the first days was evident: Would the police dare to enter in order to quell the rebellion?
"Are you afraid that the police could at any moment enter by force? I ask "China," a student who has participated in all the sit-ins.
"I am not going to tell you that I am not, because I am, but what will happen will happen. We know that the university does not have the conditions for us to leave safely," she says.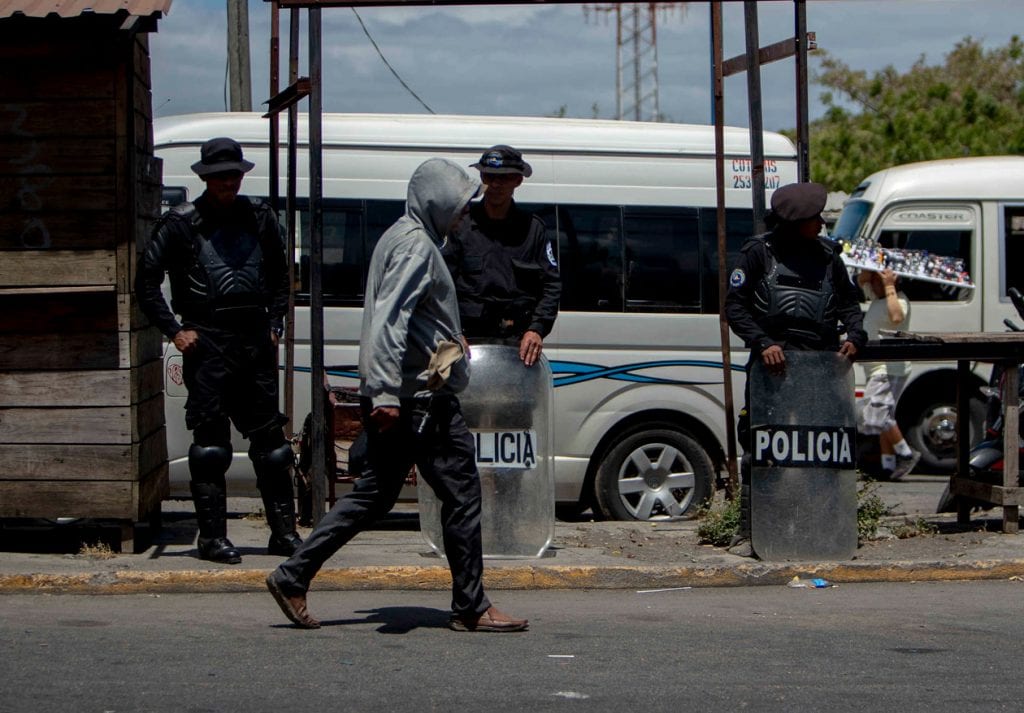 Repression and fear has made the ingenuity of the student community flourish. None of them wants to expose themselves for nothing, and for this reason they have their own exit strategies when the demonstration ends. One of them is to cover their faces with anything they have at hand: from jackets, handkerchiefs, shirts, caps… Another is to leave the university as if nothing happened. "China" tells us that they are even careful with their "body language."
"Going out (of campus) is audacious. You have to think about everything when they are still outside and it is time to leave, if you are going to look at them, how is your face, your body language…You are not at peace," she says. So far, it has worked. No student of the UCA that has participated in these demonstrations has been captured.
Symbolic messages
Those who are outside these spaces, may think that these protests are "spontaneous," but not all are like that. Some are planned in advance and "scheduled." Nothing is improvised, because our security is also in jeopardy. They are also held on symbolic days, such as March 1 (National Journalist's Day), or March 8 (Women's Day).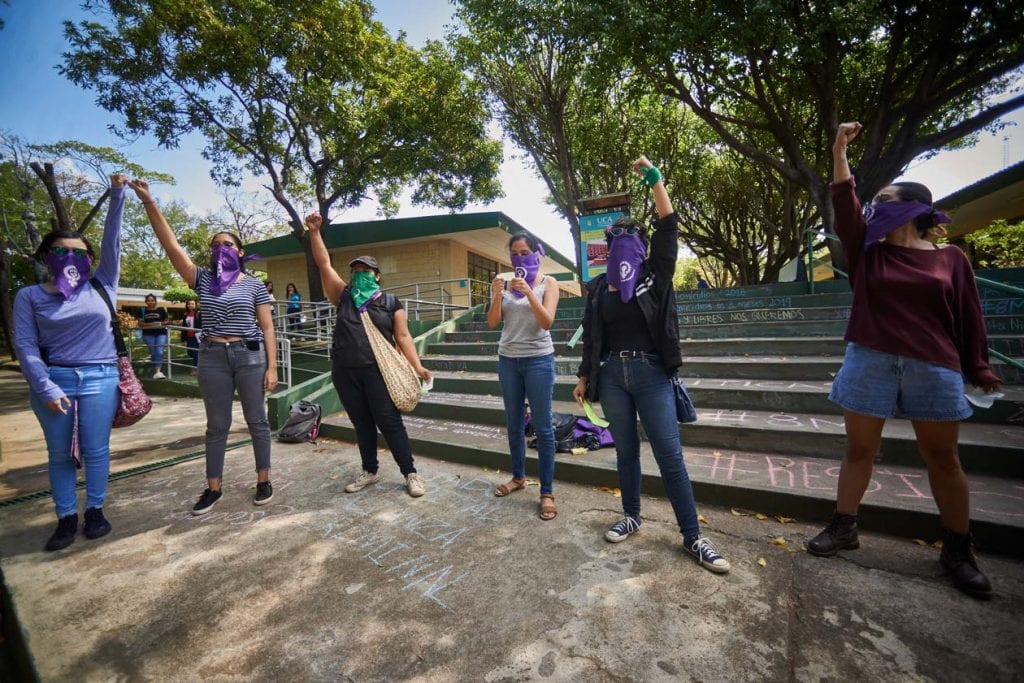 "What we have to see is how the context is, in order to know if at that moment we will be more under siege than we are used to," China explains with a tone of experience. She lets her knowledge of civic demonstrations flourish. None of this was learned in the university, rather it comes since eleven months ago, in the streets of Managua, by besiegement and repression. "I feel that I am a half-time student and a full-time activist," she says.
"We are angry"
Alex is 18 years old and has circumvented the regime on more than one occasion. This March 8 was a special day for her. She arrived at the UCA, took out her purple handkerchief and marched through the corridors of the campus along with her friends. In two years, it was the first time they did not go out on the streets to commemorate that date.
In previous editions, the marches called by the feminist movements were harassed by the police, but the women's groups could walk a few kilometers before coming across a cordon of riot police. This time it was not like that. The roads of the capital were not filled with purple.
Faced with this, a group of students demanded in the "#8M" of Nicaragua the freedom of political prisoners and the respect for human rights of the inmates. It was the second sit-in called in the UCA by a group of students.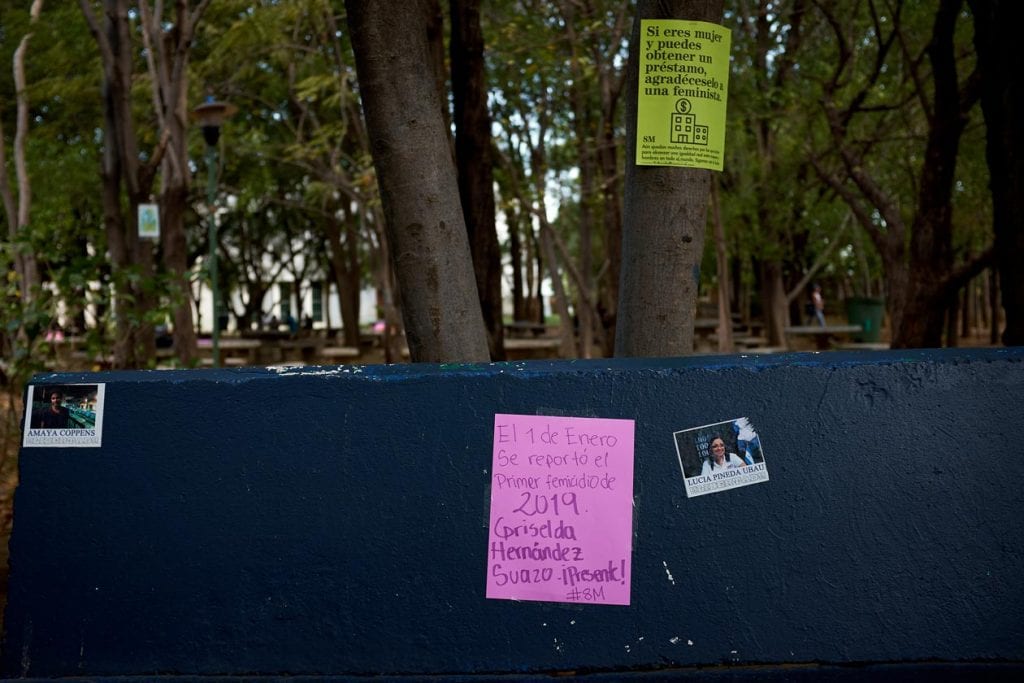 "I have been a feminist for two years and I know that feminists have long fought against the regime. I feel the duty to continue in the struggle," says Alex.
On February 27, this university student protested on the grounds of the Metropolitan Cathedral of Managua, when the negotiations between the Civic Alliance and Daniel Ortega's dictatorship resumed. Together with a group of comrades they were trapped inside the premises, because a contingent of policemen had blocked the main entrance waiting to capture the demonstrators. Finally, the university students were able to leave due to the good work of negotiators.
"We were in touch with someone from the Civic Alliance and he told us that the police had orders not to capture, because it was going to be controversial that on the same day of the dialogue they would arrest more than twenty people who were there," she tells us.
But that was not the first time she defies the regime's repressive apparatus. At the end of January, she protested in Rubenia, together with a group of friends. In a video released on social networks, the young woman appears with a Nicaraguan flag shouting: "Long Live Nicaragua!" "We are not afraid of you!" Those were two minutes full of tension, because at any moment they could arrive and arrest her.
"For me, that was a moment of freedom. I have been in this struggle since the beginning and I like to march and demonstrate. What I want is for my people to see that we young people come next, that we are taking a stand against this. This moves me. After so many months without demonstrating, everything we kept inside was let out on that day," she states.
Alex was able to leave without a major altercation from the place, but her image remained as a clear symbol: after 325 dead and over 700 political prisoners, the students demand a peaceful change in Nicaragua. The express protests, which range from placing stickers on the streets to holding public sit-ins for a few minutes, is the latest form of "civic resistance" of the "self-convoked."
"They are no longer entrenched, there are no roadblocks…there is nothing. Only our voice remains. And we take a risk to go out, knowing that by doing so our people will be more courageous and with more conscience to continue the struggle."