Cleaning the Havana 'Malecon' Seawall
Photo Feature by Isbel Diaz Torres & Jimmy Roque Martinez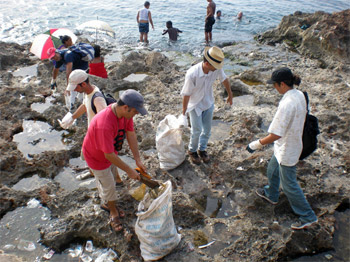 HAVANA TIMES — This past Sunday the annual Havana carnival culminated with parades alongside the malecon (seawall).  The following day, though, the coastline was left in sad shape, as large amounts of litter had accumulated from the merrymakers casually tossing litter into the sea over the last ten nights.
In order to clean up this beautiful area of the capital, a small group of friends and I, who are all nature lovers, responded to the call of the  "Guardabosques" (Forest Rangers) initiative, a project that is a part of the new left Critical Observatory Network.
Like we did two years ago, the members of this environmentalist group reconvened for our own environmental day.
Under the stern and vigilant gaze of the State Security (undercover?) agents, but also with the cheerful involvement of children and adults alike, our small brigade went to work.
We collected about eight sacks of garbage, consisting mainly of broken bottles, plastic bags, all types of paper and cardboard, beer and soda cans, Styrofoam containers and other materials.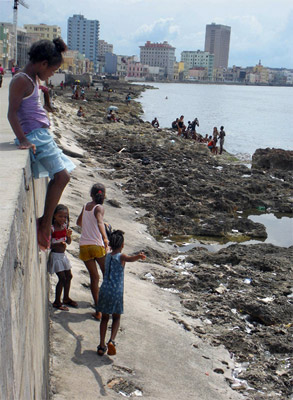 Some objects were debris from the religious offerings that are traditionally placed in the sea, but most of the items were from the everyday practices of city dwellers who had come to the malecon in their spare time to drink and have fun, though they generate all sorts of waste – much of which is not biodegradable.
Plastic bags are very dangerous for marine life creatures that mistake them for jellyfish or fish, eat them, and then die of asphyxiation.
This may have been all that a little group like ours could manage to do, but the impact on people around us was invaluable. On several occasions, adults and children expressed their admiration for our efforts.
One father who was out with his little girl said, with obvious feelings of approval, "People really don't understand what you all are doing here." Meanwhile another girl, after asking who we were, said — to our great surprise — "If you guys are going to make a revolution, I'm voting for you."
One kid who couldn't have been more than a first grader, and who was playing in a pool on the side of the seawall with his friends, ran around looking for empty beer cans and brought them to me. The child was missing one of his little arms, yet he still plunged into the salty and polluted waters to search for more cans, while encouraging his friends to do the same.
"Things like this should be done more often," a few people said, though others made comments like "It's all for nothing, because everything is going to be a mess again come morning"; they were more skeptical about the effectiveness of our work. In any case, most people thought it was the government that should deal with such matters.
Though we were able to only cover a small area, compared to the entire length of the capital city's malecon, the truth remains that people saw us and spoke to us. We talked their same language.
They saw that we weren't asking anything from them or teaching them to how to care for the environment. They saw how we arrived and got busy working alongside them.
Returning beauty to the landscape or saving the life of an animal can be as revolutionary as combating transnational corporations. But there are many people here who don't do one thing or the other, though they still claim that title of "revolutionary" with full fervor. What do they want it for?

Click on the thumbnails below to view all the photos in this gallery. On your PC or laptop, you can use the directional arrows on the keyboard to move within the gallery. On cell phones use the keys on the screen.