Close Up of the Team Cuba Roster
By Peter C. Bjarkman*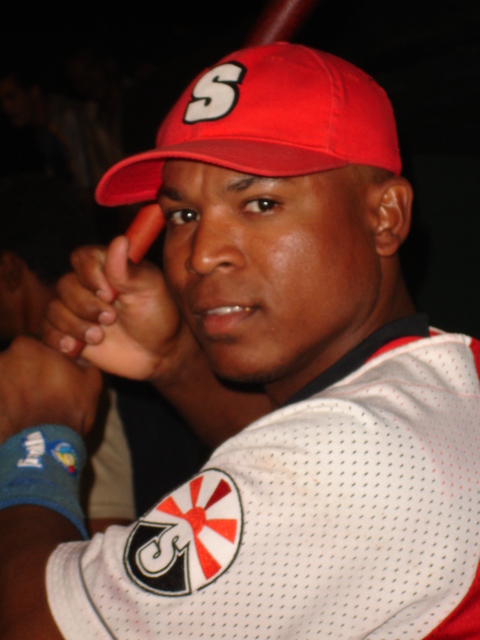 HAVANA TIMES, Sept. 2 — With two major competitions now looming on the horizon, the Cuban Baseball Federation late last week released a provisional 39-man roster that will compete for 25 available national team lineup spots.
There were few surprises on the announced player list, with veteran sluggers like Freddie Cepeda, Alfredo Despaigne, Hector Olivera, and Yulieski Gourriel leading the highly productive offense, and such familiar standbys as Pedro Luis Lazo (who announced his retirement after the international competitions), Miguel Alfredo Gonzalez and Norge Luis Vera fronting the robust pitching corps.
With rather minor exceptions of reserve backstops Yosvany Peraza and Eriel Sanchez—and also spare outfielder Leonys Martin—this fall's Cuban lineup should be a near carbon copy of the one that brought home a silver medallion at last September's Europe-based showcase World Cup event.
And the reappearance of heavy hitting outfielder Alexei Bell and seasoned southpaw reliever Norberto Gonzalez actually seems to make the 2010 version of Team Cuba a full measure stronger than the club that fell to Team USA in Nettuno early last fall.
The return of Alexei Bell and departure of Leonys Martin may only strengthen Cuba's potent outfield in October.
Perhaps the only genuine surprise in the Sport's Institute's (INDER) announcement of its pre-selection October roster was the absence of promising 22-year-old Villa Clara outfielder Leonys Martin, a stellar bench player on the last couple front-line national teams. The southpaw swinger has been mainly a late-inning defensive specialist in international venues but did hit a hefty .326 in last winter's National Series for the league runner-up Orangemen.
Martin apparently fled from the island late last month in the aftermath of the World University Championships, where he served as Cuba's starting centerfielder and batted .450 (6 games) with a tournament-best 4 stolen bases.
But Martin's presence—for all his future promise—will likely be more strongly missed in Villa Clara than on the national team front. The strong performance of Yoennis Céspedes (14 RBIs to top the field) in Tokyo this summer and the remarkable return of Alexei Bell (with a league-record 7 grand slams during National Series #49) will more than fill the gap left by Martin's exit.
The latest departure perhaps only made it a bit easier for the Cuban brain trust to settle on a final four-man outfield corps that will likely be composed of Despaigne, Bell, Cepeda and Céspedes.
The absences of Yosvany Peraza and Eriel Sanchez from the national team picture are less controversial, especially since Sanchez hit poorly at the July Haarlem tournament (where Yulexis La Rosa did most of the catching) while the rotund Peraza is still recovering from a severe hand injury that sidelined him for more than half of last winter's National Series action.
Also contributing to a revamped catching corps is the fact that Industriales prospect Frank Camilo Morejón performed brilliantly in his first national team trial last month in Tokyo. Peraza has been kept on board of late mainly for his potent bat off the bench, but with such a present surfeit of sluggers in the Cuban armada, it seems to make far more sense to carry better defense backstops like Morejón and La Rosa as reinforcements for the frontline receiving of veteran Ariel Pestano.
In the infield it seems certain that regulars Michel Enríquez, Yulieski Gourriel, Hector Olivera and José Dariel Abreu have already locked up four of the five or six potential roster slots.
Tune up with Nicaragua
Team Cuba will first prep for its fall schedule with six late-September Havana exhibition matches versus visiting Nicaragua (also preparing for the San Juan games), then return to global tournament battles in Puerto Rico during early October for what will be the year's top showcase international event.
A dozen teams (including Team USA, Canada, Venezuela, the Dominican Republic, and host Puerto Rico) will clash over a week and a half stretch at three island venues (Ponce, Carolina and San Juan's Hiram Bithorn Stadium) for seven available slots at next summer's Pan American Games in Mexico; also at stake will be six Western Hemisphere openings for next fall's IBAF World Cup event at a site yet to be determined.
Later in the month the same Cuban squad will travel to Asia for a renewal of the long-dormant but once-prominent Intercontinental Cup matches. Slated to open on October 21, the Taiwan tournament will likely be the swan song for an IBAF venue that was at one time a main feature of the international baseball circuit but has not been held since November 2006. In that last edition (also staged in Taiwan) Cuba scored a dramatic gold medal victory over The Netherlands on the strength of Yoandry Urgelles clutch walk-off triple with the bases loaded in the eleventh frame.
Cuba's squad for the two October competitions should provide an almost ideal balance of seasoned veterans and sensational young prospects on both the offensive and defensive sides of the game.
The pitching promises to be a good measure stronger than that displayed in last September's World Cup, if only because the youthful trio of Miguel Alfredo, Vlad Garcia and Freddy Asiel all now own a further year of seasoning; Miguel Alfredo turned heads with his championship 10-inning outing against a strong American university squad in Tokyo.
A veteran trio of big league quality right-handed starters in Vera, Jonder Martínez and Yadier Pedroso will be supplemented by such quality bullpen fixtures as Lazo (likely still the team closer), veteran southpaw Norberto Gonzalez, Ismel Jimenez and Miguel Lahera.
And it is also hard to imagine any opponent in either upcoming event (AAA-level professionals from the USA, Puerto Rico and Venezuela included) with more slugging power than that provided by Despaigne, Bell, Céspedes, Olivera, Cepeda and Gourriel.
The announced roster of 39 national team candidates is as follows (14 or 15 players will be eventually cut from this contingent before the team travels to San Juan at the end of September):
Catchers: Ariel Pestano (Villa Clara), Frank Camilo Morejón (Industriales), Yulexis La Rosa (Villa Clara), Yosvany Alarcón (Las Tunas), Yenier Bello (Sancti Spíritus)
Infielders: José Dariel Abreu (Cienfuegos), Alexander Malleta* (Industriales), Yunier Mendoza* (Sancti Spíritus), Michel Enríquez (Isla de la Juventud), Aledmis Díaz (Villa Clara), Yoilán Cercé (Guantánamo), Héctor Olivera (Santiago de Cuba), Alexander Guerrero (Las Tunas), Yulieski Gourriel (Sancti Spíritus), Yorbis Borroto (Ciego de Avila) (*=Left Handed Hitter)
Outfielders: Frederich Cepeda# (Sancti Spíritus), Ariel Lázaro Sánchez* (Matanzas), Alfredo Despaigne (Granma), Yoennis Céspedes (Granma), Alexei Bell (Santiago de Cuba), Giorvis Duvergel* (Guantánamo), Yoandry Urgellés* (Industriales) (#=Switch Hitter, *=Left Handed Hitter)
Pitchers: Pedro Luis Lazo (Pinar del Río), Miguel Alfredo González (Habana Province), Yadier Pedroso (Habana Province), Odrisamer Despaigne (Industriales), Yulieski González* (Habana Province), Jonder Martínez (Habana Province), Norberto González* (Cienfuegos), Arleys Sánchez* (Industriales), Norge Luis Vera (Santiago de Cuba), Vladimir García (Ciego de Avila), Dalier Hinojosa (Guantánamo), Freddy Asiel Álvarez (Villa Clara), Alexander Rodríguez (Guantánamo), Maikel Folch* (Ciego de Avila), Robelio Carrillo* (Villa Clara), Ismel Jiménez (Sancti Spíritus), Miguel Lahera (Habana Province) (*=Left Handed Pitcher)
Manager still undecided
One intriguing sidelight surrounding the Cuban squad will be the eventual naming of a field manager and coaching staff.  Villa Clara's Eduardo Martin would seem to be the leading candidate for the position of bench boss as a result of his team's inspired performance at the University Games in Tokyo. But German Mesa (Industriales) or Esteban Lombillo (Habana Province, and manager of last fall's World Cup squad) might also be still in the running.
The highly likely candidacy of either Martin or Mesa would provide a continuing scenario of "musical chairs" on the Cuban bench which has seen Higino Velez, Rey Anglada, Victor Mesa, Roger Machado, Antonio Pacheco, Lombillo, German Mesa and Martin all direct various versions of Team Cub a over the stretch of the last five international seasons.
Cuba will be entering next month's overseas events on a particularly high note after the dramatic victory posted at this past summer's World University Championships. The thrilling extra-inning walk-off over the rival Americans represented the first gold medal triumph at a major tournament since the July 2007 Pan Am Games successes in Río.
A second Cuban squad also recently demonstrated plenty of reserve talent (especially Bell and young Villa Clara southpaw Robelio Carrillo) at the Haarlem Baseball Week in mid July, still another signal that Cuba is again well armed to reassert its recently slipping "king of the mountain" status in the international sport.
The October events will also be notable for marking a triumphant end to Pedro Lazo's brilliant hurling career. And the San Juan and Taiwan tours may well also represent swan song outings for another pair of veterans, since both Norge Vera and Ariel Pestano could well be nearing the end of the road, at least on the international scene. It should indeed be an exciting month of October and one full of promise for an anticipated renewal of Cuba's long-standing dominance on the international baseball scene.
(*) Peter C. Bjarkman is author of A History of Cuban Baseball, 1864-2006 (McFarland, 2007) and is widely considered a leading authority on Cuban baseball, both past and present. He reports on Cuban League action and the Cuban national team for www.BaseballdeCuba.com and also writes a regular monthly Cuban League Report for www.ibaf.com. He is currently completing a book on the history of the post-revolution Cuban national team.