Confluence of Sound at Havana's Casa de ALBA
By Irina Echarry, Photos: Caridad
HAVANA TIMES, March 18 — Titled "En Confluencia," a musical presentation led by guitarist Eduardo Martin takes place every second Sunday of the month at 5:00 p.m. at the Casa del ALBA Cultural (556 Linea Avenue at the corner of D Street in the Vedado neighborhood of Havana).
This past Sunday the guests included a very young guitarist, Joe Ott, who played three pieces by the Brazilian composer Heitor Villa-Lobos. According to the artist, Villa-Lobos wrote a great variety of music pieces for the guitar (prelude #3 was dedicated to his wife, and studies #11 and #12 were written for Andres Segovia).
The concert that afternoon was led by the Trio de Cañas Moviles, formed by Analiet Presno (oboe), Maray Villeya (clarinet) and Osmani Hernandez (bassoon). Cervantes and Saumell were present in the trio's program with pleasing versions of dances and quadrilles.
Also performed were works by Lecuona, Manuel Corona, Paquito D' Rivera, Jose Maria Vitier and Wilma Alba Cal in a musical journey that extended from the 19th century to our present day.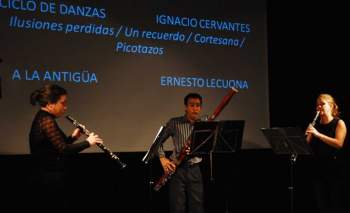 These musical afternoons are characterized by having a special guest. This past Sunday we were able to learn about the beginnings in the universe of music of choral director Digna Guerra.
With simplicity and sympathy she shared anecdotes of her childhood: how she began playing the piano at four, how on a television program an appeal was made by artists who cooperated with the poor girl who had a gift for music and in a short time they were able to give her a piano.
The problem then became where to put the piano since she and her family lived in a small room in a tenement. The girl wound up sleeping under the piano, and at nights would reach out and caress it.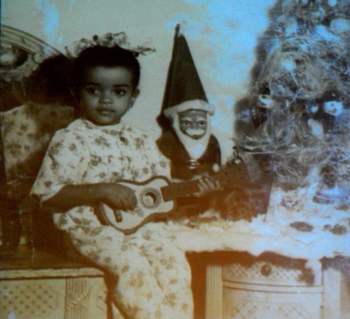 It's not strange that this love has increased with the passing of time. Digna went on to study the piano at the university at the same time as choral direction.
Images were projected on a screen presenting her physical growth and her development in the musical world. She was shown, very young, standing on a fish crate with a baton directing a children's band. Likewise, a bit older, she was shown along with various choir members. Other photos exhibited her in the company of several Cuban musical personalities.
The next musical afternoon will be with the Nicola family on Sunday April 10. This promises to be a pleasant day for delighting in sounds "in confluence" with good music.

Click on the tumbnails below to view all the photos in this gallery