Coppelia Ice Cream Parlor in the Eye of Cuban Consumers (I)
Jimmy Roque Martinez and Isbel Diaz Torres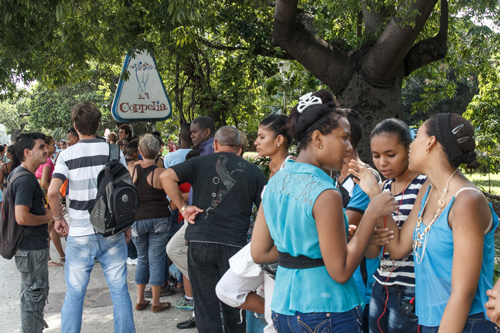 HAVANA TIMES – The Coppelia ice cream parlor is once again a topic for the pages of Havana Times, as the Consumer and Customer Protection project attempts to investigate the numerous problems of this institution and to propose at least one solution.
Coppelia is one of the few locales in Havana where ice cream can be bought at a favorable price in the national currency, and outside of the Nestle monopoly. It's also – we venture to say – one of very few sites where everyday Cubans can invite their foreign friends.
This popular center serves approximately 12 thousand clients during the week, a figure that can reach 15 thousand on Saturdays and Sundays. The business took in 1 million, 200 thousand pesos (the equivalent of US $60,000) in 2014 according to its director, Antonio Reyes.
The ice cream palace is melting
Nevertheless, Reyes goes on to note that after subtracting expenses for maintenance, landscaping, electricity, water and inputs, a mere 150 thousand pesos ($7,500 US) were left last year. Shared among the 275 workers, this meant an average of 560 pesos ($28) per worker per year. Workers actually receive a monthly salary of barely 235 pesos, less than $12 US.
With so little incentive, this "socialist state enterprise" suffers from very well known problems that we discussed face to face with management.
Pedro Busquet, director of the Recreatur Company, explains that Coppelia has an installed capacity for 680 customers. "As such, we have to maintain a very rapid turn-over so that the clients spend as little time as possible in line."
In reality, we've proven systematically that a great many tables remain empty inside the installation while people wait in long lines on the sidewalks outside the ice cream parlor.
Once seated at the table, customers spend another disproportionate amount of time waiting to be attended and later served.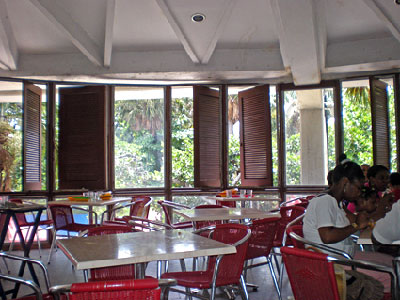 Busquet stated on Cuban television that: "In the first days of the year, 15 flavors have been offered – mainly chocolate, strawberry, strawberry bonbon, and almond". He went on to assure us that sufficient raw materials existed to maintain the stability of these flavors.
How can we understand it, then, that the customers don't encounter any such exotic variety? One flavor only, or, with great luck, two, is what is generally found.
Jorge Barres, another of the establishment's functionaries, offered his response. "We lack the necessary technical conditions to be able to offer more than three flavors. When you take a lot of time scooping a third or fourth flavor, the ice cream begins to mature and comes out runny," he explains.
Recreatur's director had also noted this deficiency, which he catalogued as "an objective difficulty of the serving area".
Even when the industry has provided us with fifteen flavors in a month, there are days in which we can fluctuate between 7, 8, or 9 flavors, Busquet had stated at the beginning of the year. He added: "In our plan for 2015, we have programmed the importation of an element that totally guarantees an appropriate cold chain in the installation.
Apparently, this promise, made at the beginning of the year, has yet to be realized, given that we're now in the month of July and the situation continues unchanged.
To this, we would add that even when they have several flavors in stock, a new one isn't offered until the first flavor runs out, causing additional annoyance among the clientele.
The devil is in the details
The ice cream is currently offered in plastic dishes that appear unhygienic. José Luis Rosales, assistant director of quality assurance, assures us that the dishes have been certified by the city's health authorities.
What's certain is that self-employed vendors are not allowed to offer their products in plastic recipients, since these are more difficult to properly clean. For this reason, they are required to use glass cups and ceramic plates.
Many of us remember the old days in Coppelia when the ice cream combinations were served in glass cups or in stainless steel ice cream boats. The type of recipient varied according to the specialty item being served; in addition, these dishes were guaranteed to be hygienic.
Rosales explains that for the moment there are no plans to change the plastic dishes. He assures us that it's not a question of the budget, but of the fact that "there isn't enough production in the national industry to back us up."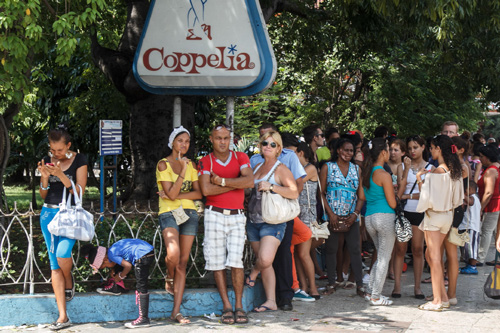 In other concerns regarding the ice cream parlor: when the client enters, they are shown to one of the four-person tables. If there are only one, two or three people in the party, the empty seats at the table are then habitually filled with other, unfamiliar people.
In this way, people find themselves forced to listen to others' conversations, or have others listen in on their conversations, totally violating everyone's privacy.
According to the Coppelia managent, this is optional. The customers can sit with only the person or people that accompanied them; one person alone can even take up a whole table.
In the interview, they explained that the tables are filled with other, outside people to help speed up the line, but this is contradictory when there are other tables around that are totally empty.
As an example of the consumers' lack or protection, there's no information visible regarding this policy. How could a customer, already accustomed to bad service at establishments, find out about the possibility of not having strangers imposed on them, if they are not informed of the option?
There are many more deficiencies in this distinguished establishment, many of them very well known to the readers, but which the administration insists on not recognizing. The second part of this report will speak of the not at all self-critical posture of the Coppelia managers and a solution that the Consumer and Customer Protection collective wishes to propose.